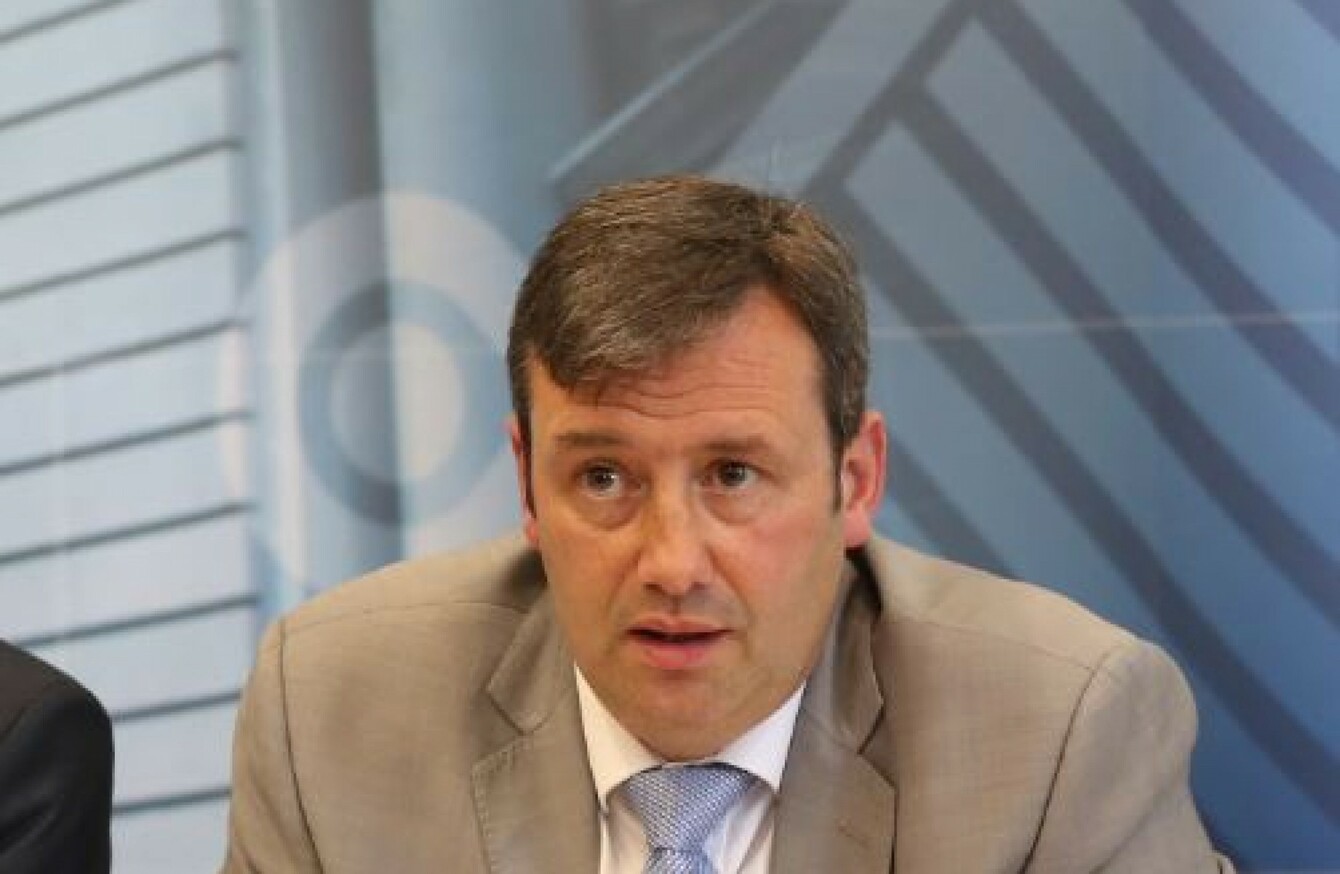 Michael D'Arcy (file photo)
Image: RollingNews.ie
Michael D'Arcy (file photo)
Image: RollingNews.ie
Updated Sep 29th 2020, 2:30 PM
TÁNAISTE LEO VARADKAR has said former junior finance minister and Fine Gael Senator Michael D'Arcy should have contacted the Standards in Public Office Commission (Sipo) prior to taking up his position as chief executive of the Irish Association of Investment Managers (IAIM).
D'Arcy contacted Sipo this morning to set out his position. 
In a statement, Varadkar said:
"It's my understanding that Michael D'Arcy has contacted SIPO. In my view it is appropriate for any such individual, whether that's a former minister or any other relevant person, to engage with Sipo on matters such as this.
"I believe he should have contacted Sipo prior to taking up his position. I am however glad that this contact has now taken place.
"I had no knowledge of this matter prior to Sunday afternoon when Mr D'arcy called me to say he had resigned from the Seanad and has accepted a role in the private sector."
While ministers have said they are "concerned" about his new role as CEO of a funds sector lobby group, the view appears to be it's a matter for Sipo now. 
Speaking during Leaders' Questions in the Dáil, Taoiseach Micheál Martin said that he was "not happy" with D'Arcy's move to IAIM. 
"In respect of former senator and minister D'Arcy, I believe there should be an effective cooling off period and I'm not happy or in any way comfortable with people taking up a position, who having been in office particularly in the area that they had jurisdiction over or responsibility for, that they would be taking up a position in that area immediately after our within months of having left office," he said. 
The Taoiseach said he believes legislation in this area "should be reviewed" and that the government has tasked Minister for Public Expenditure and Reform Michael McGrath to conduct a review. 
Finance Minister Paschal Donohoe, who was once D'Arcy's senior minister, told reporters today that he should have contacted Sipo and should have made them aware of what his plans. 
Speaking earlier outside Leinster House, Sinn Féin's Mairead Farrell TD said her party is looking at introducing legislation which would amend the lobbying act so that designated public officials gaining employment with a lobbying firm could be investigated. 
"We are looking to ensure that that can be the case and we want to shut the door between vested interest and government and as soon as possible. And we want to ensure that this is something that can be closed ASAP. This isn't something that seems to be a priority for Fine Gael currently," she said.
Speaking in the Dáil, Sinn Féin leader Mary Lou McDonald said that D'Arcy's move to IAIM came at a time when it was announced the Covid-19 mortgage break for customers was to end. 
Taoiseach all of this at a time when the cozy connections between government and the financial sector are once again on show. We learn that former minister Michael D'Arcy is leaving the Seanad to be appointed as CEO of a financial lobbying group.
"So, in summary, all of this means no relief for struggling mortgage holders but a big job for a former minister," she added. 
Earlier, Transport Minister Eamon Ryan said he is "concerned" about former junior finance minister Michael D'Arcy becoming chief executive of the Irish Association of Investment Managers (IAIM), a representative body for the funds and investment industry.
Yesterday it emerged that D'Arcy is to resign his seat in the Seanad to take on the role.
D'Arcy was Minister of State at the Department of Finance from 2017 to 2020. He had responsibility for financial services and insurance, and worked on policy related to the funds sector.
Speaking on RTÉ's Morning Ireland today, Ryan said "I was concerned, I'll be honest".
The Green Party leader said there is "an issue" when someone goes from "regulating an industry" to working in that industry in a "very short time frame".
Ryan said he expressed these concerns to Taoiseach Micheál Martin and Tánaiste Leo Varadkar last night, adding "they probably share some of those concerns".
Ryan stated that the issue is a matter for the Standards in Public Office Commission (Sipo) to "look at".
Our colleagues at Noteworthy want to connect the dots between the State and former officials turned lobbyists. Support this project here. 
He said he found out about the appointment when it became public knowledge yesterday, adding that he believes he was told around the same time as Martin and Varadkar. "I don't think anyone is holding back information from me," Ryan said.
Varadkar yesterday said he is "sorry to lose" D'Arcy from the Fine Gael parliamentary party "but can understand why he has made his decision". He added that the IAIM is "fortunate to recruit someone of his calibre".
Opposition parties yesterday sought clarity on D'Arcy's appointment to the IAIM, expressing concerns it could be in breach of Sipo regulations and section 22 of the Lobbying Act, which state that a person in public office cannot engage in lobbying for 12 months after leaving that office.
However, a spokesperson for the IAIM insisted D'Arcy and the association "will not be engaging in any lobbying activities until the 12-month cooling off period has been completed, in adherence with the regulations".
"The IAIM obtained legal advice and are satisfied that Michael D'Arcy's appointment as CEO is not in breach of Section 22 of the Lobbying Act. IAIM has not engaged in any lobbying activity in 2018, 2019 and 2020 to date, as evidenced by filings under the Act," they said.
Speaking today, Social Democrats' co-leader Catherine Murphy TD said it's simply "not credible" that D'Arcy and the association would not engage in lobbying for 12 months. 
The very fact that Sipo weren't contacted in advance, certainly would indicate the seriousness in which the case would have been taken. Every year Standards in Public Office issue their report and issue recommendations for increases in their powers and their resources. And it doesn't get the kind of attention it requires. And we're seeing now the outcome from that. And and it should be taken way more seriously. Because it's hugely damaging to politics where there can be several rules there that can be so easily circumvented.
"And it's just not credible that there will be no lobbying done by an organisation whose primary focus is about lobbying," she added.
D'Arcy spoke in favour of legislation in last Seanad speech
D'Arcy spoke in favour of legislation the Irish funds industry has been lobbying for for years, in his last Seanad speech.
Speaking in the Seanad last Wednesday, D'Arcy agreed with current Minister of State at the Department of Finance, Seán Fleming, that the Investment Limited Partnership Bill is "boring" and "very technical" but added "we have to get through it, and the devil is very much in the detail in this case".
Fleming also spoke in favour of the Bill.
"We are talking about the private equity sector in respect of financial services for Ireland," D'Arcy noted, adding that the financial services sector employs about 16,000 people here.
#Open journalism No news is bad news Support The Journal

Your contributions will help us continue to deliver the stories that are important to you

Support us now
"From my experience, investors are significantly ahead of everyone else. They are the people with private equity funds and who administer the moneys that will be crucial if we are serious about sustainable finance.
"They are well ahead of everyone else because, if we destroy the world through climate change, there will be no world economy. They are clear that they want there to be a world economy."
D'Arcy said the current legislation is not in sync with laws in other European countries in terms of the limits on partnership investment for funds.
"We are actually moving beyond what is required. European directives are the requirement, but we are doing more. I support that entirely," he stated.
The Fine Gael senator said the "more" in question includes addressing money laundering and counter-terrorism financing.
The sector has been arguing, for about four-and-a-half to five years, that without this legislation it cannot advance the private equity side of investment in Ireland. The reason it cannot do that is the investment limited partnership, ILP, legislation in Ireland, going back to the 1990s, is out of sync with that in other jurisdictions.
"In essence, if a business is part of such a partnership, and if it invests €2 million in an investment vehicle worth €100 million, it can be liable for losses to the value of the entire sum."
D'Arcy said, as a result of this, investors "do not invest in Ireland because in other jurisdictions, the structure is such that they can be liable only for the sum they invest".
Lobbying
The Lobbying Register shows that the IAIM has lobbied the current and previous Minister for Finance (Paschal Donohoe and Michael Noonan), the Assistant Secretary at the Department of Finance, and former Housing Minister Eoghan Murphy in the past four years.
Section 22 of the Regulation of Lobbying Act 2015 states that:
"A person who has been a relevant designated public official shall not— a) carry on lobbying activities in circumstances to which this section applies, or b) be employed by, or provide services to, a person carrying on lobbying activities in such circumstances," and
"The circumstances to which this section applies are any in which the making of the communications comprising the carrying on of lobbying activities … involves any public service body with which the person was connected during the period of one year ending with the day on which the person ceased to be a relevant designated public official."
Sinn Féin's Finance Spokesperson Pearse Doherty said the party has written to Sipo and asked the body if D'Arcy's appointment is "a breach in law, as we expect".
In a written response to Doherty, a spokesperson for Sipo said that while the Regulation of Lobbying Act 2015 "provides for criminal offences and associated penalties" for certain breaches, there is "no offence provided for breaches of section 22, nor any associated powers of enforcement".
"The Commission previously reported on a breach of section 22 of the Act in its 2018 Annual Report. In that instance, the Commission raised its concerns with the individual and with their prospective employer.
"The Commission noted its concerns over the lack of enforcement powers in its annual report, and has made recommendations for amendments to the Act to address this in annual reports and its submissions to the 2016 and 2019 legislative reviews of the Act," they said.
Other TDs have also raised concerns and Rise TD Paul Murphy wrote to Sipo requesting an investigation into the appointment of D'Arcy.
"The claims that D'Arcy is exempt from the ban because he promises he won't personally lobby are beside the point. The law is clear he is not allowed to work for a lobbyist either, which is precisely what he is trying to do," Murphy said.
With reporting by Christina Finn and Rónán Duffy