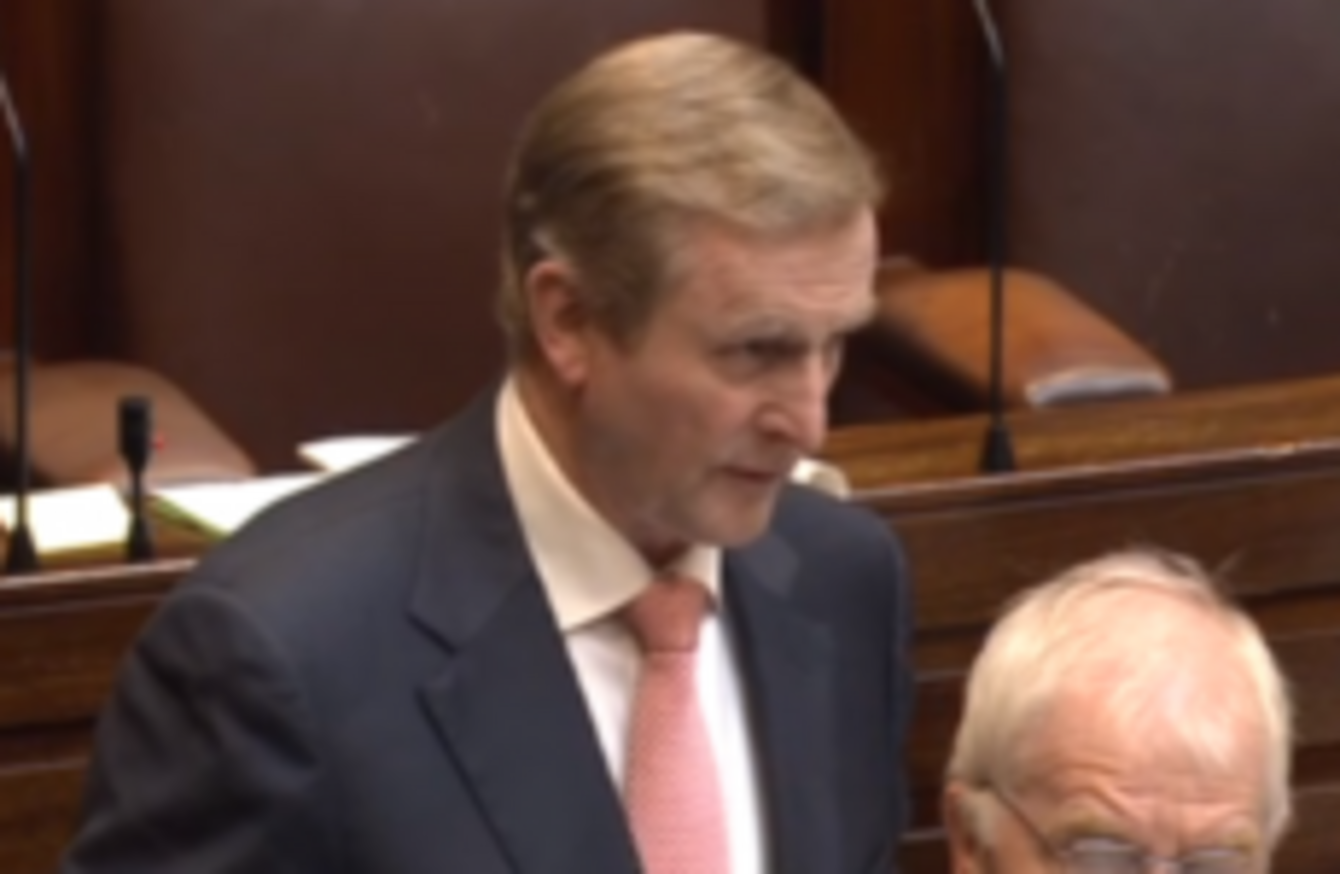 Enda Kenny in the Dáil this afternoon
Image: Screengrab via Oireachtas TV
Enda Kenny in the Dáil this afternoon
Image: Screengrab via Oireachtas TV
ENDA KENNY HAS declined an opportunity to withdraw what Micheál Martin has described as a "partisan slur" on Brian Cowen over claims that documents related to the bank guarantee were disappeared or shredded in the Department of the Taoiseach.
The Taoiseach was speaking during Dáil questions this afternoon when he said he was satisfied that his department complies with the National Archives Act when it comes to securing and maintaining government records.
Kenny has repeatedly stated on the Dáil record that there is a paucity of documentation relating to the night of the guarantee, suggesting in June 2012 that documents may have been "either shredded or has been disposed of or dispatched of".
However, Freedom of Information requests have since uncovered that there are at least 146 different records related to the guarantee, a schedule of which has previously been published by this website.
In the Dáil today, Martin said that the Department of the Taoiseach's secretary general Martin Fraser, whose responsibility it is to maintain documentation, had confirmed that officials are "fully in compliance" with their legal responsibilities when it comes to securing government papers.
The Fianna Fáil leader asked if the Taoiseach was now capable of "withdrawing that partisan slur" saying documents had not been tampered with or disappeared.
Kenny insisted that he does not engage in "low partisan politics" and described many of the documents related to the bank guarantee that do exist as "inconsequential" listing details of fax notes, memos for government and cover sheets.
"I would have expected that at a time when this country was entering into both the background and the process of a really difficult economic recession that there would have been fairly regular meetings about the seriousness of this, but that's not the case."
Responding, Martin said that Kenny was being "very selective" and noted that some of the documents concerned government memos and again insisted that in suggesting documents had been shredded Kenny had committed "a slur on the previous taoiseach".
"There was no attempt to disappear any records… and you should withdraw that assertion," Martin said.
As previously disclosed by this website, of the 146 different documents only 35 have been fully or partially released documents with most withheld under section 19 of the Freedom of Information Act concerning the confidentiality of government records.
#Open journalism No news is bad news Support The Journal

Your contributions will help us continue to deliver the stories that are important to you

Support us now
Documents released include press releases already in the public domain, fax cover sheets, and correspondence with Oireachtas officials.
While an "urgent'" letter from the then president of European Central Bank Jean-Claude Trichet to then Taoiseach Brian Cowen is withheld, an acknowledgement of receipt of the letter was released.
Other descriptions of withheld documents include 'minutes of Government meeting', a 'memorandum for government', a 'draft guarantee bill' and notes concerning discussions on 30 September 2008 – the date the Fianna Fáil-led government made the decision to guarantee the entire Irish banking system.