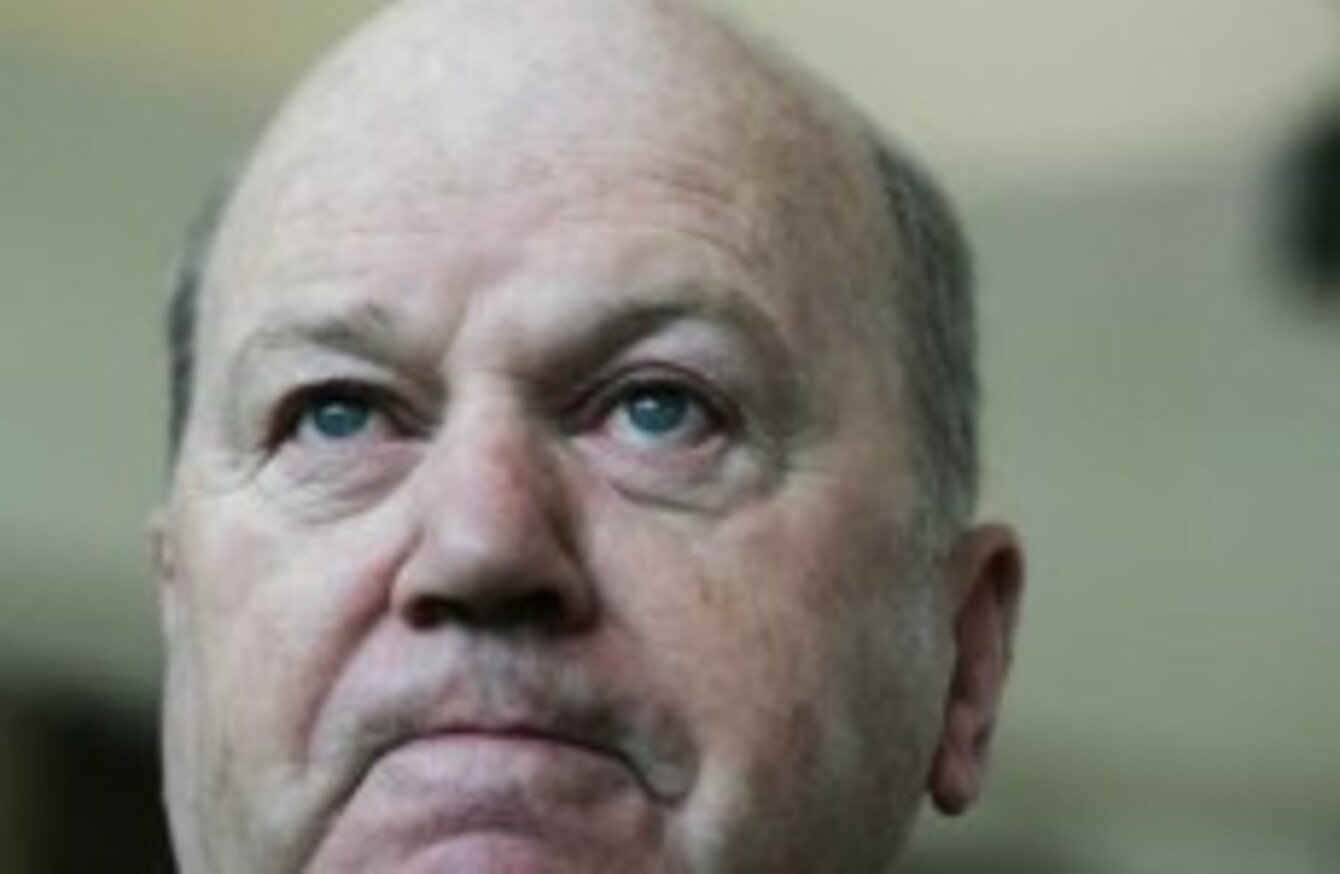 Finance Minister Michael Noonan speaking at the Oireachtas committee this morning.
Finance Minister Michael Noonan speaking at the Oireachtas committee this morning.
FINANCE MINISTER Michael Noonan has said that the granting of a blanket debt forgiveness scheme is "simply not a realistic option".
Speaking to the Oireachtas Committee on Finance, Public Expenditure and Reform this morning, Noonan said that there was "no magic bullet or one-size-fits-all" solution for struggling mortgage-holders.
He said that solutions would be found on a "case-by-case basis" and urged indebted individuals to get in contact with their lender as soon as possible. He said that some of the capital given to banks last March as part of the Central Bank's PCAR exercise "is available to the banks to write off bad debts" but that the banks had to be "prudent" and "not fritter away their capital base through widespread unwarranted debt write-offs".
Noonan had spoken on the mortgage debt issue yesterday, when he had claimed that there were only 58 compulsory repossessions ordered through the courts in the past year. Central Bank figures released on Monday showed that one in 14 mortgages were in arrears of 90 days or more.
He said that the Government has asked an inter-departmental group to report back by the end of September on their recommendations for how mortgage over-indebtedness might be relieved.
In his opening remarks to the committee, he said that the strong performance of exports was good news but that this contrasted with the "weak" level of consumption and investment in the domestic market.
However, he also noted a downturn in many export markets over the summer and that given the uncertainty that the downgraded US debt rating had inspired, Ireland would "not remain immune in the event that the global recovery was to stall".
He said that our position in the markets was still "very volatile" and that our bond rates "could start going out again" due to a number of variables.
The Minister suggested that the Department of Finance's current forecast of a 0.8 per cent growth of GDP would be revised when he releases his Pre-Budget Outlook in October. This outlook plan is to set out target for 2012 to 2015 and Noonan said he hoped giving "clarity" to the public would give them confidence and get individuals and businesses spending and investing again.
The Economic and Social Research Institute (ESRI) said yesterday that the Government would have to cut €400 million more than it had planned to do in December's Budget because of further weaking of the economy.
On an optimistic note, he found "evidence of stabilisation" was found in public finances figures, with total tax revenue 1.4 per cent above target to the end of July. He said the government's deficit target for the year is still "on track" for 10 per cent of GDP. He said:
The end-August Exchequer Returns will be published tomorrow evening, and while the figures are still being finalised I understand that they will show a broad continuation of the overall position as of end-July.
The government deficit target for 2012 is 8.6 per cent of GDP.
On the banking sector, Noonan said that "major milestones" had been passed in the past five months and there had been "significant progress" in stabilising the Irish banking system, including:
the merger of AIB and EBS, and the merger of Anglo Irish and INBS;
the recapitalisation of the ailing banks, which Noonan said had required a "lower commitment from the Irish State… than initially expected", largely because of private investment in BoI and exercises with subordinated bondholders;
the agreement of a plan with all the banks for the deleveraging/selling off of €70bn of assets.
He focused particularly on the provision of credit to SMEs and claimed there are "a number of initiatives in train to assist SMEs in obtaining the credit they will require to take active part in the economic recovery". He said that he felt the banks would find it "challenging" to lend €3bn to SMEs in 2011. The Department of Finance is to commission an independent survey for SME credit – Noonan said that banks are complaining that they are not being asked for credit by enough "viable firms" in order to meet their lending targets.
The Credit Review Office's quarterly report, published this week, said the credit target of €3bn in SME loans from AIB and Bank of Ireland would not be met for 2010. The Small Firms' Association and ISME both rejected that the reason the target would not be met was anything to do with the demand, or lack thereof, for loans. The SFA's Patricia Callan had said that their association's members had come to the conclusion that "there's no point going near the banks" because they wouldn't meet their strict criteria for lending.
Answering a question from Fianna Fáil's Michael McGrath at the Oireachtas committee this morning, Noonan said that he couldn't rely on "anecdotal" evidence from "interest groups" that supply of credit was the problem, and not the demand. He recommended that businesses go to the Credit Review Office if they want a review of a loan application. He also said Richard Bruton was looking at the contagion of the property collapse, which he said could have affected "small, decent family businesses" who might have thought the smart thing at the time was to invest their profits in property.
On Ireland's compliance with the joint EU/IMF programme, Noonan said the next review mission in mid-October would be very important as there are a number of specific conditions attached to that third formal review.