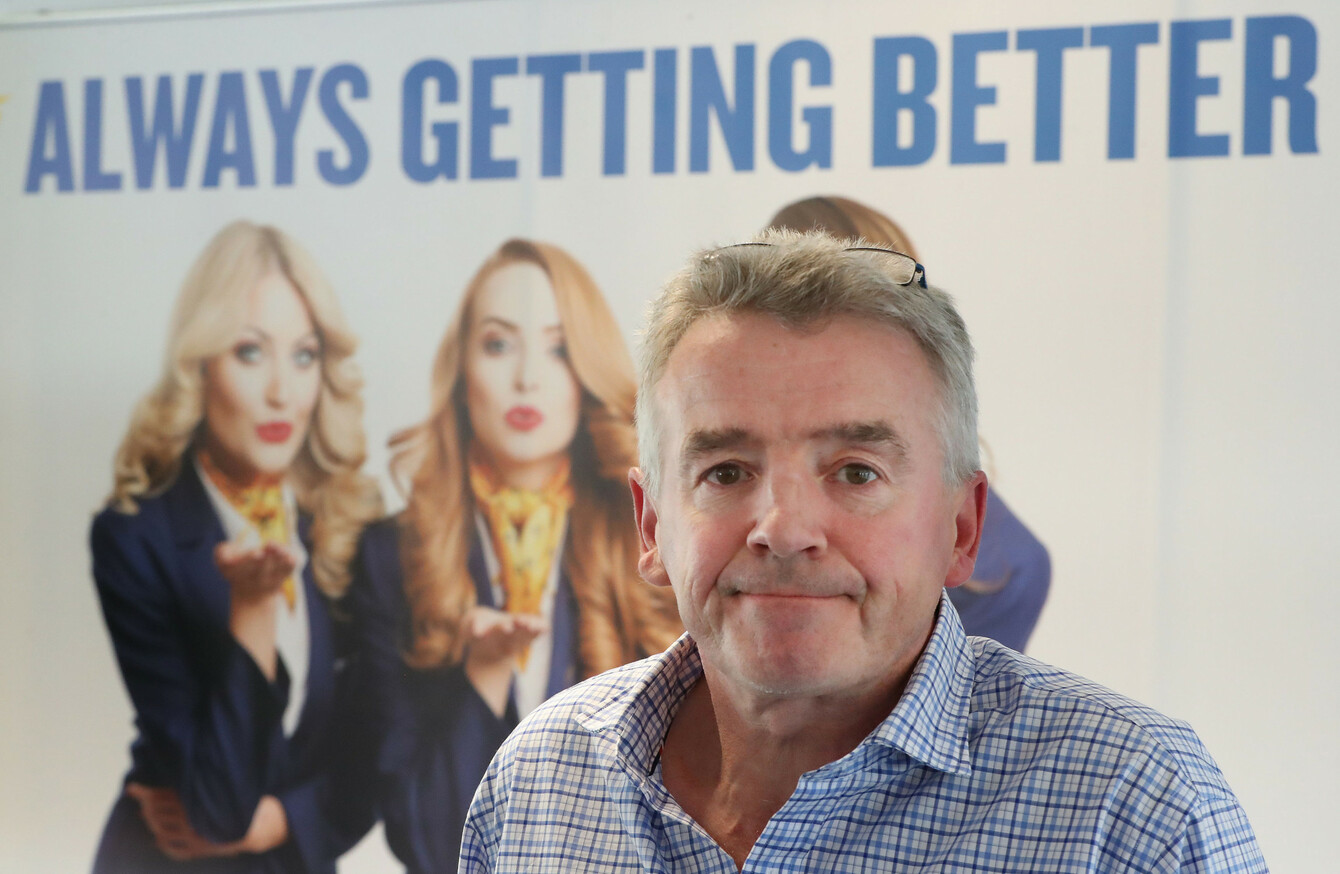 Ryanair boss Michael O'Leary at a press conference last year.
Image: Niall Carson/PA Images
Ryanair boss Michael O'Leary at a press conference last year.
Image: Niall Carson/PA Images
RYANAIR BOSS MICHAEL O'Leary lost out on almost €1 million in bonus pay last year, after volunteering to waive all of his performance bonuses as a result of the pilot rostering failure at the airline.
O'Leary's decision to forsake his bonus came in spite of record revenues of €7.15 billion, profits of €1.45 billion and passenger numbers of 130 million at the airline in 2017/18.
The decision by O'Leary to waive all performance bonuses is revealed in the just published Ryanair annual report for 2017/18.
O'Leary received a bonus payment of €950,000 in 2016/17 and as part of his deal with the airline, O'Leary is eligible for a performance bonus of up to 100% of salary dependent upon the achievement of certain financial and personal targets.
However, the controversy around the pilot rostering failure last September and the impact on the airline led to O'Leary to say 'no' to the board for any bonus for himself for 2017/18.
This resulted in O'Leary's overall pay package decreasing by 29% going from €3.25 million to €2.30 million last year – the €2.3 million pay package works out at €6,301 every day for the outspoken CEOo.
O'Leary's pay in 2017/18 was made up of €1.058 million in basic pay and €1.25 million in share based payments.
The company does not provide O'Leary with any pension contributions or other benefits, which the annual report states "is in keeping with the low cost ethos of the airline".
In October 2014, Mr O'Leary signed a 5-year contract which commits him to the company until September 2019 and this contract replaced a rolling 12-month arrangement under which Michael O'Leary worked as CEO of the airline since 1994.
O'Leary's decision to give up his performance bonuses won't him too hard in the pocket as his 3.9% share in the €16.2 billion airline was yesterday worth €631.8 million.
In his report, O'Leary refers to the "systematic failure in our pilot rostering function".
He said that the failure led to the cancellation of 2,000 of the 130,000 flights scheduled in September and October.
In the report, O'Leary said: "It was a planning failure for which we sincerely apologise, especially to customers whose flights were delayed or cancelled."
On the airline's response to the failure, O'Leary said:
We replaced the entire rostering management team, we doubled the headcount in the department and we invested heavily in new management in our operations department.
#Open journalism No news is bad news Support The Journal

Your contributions will help us continue to deliver the stories that are important to you

Support us now
In his report, O'Leary also refers to the current dispute with pilots here but not in name.
He said that the airline has reached recognition agreements with pilot unions in Italy and the UK, and cabin crew unions in Italy, Germany and the UK.
He says: "Progress is slower in other, smaller, markets where some unions have made unreasonable demands that would damage our low fare model. We hope to conclude more recognition agreements shortly but cannot rule out occasional industrial action which may occur in Summer 2018 as we will not compromise either our low fare model or our efficiency."
O'Leary confirmed that last year Ryanair created 1,500 new jobs as headcount grew to over 14,500.
Last year, pay to Ryanair's top eight executives totalled €9.7 million.