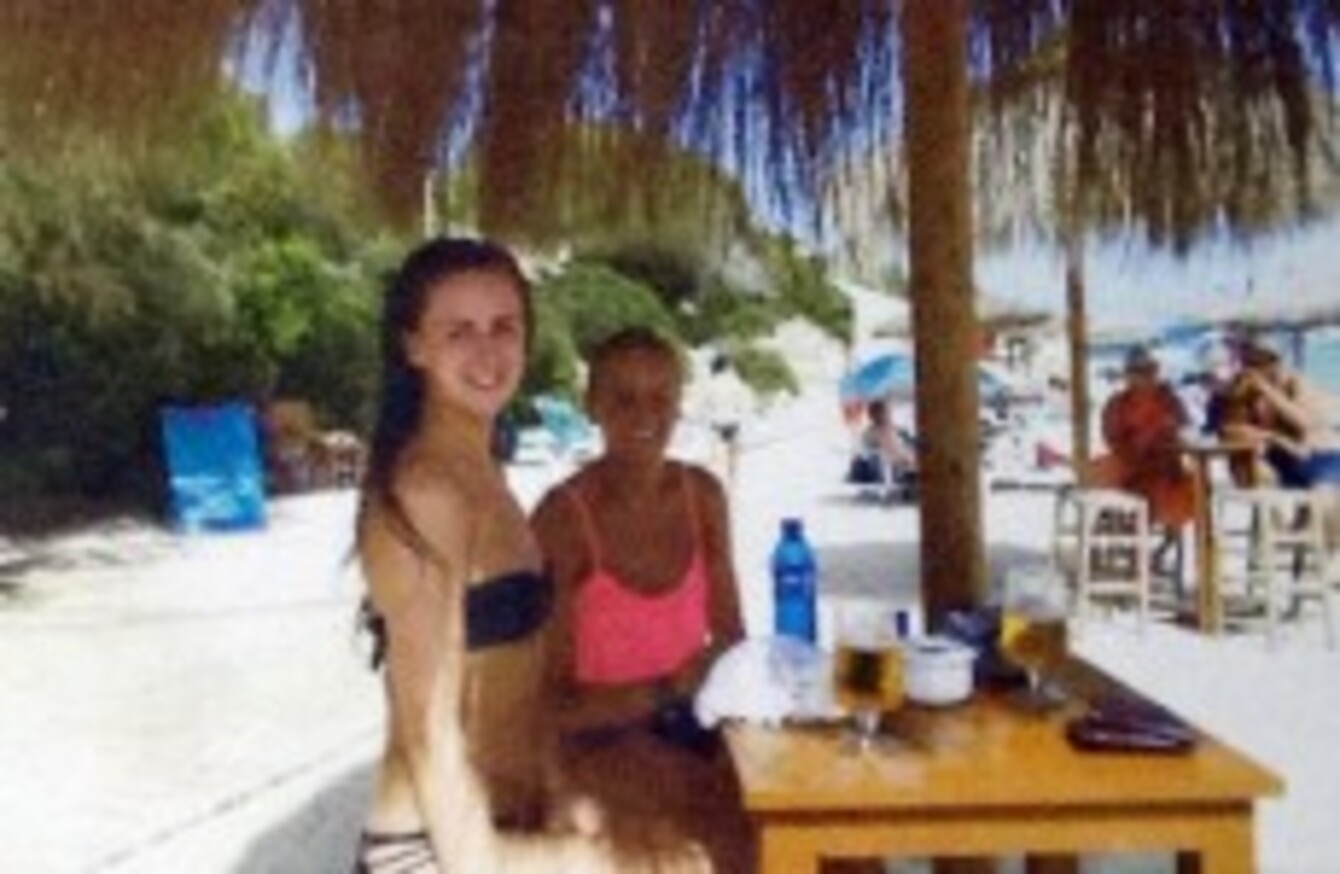 McCollum Connolly and Reid on the beach in Peru.
McCollum Connolly and Reid on the beach in Peru.
THE IRISH WOMAN and her British companion arrested on allegations of drug trafficking in Peru have been sent to a notoriously dangerous women's prison south of Lima.
Michaella McCollum Connolly from Co Monaghan and Melissa Reid from Glasgow, both 20, were sent to Fatima de Virgen after Judge Dilo Huaman rejected defence arguments that they had been threatened with death if they refused to carry the drugs and refused them bail.
The could spend around three years there as they await a trial.
According to the site Prisoners Abroad the women face sleeping on the floor wherever they can find space, such as corridors and toilets. Many inmates have lost teeth due to lack of nutrition and access to clean and drinkable water is rare.
While they spend time in prison the pair gave this shopping list to Reid's father that included toilet roll, Pringles, Oreos and a sports bra.
They also requested stamps and envelopes so they could write letters home and pack of playing cards to help pass their time.
Here are pictures of the women being led from Palacio de la Justicia in Lima and taken to Fatima de Virgen:
Peru Two

Michaella McCollum Connolly being led to the police van to be taken to the prison. (eenu ma/YouTube)

Peru Two

Melissa Reid being led to the police van to be taken to the prison. (eenu ma/YouTube)

Peru Two

The pair were taken to this grim prison outside Lima. (Pic: PrisonersAbroad.org.uk)

Peru Two

The prison van enters the Fatima de Virgen prison where the two women could be held for up to three years before they have a trial. seenu ma/YouTube

Peru Two

Gates close behind the prison van. seenu ma/YouTube

Peru Two

seenu ma/YouTube

Peru Two

Melissa Reid's father bringing a pillow and a quilt to the prison. seenu ma/YouTube

Peru Two

McCollum Connolly and Reid in court on Wednesday. (AP Photo/Martin Mejia)Source: AP/Press Association Images

Peru Two

McCollum Connolly and Reid in court on Wednesday. (AP Photo/Martin Mejia)Source: AP/Press Association Images

Peru Two

The women's shopping list. (‏@skydavidblevins/Twitter)