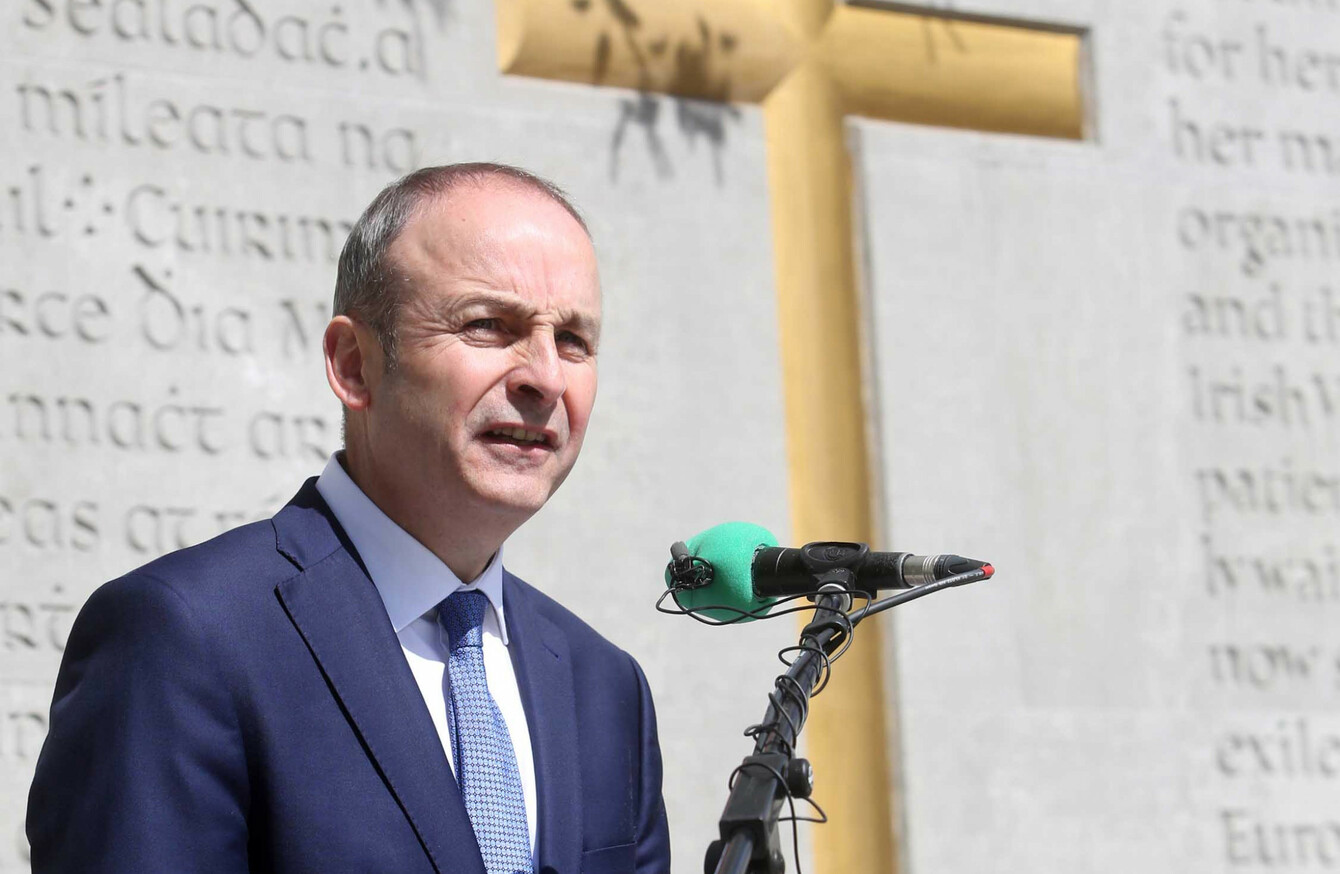 Fianna Fail leader Micheál Martin speaking at the 100th anniversary of the Easter Rising.
Image: Sam Boal/Rollingnews.ie
Fianna Fail leader Micheál Martin speaking at the 100th anniversary of the Easter Rising.
Image: Sam Boal/Rollingnews.ie
FIANNA FÁIL LEADER Micheál Martin has denied that he has fallen out of line with the views of his party after he voiced his support for the repeal of the Eighth Amendment.
In the Dáil yesterday, Martin said that he had changed his mind on the issue and now believes the Eighth Amendment has caused "real damage to Irish women".
His party's Ard Fheis last year voted in favour of retaining the Eighth Amendment and a majority of the party's TDs are also believed to be of that view.
But speaking on RTÉ's Morning Ireland, Martin said individual members of the parliamentary party are allowed make their own decision on the issue and that he was expressing his view.
"I fundamentally don't believe it's a party-political issue and since 2003 the parliamentary party has been very clear that this is a matter of individual conscience. I speak as an individual here, I'm conscious I'm leader of the party, but this isn't a party view, it's a view that Micheál Martin has articulated in a Dáil debate on this issue."
At last week's parliamentary party meeting, many members thanked the party for the fact that they had a free vote, that they had the right to vote and behave in accordance with their conscience.
"Since I made my statement I've been taken aback by the responses of many women within the party who may have been silent up to now but who just wanted to say thank you for what you said. Others have disagreed and others will have different views," he added.
Martin said that he came to his conclusion based after reviewing the evidence presented to the Oireachtas Committee on the Eighth Amendment.
He also said that he feels repeal is necessary to deal with women being denied terminations in cases of fatal foetal abnormality.
I don't see any way fatal foetal abnormality could be dealt with without the repeal of Article 40.3.3. I met with women over two years ago who left a deep impression on me who had to travel to England to have a termination in a situation where they had a diagnosis of fatal foetal abnormality.It's something that I couldn't live with as a legislator, to continue to force women in that situation in the future to go through similar experiences.
#Open journalism No news is bad news Support The Journal

Your contributions will help us continue to deliver the stories that are important to you

Support us now
Martin said that during the referendum campaign he will outline his view when it is sought but that he doesn't envisage that politicians will be at the forefront of the debate.
I have no plans to be engaging in any kind of public debate with members of the party, it's not going to be that kind of campaign. And I think the public will make up their mind, the Irish people will decide.
"This is a very deep and personal question for each citizen, I don't necessarily believe they are going to be directed by politicians. I think they will make up their own mind in accordance with their own beliefs and life experiences."