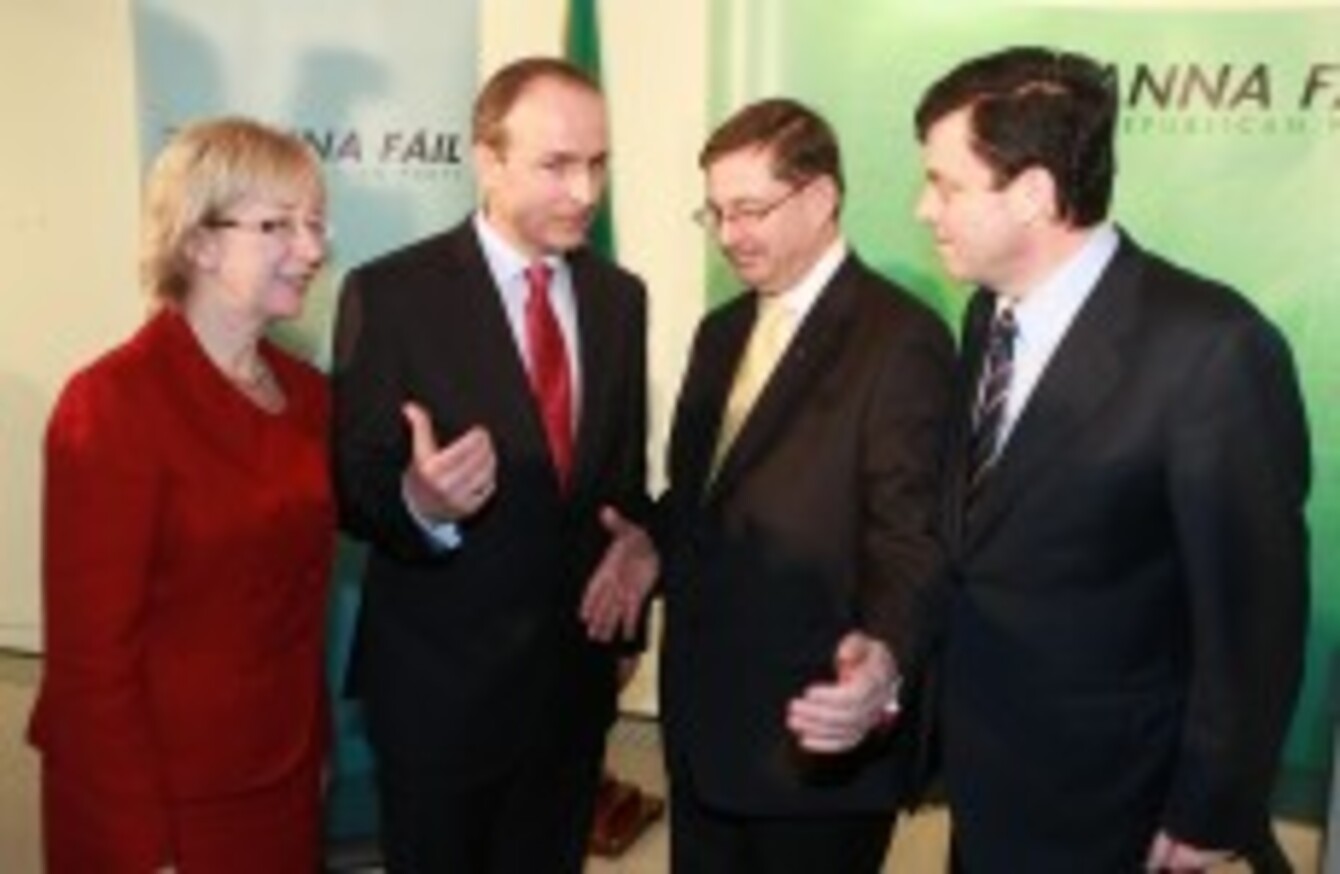 Mary Hanafin, Eamon O Cuiv and Brian Lenihan will each defer tax-free payouts of over €88,000, under instruction from party leader Micheál Martin.
Image: PA
Mary Hanafin, Eamon O Cuiv and Brian Lenihan will each defer tax-free payouts of over €88,000, under instruction from party leader Micheál Martin.
Image: PA
Updated, 12.09
FIANNA FÁIL leader Micheál Martin has informed the six members of the cabinet looking to retain their seats in the general election that they will be forced to waive their ministerial severance payments – which amount to almost €90,000 each.
In a statement issued this morning, the leader said he wanted to make it clear that "this crisis is too serious for politics as usual… [and that] we must fundamentally reform the way we carry out political business."
Acknowledging that politicians' pay was an issue that attracted much ire from the public, Martin said the current arrangements for ministers receiving severance pay obviously needed to be addressed.
"The current arrangements for severance payments were in place for previous governments," he added, "including when the current leaders of Fine Gael and Labour ceased to be Ministers."
Nonetheless, Martin said he had informed the current members of the cabinet that if they were elected to the next Dáil following the election in two weeks' time but Fianna Fáil leaves power, they would be required to waive their payments.
Those payments would have seen each of the six members of the cabinet who are hoping to retain their seats in the Dáil – Brian Lenihan, Mary Coughlan, Éamon Ó Cuív, Pat Carey, Brendan Smith and Mary Hanafin – receive a tax-free payoff of €88,745.
It is unclear, however, whether outgoing ministers could still insist on claiming their severance payouts – which they are entitled to by law – or whether they will be entitled to claim the payments when they leave the Dáil entirely.
Martin had already said he was giving up his own severance payment – to which he became entitled after quitting the cabinet following his botched leadership heave against Brian Cowen last month – but his comments follow an insistence yesterday by the outgoing tourism minister Mary Hanafin that she would claim the severance.
Speaking on RTÉ's Morning Ireland deputy leaders' debate, Hanafin said she would draw any entitlements offered to her "by the current arrangements", but was willing to work to change those arrangements.
Reacting to Martin's announcement, Fine Gael's Brian Hayes said similar instructions should have been given to all outgoing ministers, and said his party would have put a legal block on barring severance payments until ministers reached the national retirement age.
"Some Fianna Fáil ministers who are retiring will actually receive more in pension payments than they would if returned as TDs," Hayes complained, adding that Martin had been "shamed" into turning down the severance pay after "reducing the minimum wage, slashing disability benefit, carers allowance and blind pensions.
"As Fine Gael said, the people receiving the severance payments represent a rogue's gallery of those who have brought financial ruin upon our country. They should simply give it up."
Sinn Féin president Gerry Adams said the move was a "hollow gesture" and a "distraction", and added that his party would cut ministerial salaries by 40 per cent, and those of TDs by a fifth.