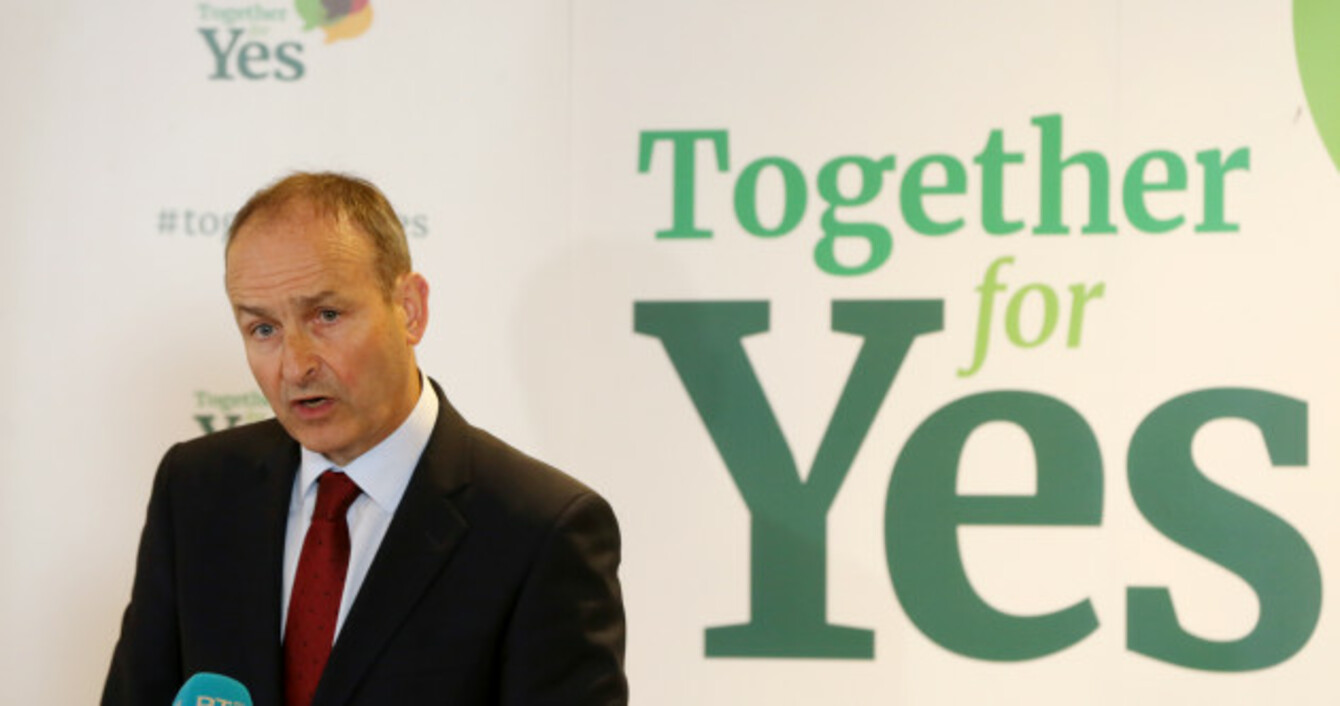 Fianna Fáil leader Micheal Martin is campaigning for a Yes vote.
Image: Sam Boal/Rollingnews
Fianna Fáil leader Micheal Martin is campaigning for a Yes vote.
Image: Sam Boal/Rollingnews
FIANNA FÁIL LEADER Micheál Martin has criticised the No side's argument that Ireland will become like England if it legislates for abortion.
In a surprise move earlier this year, Micheál Martin took to his feet in the Dáil and became the first of the two largest parties' leaders to endorse the removal of the Eighth Amendment to the Constitution.
With days to go before the country goes to the polls, Martin spoke to TheJournal.ie about how he reached this position, saying:
The argument that 'oh if we do this we become like England'. That's not true. We are not England, we are Ireland. We have a different approach. It was the same thing with the divorce referendum, it didn't happen, we didn't become like England.
Martin said Ireland will never be England.
The cultural disposition of a people is just as important as the legal framework that governs these things.
He said comparisons with other jurisdictions and predictions of what will come following referendum votes is something he has seen before, highlighting the debate on the Protection of Life During Pregnancy Bill in 2013.
We were warned that suicide would become the gateway through which people would get an abortion – that didn't happen. That argument is one that I questioned a lot more seriously than had been questioned up until then – the idea that if we do this the women of Ireland will become serial abortion seekers and doctors become serial abortionists. It is so wrong and the evidence is there. After 2013, I think we had seven incidences in relation to suicide. [There have been

seven terminations carried out

under the legislation since 2014. Figures for 2017 will be published in June].
The Cork TD said "the old 'floodgate' argument" that the whole system will collapse if we repeal the Eighth Amendment is wrong.
Abortion clinics will not be popping up around the country, he added, agreeing with Tánaiste Simon Coveney's comments this week that there would be no private abortion clinics set up.
"I don't see that happening as there is no necessity to a certain extent," he said.
Taoiseach Leo Varadkar also said this week that there wouldn't be abortion clinics in Ireland, but that hospitals would apply for licenses to carry out the procedures.
There will be a licensing regime so really only hospitals will carry out surgical procedures. There's no provision for abortion clinics in the draft legislation.
In the interview, the Cork TD also discussed why he is happy to take part in a TV debate, how some No voters from his party will back the government's proposed legislation if the Eighth Amendment is repealed and how he agrees with the Taoiseach that another referendum on the issue will not be held for a long time if the No side prevails.
Changing his mind
In January, it was surprising for Martin to take such a position on the abortion issue, and it was also a surprise to some within his own party.
His personal view on the issue of repealing the Eighth Amendment had done a complete 180. He has previously been on the record as being against any significant change in Ireland's abortion laws.
The speech in which he outlined his views was a bold move from the politician who is widely seen as somewhat conservative. Stating he was going to back a Yes vote in the upcoming referendum flew in the face of some of his own party members who are backing a No vote.
Source: TheJournal.ie/YouTube
There is also the elephant in the room that at his party's Ard Fheis last year, members overwhelmingly backed a motion to protect the life of the unborn.
Since he made his speech, the party has been under the spotlight about whether the divide on the issue is damaging to Fianna Fáil. The other question being asked is whether going out on a limb without the full support of his TDs and senators will bring about the downfall of Martin.
The party leader denies this is the case and says that "mutterings" around his leadership is codswallop.
12 week limit in legislation
Dealing first with the contentious issue of the 12-week limit contained in the government's proposed legislation (which would go through the Houses of the Oireachtas should a Yes vote prevail), it is an issue many people, including some in his own party struggle with, admitted Martin.
Should the Eighth Amendment be repealed the next hurdle for government is getting its draft legislation passed.
Fine Gael will be looking for all the support it can get. It can generally back on Fianna Fáil's support under the confidence and supply agreement, but Martin has given his party members a free vote on the abortion issue – from repealing the Eighth Amendment right through to voting on the legislation.
"I think there will be a majority in the Dáil, if it [the referendum] is passed, to support the Heads of the Bill. I think the fact that it is put out there in the General Scheme… I think people will be faithful to that," he said.
No voting Fianna Fáil TDs
Speaking about his party's freedom of conscience on the issue, he said No voting Fianna Fáil TDs will not stand in the way of the will of the people.
He added that some deputies who have indicated they are voting No will back the legislation if the referendum to repeal the Eighth Amendment passes.
I think the fact we allowed a conscience vote has allowed a greater freedom of speech from our own members and other members in other parties. I think that is a good thing, it's healthier than what may have happened in the past, when people just put their heads below the parapets even though they had views because of the party whip.
"I have met deputies who have told me they will honour the will of the people, they will accept the will of the people" even though they are voting for the retention of the Eighth Amendment, he said.
"Obviously they are entitled to vote No in the actual referendum vote itself. A referendum is the ultimate form of a democratic expression of the people, it is our constitution and when the people have so voted there is an obligation to follow that through. People have said that to me. That said people may still have conscientious objectives and issues of conscience and that still holds."
Martin describes himself as pro-life, but he said as a legislator, he has to face the reality of the situation.
"The 12 weeks has become an issue and I understand that and I understand why people have misgivings and I think a lot of people will vote Yes with reservations, just as people will vote No with reservations."
Having taken the Christmas period to read through all the Oireachtas Committee's documentation, he said he understood the reason why its proposed abortion will be permitted in first trimester, and one aspect relates to the issue of rape.
"The legal advice is very strong. You are not going to be a position legally to go about proving that it was a rape. How for instance can a daughter say her father raped her. What is a girl supposed to do at 14 years of age? Take on the family? That is not a realistic option for any young child," he said.
Striking a balance as a legislator 
He said his conscience will not allow him stand over a situation where woman who has become pregnant as a result of rape is forced to go to full-term pregnancy.
I find it difficult to impose that on another person. I have my own personal view, I am not a personal advocate of abortion, but as a legislator I have to balance my own views with enforcing those views on others in society. There is a balance to be struck as a legislator. I respect people's views, but I have to say what I believe in my conscience.
He added that in a rape situation, essentially the rapist ends up with more rights than the woman, and he believes that is wrong.
Martin said the 'hard cases' continue to be mentioned in the debate, but he said "they are real cases, they are real life situations".
Following his speech in January in which he outlined his views in the Dáil, he said he has had a mixed response from people, some supportive and some negative.
"I recall a social worker, after I made my speech to the Dáil, who got in touch to say thanks. She said she was a social worker who remembers a 14-year-old who became pregnant from her neighbour and she had to deal with that. So these are very real cases and sometimes they get dismissed as hard cases."
When asked if he would have done anything different with the draft legislation had his party been in power, he said Fianna Fáil were "happy" to allow the Oireachtas Committee gather the different viewpoints and come together "to hammer out a compromised approach as there will never be agreement [on the issue] across the House".
No repeat referendum
Earlier this week, Taoiseach Leo Varadkar said if the referendum falls, there will not be another referendum on the issue held by his government. But what about the next?
Martin agreed with the Taoiseach that there wouldn't be a repeat run.
"Of course there couldn't be, because we'd have just had one. We [Fianna Fáil] accept the will of the people, Yes or No we accept the will of the people.
"I think we have to give due regard to the decision on the referendum and by definition that is laying it down for quite a significant amount of time that there wouldn't be another referendum," he said.
He believes the referendum will pass this month. The Cork TD doesn't believe people who had a chance to vote in the last referendum knew what inserting the Eighth Amendment would bring about.
I think to be fair when the Eighth Amendment was put in many people didn't foresee what eventually happened. I have used the phrase before that we only got to know some women through letters of the alphabet through the court cases. I don't genuinely think that was foreseen by a lot of people that voted for the amendment at the time.

We have learned an awful lot in the last 25 years about life and about things that were buried under the carpet and I think that is informing some of the views that are changing.
While he said the debate to date has been mostly respectful, this week's Claire Byrne Live harked back to the days of the 1980′s abortion debates with "name calling", said Martin.
"You got a sense… it is like the 80s again. It just got hot … some of the debate was fine, maybe it is heating in the next two weeks, maybe it will get hotter in the next two weeks," he added.
Martin wants to debate on TV
While Fine Gael members such as Taoiseach Leo Varadkar, Health Minister Simon Harris and other ministers have been pounding the pavements canvassing for a Yes vote, Martin has been more reserved with his approach.
But he believes he is doing enough for the cause, stating that he has attended many Yes campaign events.
He said would be "absolutely happy" to debate the issue on one of the TV shows, adding that he has offered. At the time of the interview none had been confirmed.
"When it came to his party members, Martin said he "never sought to take anybody on this [journey]. I never sought to persuade someone else of my view. I am not going to impose my view on others," he said.
However, he wants members of the public to be well-informed about the issues and know what they are voting for.
If there is a no vote, victims of rape, incest and fatal foetal abnormalities will still be where they are and will have to go to England, he said.
If they vote no, they need to reflect on that, said Martin.
What does that mean? Are we saying to rape victims that there is no other alternative other than you have to go to England or take an abortion pill on your own
"I accept people have issues with the legislation I think people have to weigh that up because amending the Constitution isn't a runner," he said.
What people are voting on here is to try and get rid of cruel insensitivity the Eighth represents and replace it with a humane framework that doesn't change the culture in Ireland, that trusts obstetricians and gynecologists and women.
And I think if people stay calm and look at it through that prism and understanding our past and the various terrible case we have experienced, do we really want to condemn another generation of young people who may find themselves in very difficult circumstances to an inflexible and cruel law.