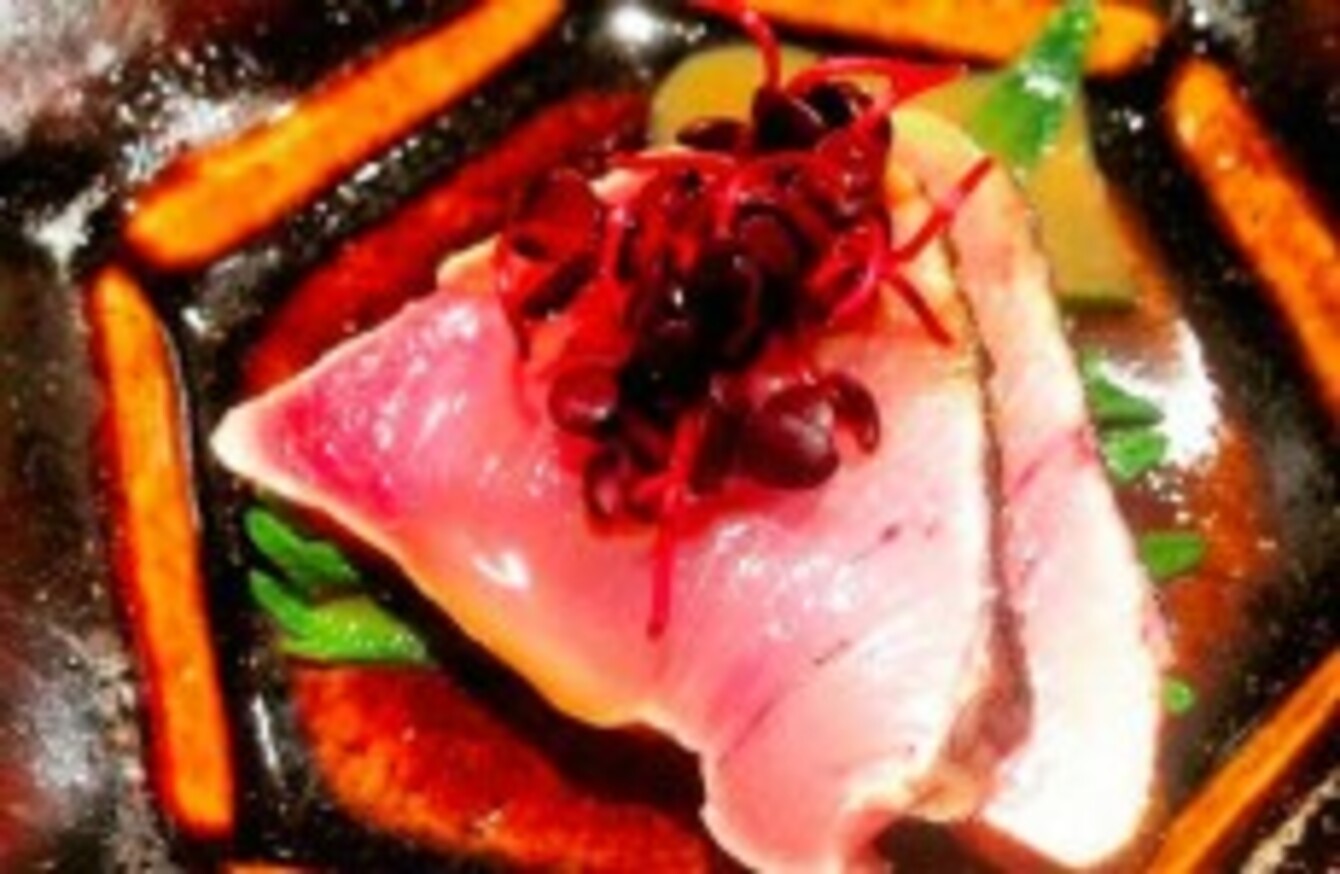 WHEN IT COMES to hobbies, some people play tennis. Others restore classic cars. Some take up the trombone.
Brian Robinson travels the globe, eating at the world's best restaurants twice a day.
Robinson, a businessman from Southeast Asia, has always loved food. He told Business Insider UK:
"My first trip abroad was when I was 13 years old. I wasn't thrilled with Disney Land or Universal Studies, but I was more interested with finding or eating the best burger of steak."
Today, when not working for a meat company, Robinson is visiting London, Tokyo, Paris, and other cities, eating some of the best food earth has to offer. He was kind of enough to share some photos of his meals with us.
Robinson tries to eat at a Michelin-starred restaurant twice a day when he's traveling. To be clear, he can't dine at top-tier restaurants every single day of the year.
Here's beef cheeks pot au feu with foie gras and artichokes, served at Le Violin D'ingres in Paris. It has one Michelin star.
He lives and works in the Philippines, where there are no restaurants that have been awarded stars. But he travels abroad once or twice a month, and when he does, he visits fine-dining establishments on a daily basis.
This is a raspberry medley from La Grande Cascade, also in Paris with one star.
Michelin stars are issued by French tyre manufacturer Michelin and are considered a guide to the best restaurants in the world. Ratings range from one to three stars.
A dish at Alain Parrard in Paris. Three stars.
Robinson only visited a Michelin-starred restaurant for the first time in January 2013. He had dim sum and shark's fin at Fook Lam Moon (two stars) in Hong Kong. "I loved it."
Marinated saddle of rabbit, capers, Italian cheese with fondue cream and tomatoes, at the Ristorante Aroma in Rome. One star.
When visiting a city for the first time, Robinson says that he makes an effort to visit the major sights, and then go to a Michelin-starred restaurant each day for dinner.
Frozen roasted poppy seeds with parsnip and pear cream, cold horseradish chocolate, beer radish slices, and sweet cucumber, from Restaurant HORVÁTH in Austria. One star.
"If I have been more than once to that city and have seen the important sights," he told us. "I design my itinerary around lunch and dinner at Michelin restaurants."
Salmon roe, at Sukiyabashi Jiro. Two stars.
He has a secretary who helps plan itineraries, print out maps, and so on. His wife, Rebecca, says they often catch the subway (if available) to save money.
Blueberry with yogurt ice cream at Pauly Saal, Germany. One star.
He prefers to eat only the local cuisine when visiting a city. "I would only eat French food in France, Italian food in Italy, and Japanese food in Japan. So, for example, in Hong Kong I would not eat at the three-star Robuchon [a French restaurant]. I would prefer to eat that in France."
Mango purée with sorbet at Restaurant Epicure at the Hôtel le Bristol in Paris. Three stars.
Robinson has tried a huge variety of food, but says he doesn't think any meal is "crazy." Over the course of his culinary adventure, he's had turtles and duck embryo (balut). "Everything is well-appreciated," he says.
Octopus salad starter at Aragawa, Tokyo. Two stars.
That said, he's not a huge fan of foie gras and liver paté.
Somen with uni at Sakaten, Osaka. Two stars.
So where's the best restaurant he's ever visited? Dinner by Heston Blumenthal in London, Pierre Gagnaire in Paris, and Lung King Heen all come to mind.
Lamb with dried apricots, mint, and pecorino, at Palazzo Petrucci, Italy. One star.
His favourite cuisines are French and Japanese.
 Raw deer with green peas, mint, and raspberries. Ristorante Cracco, Milan. Two stars.
And the worst? "So far all Michelin-rated restaurants [are] rated fairly [high]," he says. The ones where he has been disappointed are down to "over-expecting."
 A dish served at Pierre Gagnaire in Paris. Three stars.
But if he had to choose, Flaveur in Nice, France, was the "worst" of the bunch.
La Grande Cascade, Paris. One star.
Robinson loves food, but, surprisingly​, he doesn't cook much himself.
Gaku's charbroiled young tuna, at Otemon Gakuin University. One star.
Rebecca says that he doesn't even really go to one-star Michelin restaurants any more — instead preferring to eat exclusively at two- or three-star restaurants, when available.
Fish cooked in sake and ponzu sauce. Sushi Harasho, Japan. Two stars.
When he does visit one-star restaurants, he'd rather not pay more than $80 (£52).
Abalone (sea snail) at Kikuchi, Japan. Two stars.
The menus given to women often don't have prices, Rebecca told me. "One time I freaked out and told him 'oh my, how do you eat without knowing how much your bill would be?'" He responded by pointing out that his menu — the one for the man — does.
Light cream of haricot coco bean soup with golden croutons and pig's feet. Le Violon D'ingres, Paris. One star.
"We are married so he doesn't even care what he looks like when we go out on dates," Rebecca says. "But when he is out on a date with his Michelin food (for three-star ones), he wears a suit regardless of whether the dress code dictates it."
A dish served at Dinner by Heston Blumenthal in London. Two stars.
One particularly hot day, she asked him why he bothered. "Because I respect the food."
 A dish at Epicure in Paris. Three stars.
Rebecca keeps an Instagram account, @DatingMrMichelin, where she shares photos of meals they have eaten together. It is "for my husband who loves eating; sometimes, even more than he [love]s me!"