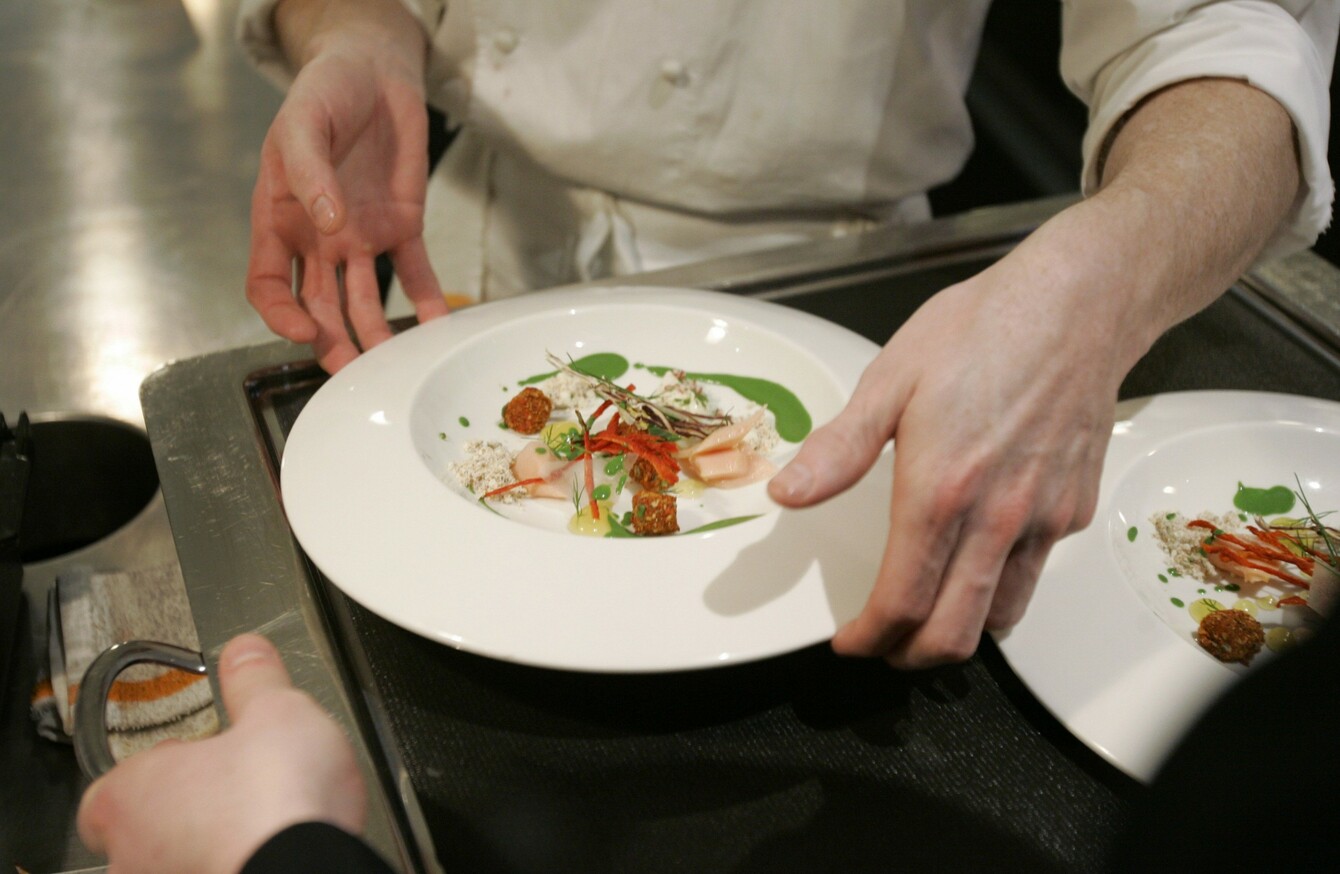 Chef Grant Achatz places one of the many courses on a server's tray in the Alinea restaurant kitchen in Chicago.
Image: AP/Press Association Images
Chef Grant Achatz places one of the many courses on a server's tray in the Alinea restaurant kitchen in Chicago.
Image: AP/Press Association Images
IT IS THE most prominent accolade in the culinary industry.
The Michelin Star has, to many chefs and customers, become not just a desire, but an obsession.
Others, meanwhile, stumble upon theirs, receiving it not because they set out to, but because others tell them they are worthy.
The Michelin Guide, which launched its 2017 edition this week, was first published in 1900 as a way to increase road tripping and demand for cars in France.
In 1926, the company began sending anonymous reviewers to restaurants and a decade later began the star system as we know it.
Essentially, the one, two and three star ratings mean: go if you're in the same place, make a detour to go here and go out of your way to go here respectively.
This year, there are 12 Michelin starred restaurants on the island of Ireland: 10 in the south, two up north.
But what makes a Michelin-starred restaurant? Is it even quantifiable? In Dublin alone, there is a huge difference between the food on offer in Chapter One and L'Ecrivain, in Restaurant Patrick Guilbaud and new entrant Heron and Grey.
Rebecca Burr is the editor of the Michelin Guide and she told TheJournal.ie that its work is not cut and dried.
Making decisions
Inspectors, as the reviewers are called, will eat in restaurants in their local areas and submit reviews for the guides – which do not only focus on the stars. Some are worthy of mention, some of a Bib Gourmand and some of a star. When the decision is made on the star, things get a little more complicated.
It's a combination of inspectors eating alone and eating with other staff. The inspectors will make an analysis of if it's a star and we might then eat with them. It's up to us to represent the chefs and review every restaurant."
That drive to be certain means eating at some of the world's best restaurants again and again.
For this year, we had eight experiences at (Heston Blumenthal's three-starred and £255 per-person) the Fat Duck.
While that may sound an enviable task, Burr points out one major pain about it.
"It's a tough job getting bookings because they're so in demand and we would never reveal who we were."
Indeed, to protect the process of awarding stars, Michelin guards its privacy. However, the idea that reviewers keep their identities secret from even their families is an apocryphal tale. Though some single eaters are often mistaken for Michelin reviewers.
I think that has become exaggerated over the years. The team in America had one woman who didn't tell her mother because she was a bit chatty and I think the editor mentioned it in an interview, so it spiralled from there.
"We like to think we're approachable, we just don't like to be too out there.
"At the same time, we're not fools, we know if we've been detected. Years ago, chefs may have given you special treatment, but times have changed, chefs don't play those games any more."
Net effect
So what is the effect of a star? Does it make or break a place?
Not really.
A star can make business boom for some, but most locals know if a restaurant is worth visiting before they are awarded, Burr says.
We tend to hear that restaurants have phones ringing off the hook, but many already had very busy restaurants before that. Heron and Grey for example, is already very successful, we just came along and added what we thought.
"There's no such thing as a typical Michelin starred restaurant. I think that's what makes the stars interesting.
We would say to restaurant owners: don't spend loads of money on interiors, but we say invest in the kitchen – not the toys, spend on the chefs and the ingredients.
Source: Tom Henderson/YouTube
And those chefs who don't achieve stars? Do they beat down the doors demanding answers?
Chefs don't get us on the phone but you can sense they're disappointed.
"Chefs know if every plate on the pass is perfect."
Now, with the 2017 guides published, attention is already on 2018′s edition.
"The inspectors on the ground are going down every little lane."