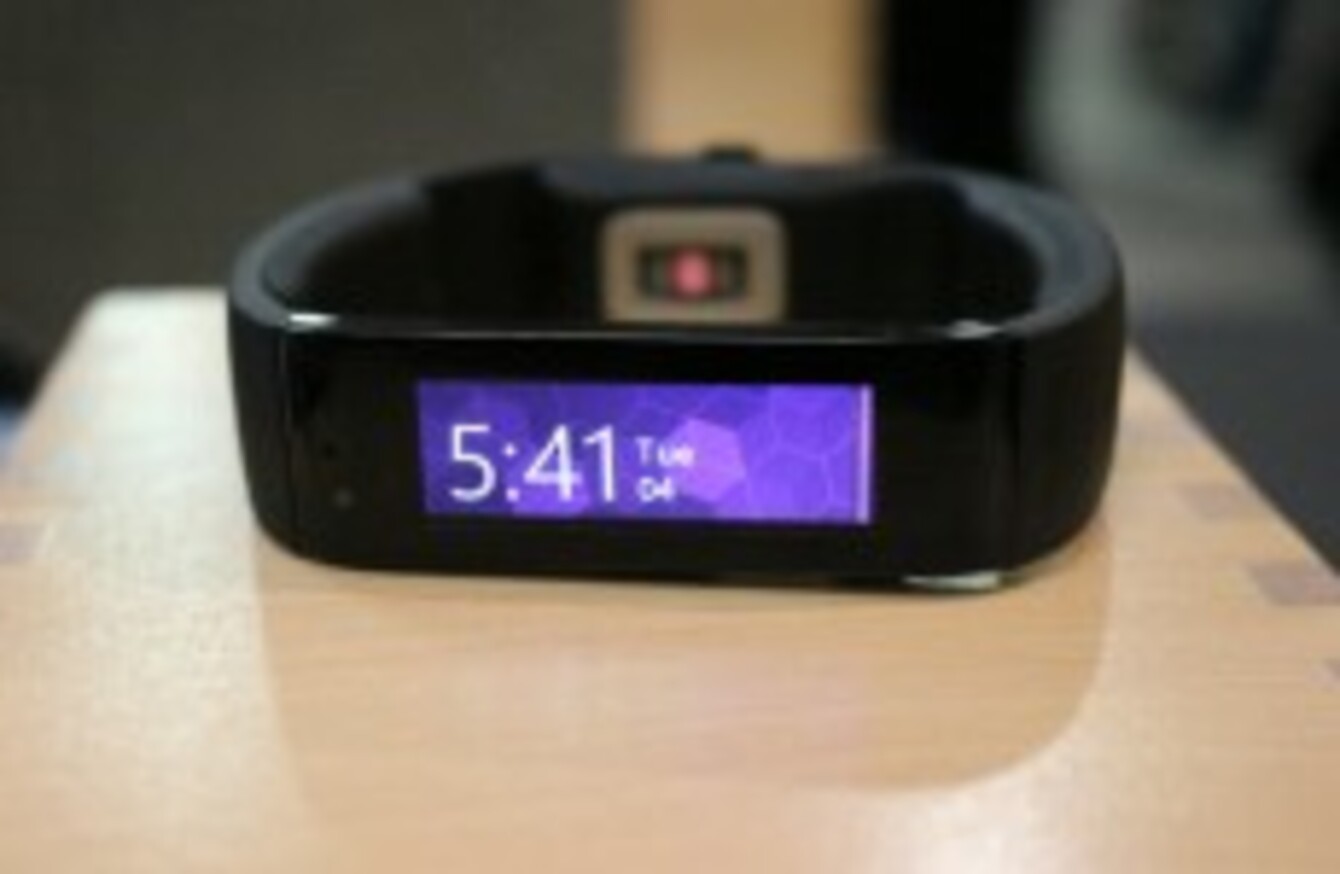 Image: TheJournal.ie
Image: TheJournal.ie
LAST WEEK, MICROSOFT announced it would be entering the health and wearable tech market with its own product, the originally named Band.
With the focus very much on health and fitness, with some smartwatch elements thrown in for good measure, Microsoft is looking to jump into both areas and pave the way for future wearables with its latest product.
Briefly, we got to try it out and from first glance, it looks like it has promise. As mentioned before, the device is geared mostly towards fitness so elements like steps tracked, heart rate and even your sleep quality.
The style might not be to everyone's tastes – think of it as a fitness band with a digital screen on it for checking occasionally and you'll have the right idea – but it is relatively comfortable and you could forget about it while wearing it, despite what the shape suggests.
There are two buttons located underneath the screen, the traditional power button is one while the second allows you to cycle through counters on the home screen, tapping it switches between steps taken, calories burned and a UV sensor should you require it.
The rectangular screen means that menu scrolling is done by swiping left to right. Pretty much all the functionality you would associate with a smartwatch is here, except using the same Windows Phone style.
Notifications, text messaging, Cortana (the smart personal assistant still has yet to arrive in Ireland) and the traditional fitness additions like activity and sleep tracker and a way to activate workouts – Band will tell you when to start and finish fitness routines that you can download or create yourself.
The band comes with Microsoft Health app, which is made available for iOS, Android and Windows Phone.
The 1.4-inch screen is probably a little too small for completing specific tasks – the back button is incredibly small and works better if you tap the edge of the screen instead of directly on it – and seems to be a little awkward for doing non-fitness related activities.
To its credit, the screen works better than you would expect, and is fine for checking up updates, although getting used to it is a little awkward.
One issue could be battery life, which is said to be two days. That could be a major drawback for those who have already invested in a fitness band and gives them little impetus to upgrade.
That said, such flaws may be forgiven if it manages to offer a comprehensive fitness experience, but whether its potential translates into a great product is difficult to say.
Smartwatches have yet to break into the public mindset and the best attempt so far, the Moto 360, has some flaws that might not be as easily forgiven. Also, the tracking of fitness for these devices can be hit and miss so if Band maintains any sort of accuracy, it will already have an advantage over other similar products.
Whether it lives up to its promise or not, it looks like Microsoft has the right idea with Band, despite some initial drawbacks, and could be the start of something bigger for it. The wearables market is there for the taking and if the company can make a success out of Band, it could give it a much-needed advantage.
Band was only released in the US last week and costs $199 (€158), but no word as to when it will make its way over here.