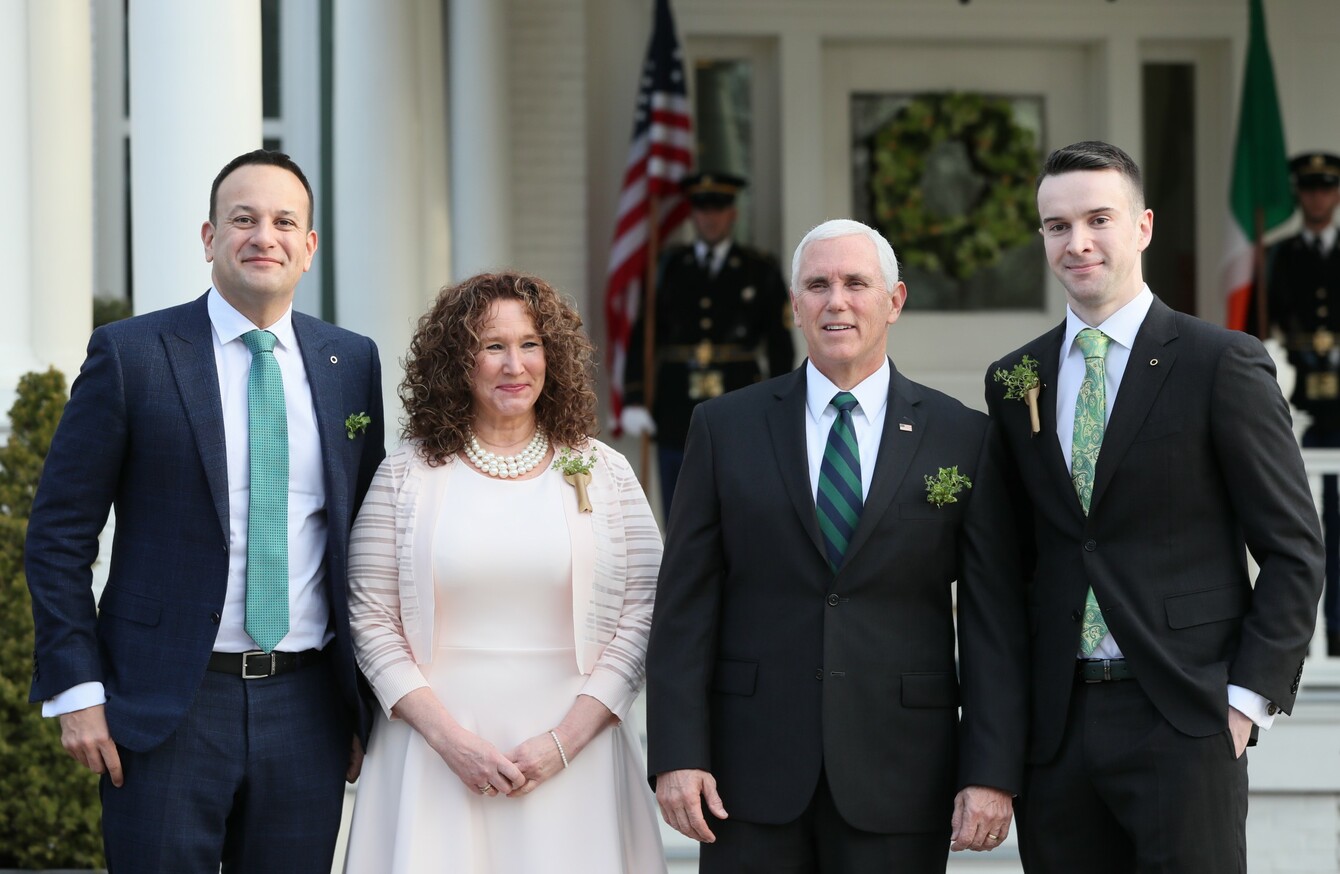 This year's St. Patrick's Day breakfast at the VP's official residence in Washington DC.
Image: /PA Images
This year's St. Patrick's Day breakfast at the VP's official residence in Washington DC.
Image: /PA Images
Updated Sep 2nd 2019, 4:37 PM
TAOISEACH LEO VARADKAR has said that US Vice President Mike Pence is "a real friend of Ireland" and that he has got to know him "reasonably well in the last couple of years". 
Pence arrives into Ireland today and will meet with Varadkar tomorrow as well as President Michael D Higgins. 
The meeting with Varadkar for lunch and talks will take place in Farmleigh House with Varadkar saying today that his parents and partner Matt Barrett will also be present. 
Barrett attended a St Patrick's Day breakfast with Varadkar in the US Vice President's official residence in Washington DC this year after an invitation from Pence. 
Pence has been criticised for his views and his legislative record on LGBT rights and a protest outside the Dáil is taking place tomorrow to coincide with Pence's visit to Dublin. 
Speaking to reporters in Dún Laoghaire today, Varadkar said that Pence is "very welcome to Ireland". 
He's bringing his family with him so what we're hoping to have tomorrow is a family lunch involving my parents and my partner, but that does involve getting time off work, not for me, so that's all being worked on.
"I do want to say, you know, about Vice President Pence, I've got to know him reasonably well in the last couple of years. He is a real friend of Ireland and somebody whose father fought in the Civil War and somebody who I hope I can speak to tomorrow about Brexit," Varadkar added. 
Varadkar was likely referring to Pence's maternal grandfather Richard Cawley who moved to the US in 1923 after previously serving with the Irish Free State Army.  
Brought forward
The former Indiana governor's visit to Ireland had initially been scheduled for later this week, but the trip was brought forward after an extra European engagement was added to his schedule. 
Pence was drafted in to take Donald Trump's place at World War II anniversary commemorations in Poland yesterday after the president said he needed to remain in the US to deal with the approaching Hurricane Dorian.
Pence is arriving in Shannon early this evening and will stay overnight in Trump Doonbeg – the Co Clare golf resort owned by the president where Trump himself visited earlier this year. 
A Shannon Airport spokesperson said that extra security measures will be in place on the roads leading to the airport and the car parks from today until 12pm on Wednesday. 
The spokesperson said that while it will be "business as usual" at the airport, passengers should allow an extra 15 minutes travel time when travelling to and from Shannon. 
Pence will travel to Dublin tomorrow where he's due to pay a courtesy call to President Michael D Higgins at Áras An Uachtaráin, before the engagement with Varadkar for at Farmleigh House. 
Pence is due to visit Iceland and the UK later in the week – with recent 'incursions' into the Arctic Circle by China and Russia expected to be on the agenda in Iceland and (of course) Brexit up for discussion in his London meeting with prime minister Boris Johnson. 
Varadkar and his partner Matt Barrett met with Pence during the Taoiseach's St Patrick's Day visit to the US earlier this year.
The Taoiseach extended an invitation to Pence, who has strong ancestral roots in Ireland, at that engagement in the Vice President's Washington home. 
Tomorrow's visit is expected to be met with protests in Dublin – including one organised by Amnesty Ireland at the gates of the Dáil. 
The NGO is hosting a 'Disco at the Dáil' to mark the presence of Pence, who has long been criticised for his positions on LGBT rights and abortion.  
"We want to show him, and people that support him, that we're a different country now, so that he can't go back to the USA and say there is any support for his policies here," a Facebook event listing for the protest said. 
That Ireland is a place where you can be who you are and love who you love. Where you can stand up for your rights and that others will stand with you. That even though there is so much still to do, we're moving forwards, not backwards.
The event is billed as a "celebration and of all the people that Pence and Trump's cruel policies discriminate against". 
Brexit  
Politicians on both sides of the Irish Sea will be paying close attention this week to Pence's comments on Brexit and the Trump administration's plans for future relations with the UK. 
US National Security Advisor John Bolton said during a visit to London last month that his government wanted "to move very quickly" on a trade deal with Britain after it leaves the EU, and that the UK was "first in line" for a future trade deal.
Trump himself added that the UK could expect a "very big trade deal" in the wake of Brexit after a breakfast meeting with Johnson at the G7 recently.
However the US House speaker, Democrat Nancy Pelosi, has warned that any trade deal will not pass Congress if it undermines the Good Friday Agreement.