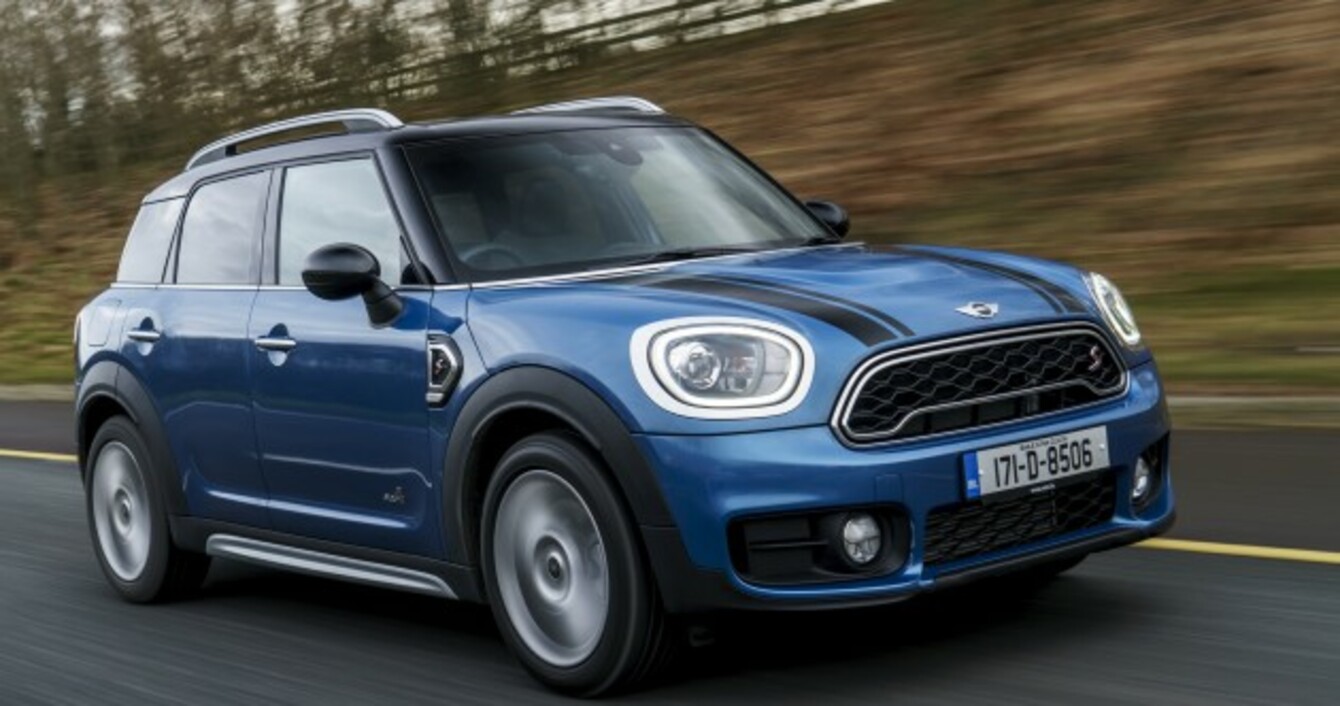 Image: DOMINIC FRASER
Image: DOMINIC FRASER
THE NEW MINI Countryman, priced from RRP €32,980, is the biggest Mini in the brand's 57-year history. But is this latest high-riding model more about form than function?
It is based on – and shares a lot of technological components with – the X1, BMW's five-door, five-seat SUV. And with SUVs so popular at the moment, the Mini is bang on trend.
Yes, it still bears all the usual Mini styling traits – the friendly face and round headlights – but it sits higher and has a much chunkier image compared to the other models in the range.
And whilst some diehard Mini fans will say this car is more maxi than Mini, you have to remember that Mini (or MINI, to give the company its preferred typography) is a brand and not just one model of car. Mini has listened to its customers and has given them what they want – a car that can accommodate growing families. This is not just an extension of the hatchback, but a car in its own right.
But is the Mini Countryman just a fashion statement? For me, the answer is no – it is more than just a trendy car. Let's look at why.
The Countryman has five doors with large apertures meaning it is easy to get in and out of, especially in the back which is handy when trying to fit and take out child seats.
It has great head and legroom up front and the seats have plenty of adjustment to find a good driving position.
The rear bench seats will fit two adults and a child comfortably. Even six-footers won't be too squashed or uncomfortable on long journeys.
The rear seats fold individually in a 40/20/40 formation and they slide forwards and backwards which gives great flexibility in the back.
The boot holds 450 litres with the rear seats in place. As a comparison the Audi Q2 can hold 405 litres, the Nissan Qashqai can hold 430 litres and the Mercedes-Benz GLA can hold 481 litres.
The Countryman also has a picnic bench/cushion that folds out of the boot meaning you can chill out under the tailgate. A nice touch.
The state-of-the-art technology and driver's aids mean that the Countryman is packed full of safety features and conveniences as standard including Rear Park Distance Control, cruise control with brake function, and Mini navigation system.
But for me, where the Mini shines is out on the road. Unlike some SUVs, the Countryman is not just rugged-looking – it has actual ability off-road thanks to the ALL4 all-wheel drive system that is available on all variants.
The suspension set-up is a little on the firm side meaning you will feel some lumps and bumps but there is very little in the way of body roll and this combined with the ALL4 system means the car stays relatively flat – making it feel surefooted and secure. You can carry speed through the corners with confidence.
And whilst this firm ride means the Countryman isn't as comfortable as some of its rivals especially over long distances, it is more fun to drive than many other SUVs.
The extra ride height is nice and means you have a commanding driving position as well as decent ground clearance for when you do venture off the tarmac.
MINI is proud of the 'go-kart' driving characteristics of its products. And whilst this model isn't as nippy as the Hatch, it is quick to respond, has swift handling and decent well-weighted steering with adequate amounts of feedback.
I tested the Cooper D with six-speed manual gearbox, the Cooper D ALL4 with auto gearbox and the Cooper S ALL4 model. My favourite was the Cooper S ALL4 with the super peppy 190hp 2.0-litre petrol engine mated to the slick eight-speed Steptronic auto gearbox. This model felt nippy with adequate power and was very smooth and refined. Also, when in 'Sport' mode the engine emits a great gurgling sound. Fab.
For me, it would seem that the biggest barrier to ownership is the price. Mini is a premium brand with a premium price. It is a lot of money for a small car – but it is an iconic, well-loved brand and Minis hold resale value well.
It's also a lot cheaper than its counterpart the BMW X1, which costs from €38,400.
Overall, the Mini Countryman feels like a very polished premium product with mature road manners as well as those fun Mini characteristics. It is finished to a very high standard and comes with a good level of standard kit. It is also the most practical Mini you can buy.
And for me, this makes the Mini Countryman all about function as well as form. It is more of an investment piece than an on-trend fashion statement.
Powertrains:
The Mini Countryman can be had with the choice of two petrol and two diesel engines with Mini TwinPower Turbo Technology:
MINI Cooper Countryman: 3-cylinder petrol engine, 136hp 1.5-litre making 220Nm.
MINI Cooper S Countryman: 4-cylinder petrol engine, 192hp 2.0-litre making 280Nm.
MINI Cooper D Countryman: 4-cylinder diesel engine, 150hp 2.0-litre making 330Nm.
MINI Cooper SD Countryman: 4-cylinder diesel engine, 190hp 2.0-litre making 400Nm.
MINI JCW ALL4 Countryman: 4-cylinder turbo engine, 231hp 2.0-litre making 350Nm.
MINI Cooper S E Countryman ALL4: the first ever MINI with plug-in hybrid drive.
All models can be had with ALL4 four-wheel drive and the option of a six-speed manual or six-speed Steptronic automatic transmission.
An eight-speed Steptronic transmission is available for the new MINI Cooper S Countryman and the new MINI Cooper D Countryman and comes as standard in the MINI Cooper SD Countryman.
The JCW can be had with the six-speed manual or eight-speed Steptronic automatic.
MINI Cooper S ALL4 Countryman
Engine: 190hp 2.0-litre petrol making 280Nm of torque
Transmission: eight-speed Steptronic automatic with ALL4 all-wheel drive
Bootspace: 450 litres to 1,390 litres
L/100km (mpg): urban: 7.8 (36.2); extra-urban: 5.6 (50.4); combined: 6.4 (44.1)
CO2 emissions: 146g/km
Tax: Band C €390
Price: test car RRP €42,437. MINI Countryman ranges starts at RRP €32,980
#Open journalism
No news is bad news
Support The Journal
Your contributions will help us continue to deliver the stories that are important to you
Support us now