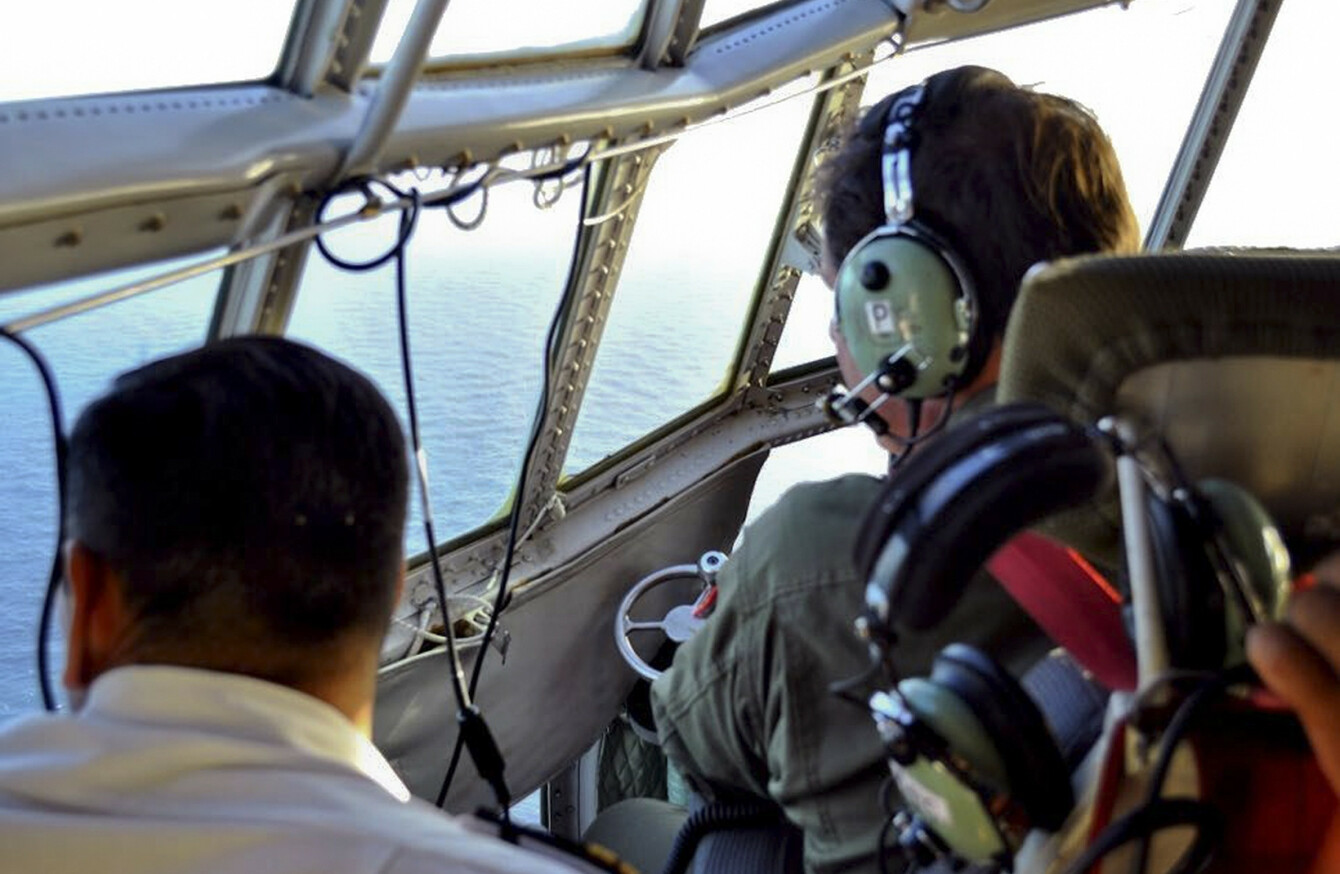 Members of the Argentine Air Force search for the missing submarine in the South Atlantic near Argentina's coast.
Image: Argentina Navy via AP
Members of the Argentine Air Force search for the missing submarine in the South Atlantic near Argentina's coast.
Image: Argentina Navy via AP
Updated 2.41 pm
ARGENTINA'S NAVY HAS said that a sound consistent with an explosion has been detected in the area where they are searching for a missing submarine.
The navy had been investigating an unusual noise detected in the South Atlantic hours after it last communicated with a missing submarine.
They have now said that the sound is consistent with an explosion.
The development came as the clock was ticking down on hopes of finding alive the 44 crew members now missing for a week despite a massive search of surface and seabed, amid fears their oxygen had run out.
The ARA San Juan would have had enough oxygen for its crew to survive underwater in the South Atlantic for seven days since its last contact, according to officials. At 7.30am yesterday, that time had elapsed.
Navy spokesman Enrique Balbi told reporters earlier a "hydro-acoustic anomaly" was detected in the ocean almost three hours after the last communication with the vessel on 15 November, 48 kilometres north of its last known position.
Argentinian news outlet Radio Mitre is reporting that the navy has said that the anomaly was a "singular violent, and non-nuclear event, consistent with an explosion in the submarine ARA San Juan".
Information about the unusual noise became available today after being relayed by the United States and "after all the information from all agencies reporting such hydroacoustic events was reviewed", Balbi explained.
"It would have been a very loud noise" and one that could have been an explosion, a former sub commander told AFP privately.
Poor weather
High seas and poor visibility in the South Atlantic have hampered the search since it began, around 320 kilometres off the Argentine coast. Waves have towered as high as six meters.
The conditions have fed hopes that the vessel may be on the surface undetected.
Despite the mechanical problems it reported during its last contact last Wednesday, the crew could survive indefinitely if the sub retained the ability to rise to the surface to "snort" or replenish its air.
Conditions improved on Tuesday, but the forecast for today is once again poor.
The 34-year-old German-built diesel-electric submarine that was refitted between 2007 and 2014 had flagged a breakdown and said it was diverting to the navy base at Mar del Plata, where most of the crew members live.
It didn't issue a distress call, however.
Jessica Gopar posted a moving letter to her husband, San Juan crewman Fernando Santilli, father of their one-year-old baby, on Facebook.
"Hi, Fernando. I don't know if this finds you calm or desperate. Every day here becomes harder. There are moments of hope and great distress."
"I am surrounded by family, your colleagues, acquaintances and friends, there is no moment that we do not pray for your rescue. Today has to be that day," she wrote.
National apprehension
The sub's disappearance has gripped the nation, and President Mauricio Macri visited the relatives – who have endured days of false hopes – and prayed with them.
US President Donald Trump offered his support yesterday, tweeting: "May God be with them and the people of Argentina!"
Underwater sounds detected by two Argentine search ships were determined to originate from a sea creature, not the vessel.
Satellite signals were also determined to be false alarms.
"A light begins to shine, and then it goes out," said Maria Morales, the mother of one of the missing sailors.
"There is a curtain of smoke, we don't know anything," said Elena Alfaro, whose brother is aboard the submarine.
It doesn't make sense that so much time has passed without anyone knowing anything.
#Open journalism No news is bad news Support The Journal

Your contributions will help us continue to deliver the stories that are important to you

Support us now
"The hours go by. We're hoping for a miracle. I don't want to bury my brother, I want him with me. I feel he'll come back, but I am aware of time passing."
Argentina is leading an air-and-sea search with help from several countries including Brazil, Britain, Chile, Colombia, France, Germany, Peru, the United States and Uruguay.
The defence ministry said the search area could be expanded sevenfold, though it was already large.
Pain, helplessness, hope
The incident has recalled recent submarine disasters, perhaps most prominently that of the Kursk, a Russian nuclear sub that caught fire and exploded underwater in 2000, killing all 118 on board – some instantly, others over several days.
An accident aboard a Chinese sub in 2003 killed 70 crew, apparently suffocated after what Beijing termed "mechanical problems".
Among the ARA San Juan's crew is Argentina's first female navy submariner: Eliana Krawczyk (35).
Cards, banners with slogans and placards have been strung up on the outside of the Mar del Plata base's wire fence, expressing solidarity with the families tensely waiting for any news.
"There's a mix of feelings: pain, helplessness, at times hope," Morales said.
"The feeling is that they will come back, that we will tell ourselves today, 'They are back.'"
© – AFP, 2017 with reporting by Associated Press