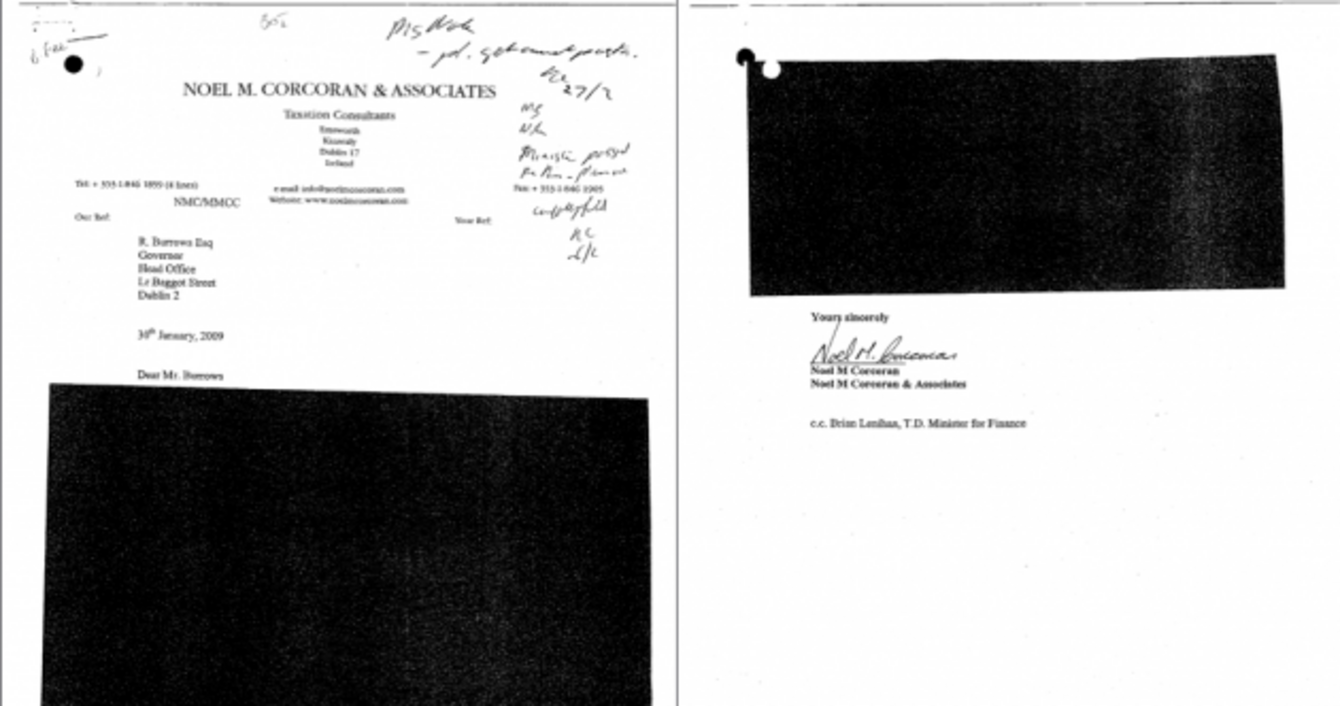 The original version of this redacted letter has been lost by the Department of Finance.
The original version of this redacted letter has been lost by the Department of Finance.
SINN FÉIN TD Pearse Doherty is to seek further information about the loss of documents related to the banking crisis by the Department of Finance as the Taoiseach yesterday expressed concern about the matter.
It emerged last Friday that the original versions of two letters, both concerning a possible investment in Bank of Ireland in January 2009 and which were copied to the former finance minister Brian Lenihan, have gone missing.
Copies of both letters are only available in redacted form although one of them has been partially recovered by officials in the Department.
Speaking in the Dáil yesterday, Enda Kenny said that while he had not been "been over in the Department of Finance myself looking for these letters" he is "concerned about the absence of pieces of paper in regard to this matter".
Doherty said that the issue is "very serious" as it is not clear if any other documents have gone missing.
The Department of Finance would not confirm on Tuesday if it is actively searching for the missing letters, despite Minister Brendan Howlin saying he was sure "good efforts" are under way to locate them.
"We will be putting down questions to the Minister for Finance to ask how these documents could have gone missing [and] what are the processes in terms of recording documents," Doherty said yesterday.
He said that the public "are suspicious" given previous claims by Kenny that there was a lack of documentation related to the bank guarantee in the Department of the Taoiseach.
"We need to get to the bottom of this and I don't think this issue is going to go away, particularly in light of the banking inquiry that should be taking place this year," Doherty said.
The Donegal South–West deputy has asked Michael Noonan if the loss of the documents is being investigated, who had access to them, if a full audit will be carried out so see if any other documents are lost, and whether the handling of sensitive files will be reviewed in light of the disappearance of the letters.