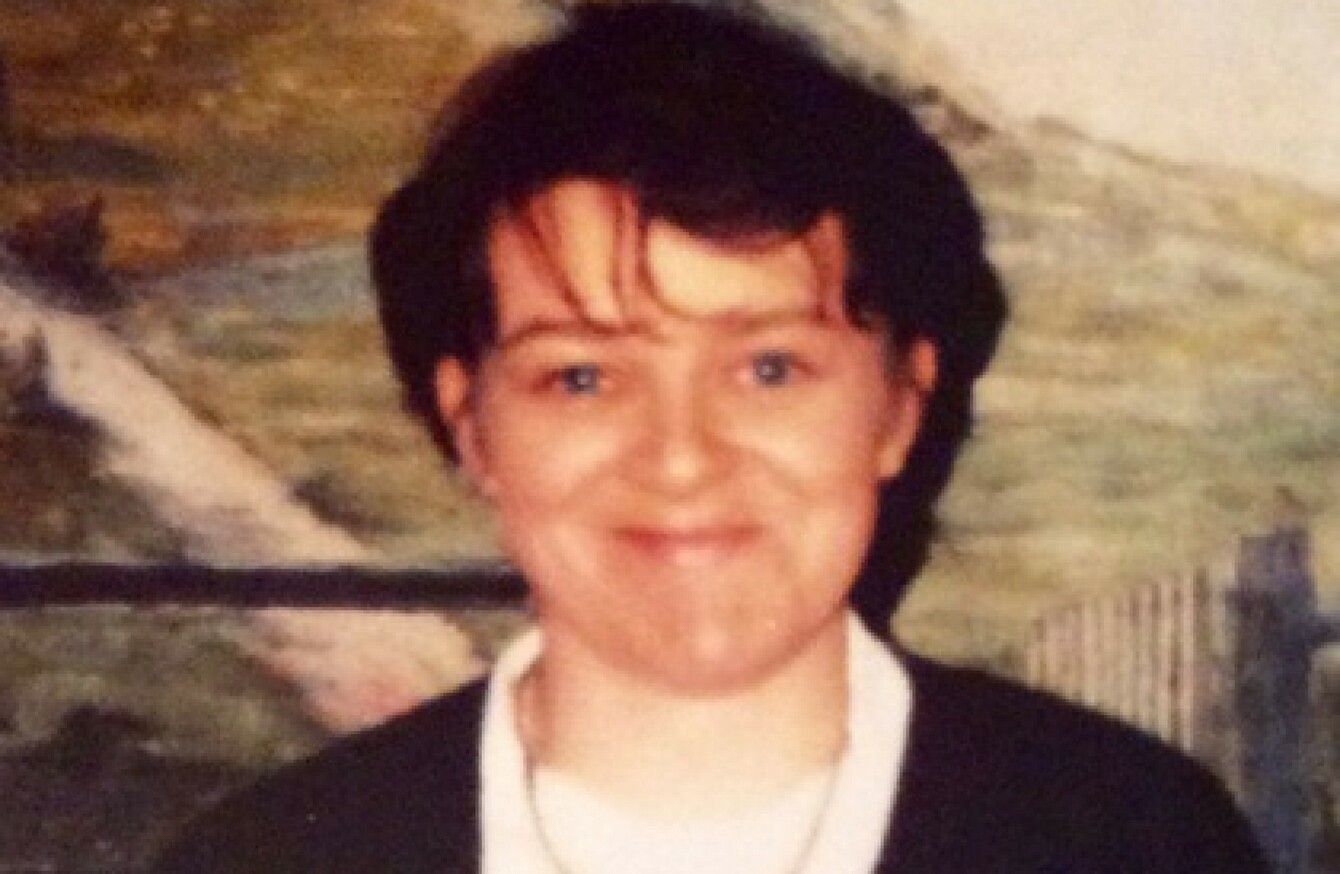 Sandra Collins
Image: Patrick Collins
Sandra Collins
Image: Patrick Collins
THIS WEDNESDAY, THE Collins family will gather to remember their sister Sandra on what would have been her 45th birthday.
The last time they saw her, she was 29 years of age. It was 4 December 2000, at their family home in Crossmolina, Co Mayo.
It was their last time seeing her alive, and 16 years on they continue to search for the missing woman.
They are still appealing for anyone with information to come forward so that her body can be recovered. The family accept that it is unlikely that their sister is still alive. They want to bring her home, and give her a proper burial.
Sandra's father died earlier this year, and one of his parting messages to his family was to keep the search for Sandra going.
"Promise me that you'll keep looking for her, keep looking for Sandra," he told them.
A space has been left in the family grave for Sandra's body.
"It's becoming as the years go round it gets harder and harder to keep going and now that we've lost him it's just unbelievable," said her brother Patrick.
Now the family hope that an inquest can be held next year which would provide more information on what happened to Sandra.
Patrick told TheJournal.ie last year about the night they last saw her:
It was a Sunday night. And they [Sandra and her aunt, who she lived with and was a carer for] came up to Crossmolina to see us every Sunday night.
It was their sister's birthday, and Sandra went out and bought her a birthday card and signed the card in the family home for her.
She told our mother she would see her next Sunday, and that she hoped that she wasn't too cross with her that she didn't have a present. She was chatting away. She was in great form, in really good form, she was on about Christmas.
The family have had a file prepared for an inquest into Sandra's death. "We are hoping for sometime soon in 2017," said Patrick.
Killala man Martin Early was acquitted of the murder of Sandra Collins in 2014, due to lack of evidence. The court was told that Sandra was pregnant at the time that she went missing. Early denied murdering Sandra.
The judge's closing remarks were that there is enough evidence to prove that Sandra is no longer alive, said Patrick. "Just not enough evidence to prove cause of death."
"It would mean that people would have to give evidence again in a public forum," explained Patrick of the inquest.
It's going to be hard again. It's going to be difficult but we have to try extort every avenue that is possible to us. We're hoping this might lead to something new or it's going to be difficult. No matter how hard it is we have to try and suck it up and keep going. Our feelings don't come into it.
New footage
In March of this year, the month after their father's death, the family unexpectedly received video footage taken of Sandra a number of years before her death. In it, she and her brother Patrick, then aged eight, are seen speaking to a local radio reporter.
"It was like winning the lottery," said Patrick of the footage. "It brought her back to life for me, and for the rest of us too. My hands were shaking when I put it into the DVD player. I was nervous, afraid. I haven't heard this person speak in 16 years. It was like she was stood here in my front room. It's hard, it was difficult to see it. To see her looking after me; how small I was. I think back to that time, I can remember when I was that age and how happy we were and how everyone is together."
"I'm hoping that might jar the emotion of the person involved or who knows something," added Patrick. "This time 16 years ago I know their life was upside down no more than our own."
For the Collins family, the pain caused by Sandra's disappearance never ends. "It's 24 hours a day, seven days a week. There's no break. We're all getting older."
Patrick appealed once more for anyone with information on Sandra's disappearance to come forward. "They could even write it a note and leave it in a church," he said, adding that people could call the local gardaí or leave a message anonymously via Crimestoppers or Searching for the Missing.
Earlier this week, he attended a memorial service in Farmleigh with other relations of missing people. "It's awful to see other people waiting for 20 -30 years. It's awful really."
At Christmas, they remember Sandra by visiting the family grave. "What we normally do is go to the grave and put a wreath on the grave," he said. "Then we will go to the plaque, then the church to light a candle."
This year, as every year since 2000, they will spend Christmas remembering Sandra, and waiting for a person with information to give them the news they so desperately need.
Anyone with information about Sandra Collins can contact the helpline (independent of An Garda Siochána) 'searching for the missing', on 085 209 2119; Ballina Gardaí on 096 20560; or Killala Gardaí 096 32111. The Garda Confidential Line can also be called anonymously on 1800 666111.