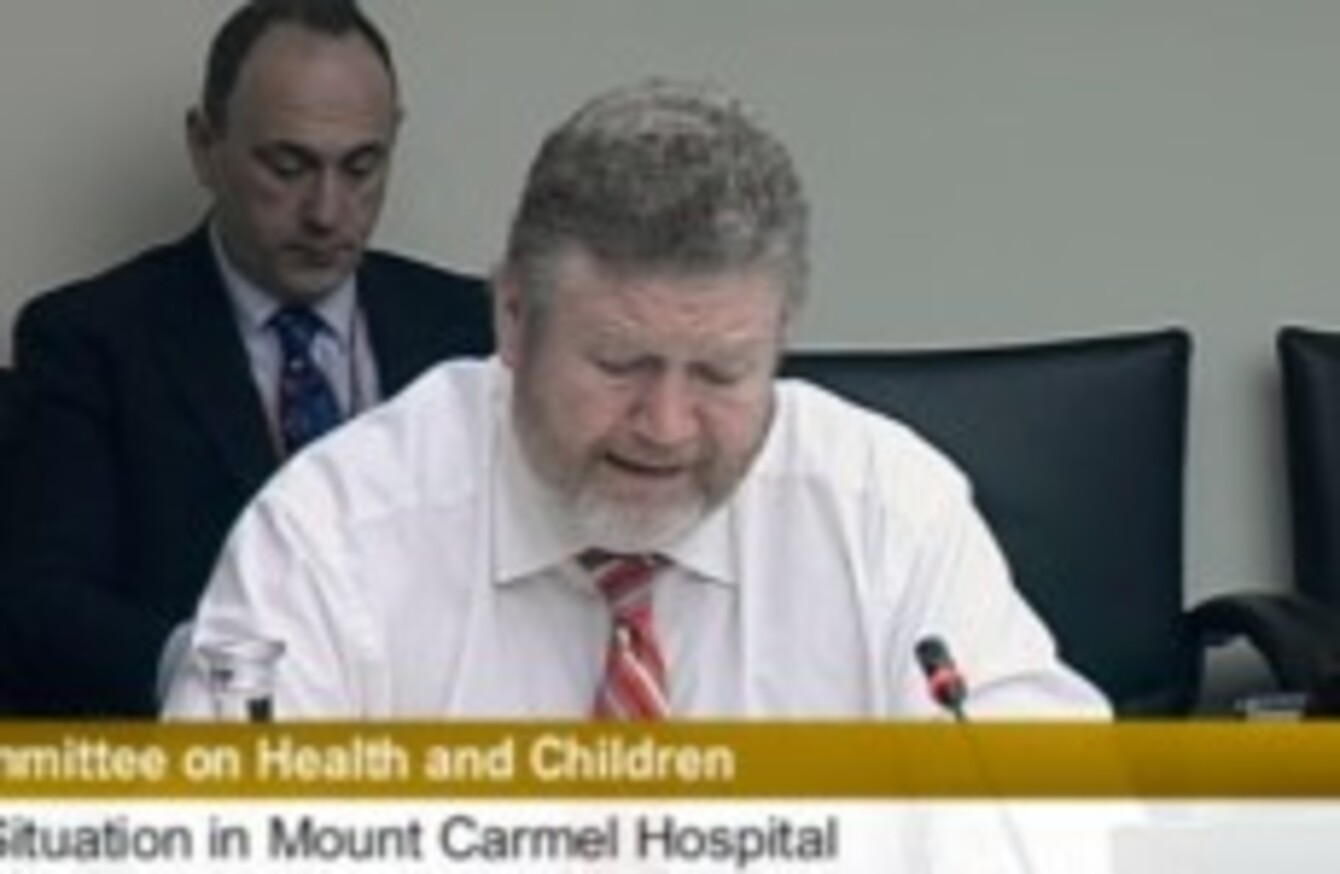 Minister James Reilly
Image: Screengrab/Oireachtas TV
Minister James Reilly
Image: Screengrab/Oireachtas TV
PHILIP MCANENLY OF the Irish Nurses' and Midwives Association said today Mount Carmel Hospital would have moved into profitably in 2014 had it been allowed to stay open.
Speaking in front of the Joint Oireachtas Committee on Health and Children today he said the hospital was "moving closer and closer" to breaking point, where they had introduced cost saving initiatives over the year, including redundancies and that they believe it would have been profitable.
Jobs
He added that 328 jobs were sacrificed at Mount Carmel Hospital for the balance of just €2 million.
Speaking on the current situation he said there were a number of bids on the table, such as a consortium involved in private health company Centric, as well Fergal Mulchrone and Tony Barry.
The Minister for Health, James Reilly said however that he wanted to be clear that the state purchase of Mount Carmel was never a "viable" option.
He said that a feasibility study showed that it contrary to government policy on maternity services, and a "retrograde step" to have a stand alone maternity hospital.
He said that speaking as both a doctor and the Minister for Health, he said that high quality patient safety would not be compromised on, adding that it does not constitute best practice and "does not provide the level of safety our patients need".
McAnenly said that the job losses will cost €4 million per year, while the loss in VAT and PAYE will account for €7 million per year.
Not just a maternity hospital
McAnenly said that it is a common misconception in the media that Mount Carmel hospital is primarily a maternity hospital stating that it only forms a small part of the hospital.
Of the 130 beds at the hospital, 25 beds are maternity beds, he said.
He added that the the hospital was relieving the pressure from the public health system under the National Treatment Purchase Fund, where he said patients were being treated and easing the pressure of the chronic overcrowding and long waiting lists of other hospitals.
He said that 2,300 people were taken off the public waiting lists for operations in Mount Carmel Hospital. Of those, 1,100 operations were carried out and 1,200 are now back on the waiting list for an operation, he said, adding that a lot of these people had been on waiting lists for up to three years.
Caoimhghín Ó Caoláin TD said he was disappointed that NAMA representatives did not attend the meeting today to explain why NAMA decided they could no longer provide financial support.
McAnenly said "€2 million was what was needed required as needed to keep the hospital working," adding that the reasons to keep it open are compelling.
Billy Kelleher said that the key question he wanted answered was "whether or not a number of millions would have sustained the entity to ensure it got to profitably".