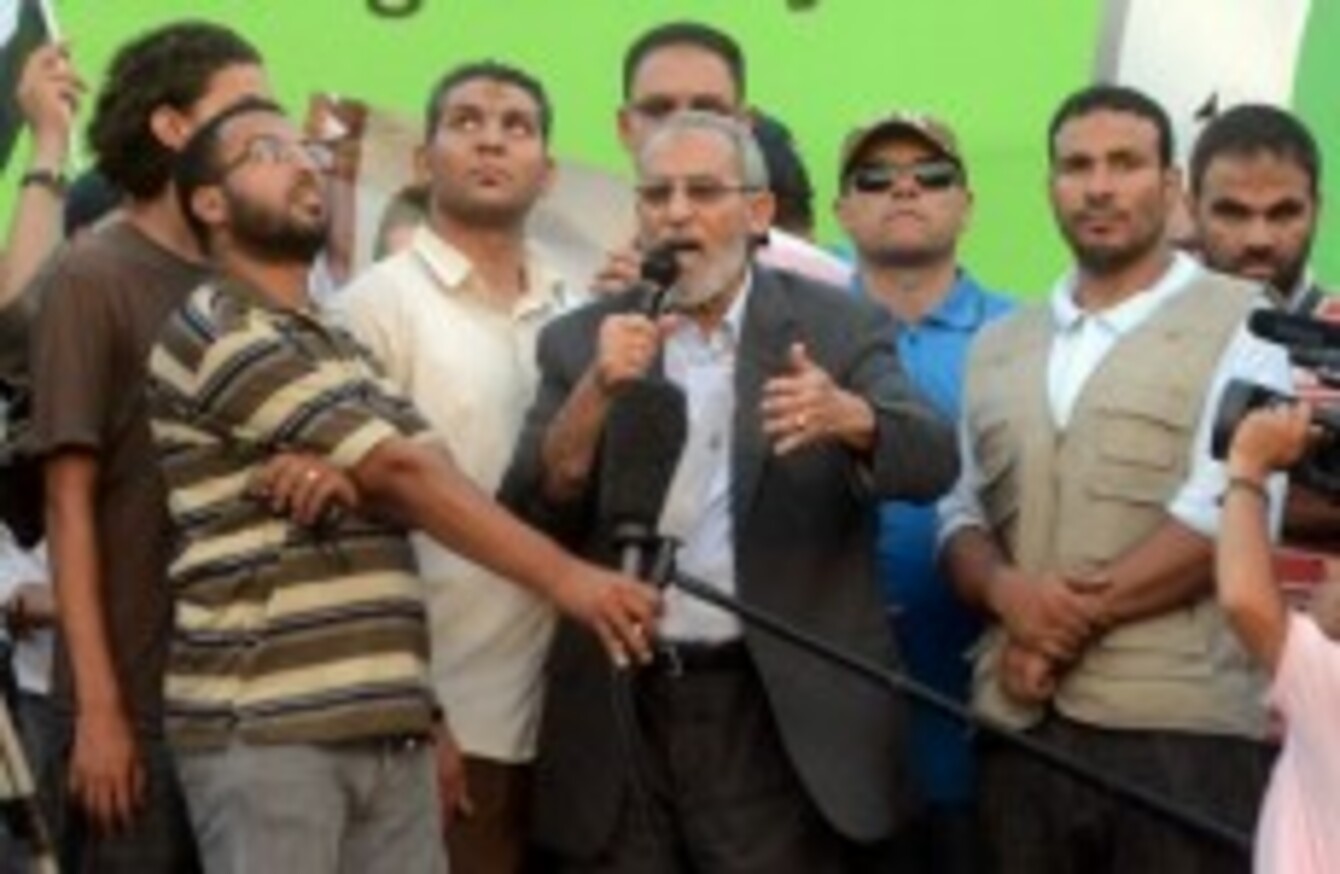 Mohammed Badie speaks to a Cairo crowd in July
Image: AP Photo
Mohammed Badie speaks to a Cairo crowd in July
Image: AP Photo
EGYPT'S MILITARY-BACKED rulers are pressing on in their crackdown against the Muslim Brotherhood with the arrest early today of the group's spiritual leader who had been in hiding near the huge sit-in in support of the country's ousted Islamist president, which security forces violently dispersed a week ago, leaving hundreds dead.
The arrest of Mohammed Badie — the supreme leader of the Brotherhood, the Islamist group from which ousted president Mohammed Morsi hails — followed a chaotic day of bloodshed that saw 25 policemen killed in a militant ambush in Sinai and a court ruling announcing the possibility that the jailed ex-president Hosni Mubarak could walk free later this week.
Mubarak's release could fuel the unrest roiling the country after Morsi, Egypt's first democratically elected president and the autocratic Mubarak's successor, was removed in a military coup on 3 July.
Underscoring the growing anger over Morsi's ousting, suspected Islamic militants on Monday ambushed two minibuses carrying off-duty policemen in Egypt's Sinai Peninsula, forcing the men to lie on the sand and shooting 25 of them dead.
The brazen daylight attack raised fears that the strategic desert region bordering Israel and the Gaza Strip could be plunged into a full-fledged insurgency.
Badie was captured early today in an apartment in the eastern Cairo district of Nasr City, according to security officials and state television, very close to where Morsi's supporters held a six-week sit-in protest that was cleared by security forces last Wednesday.
The private ONTV network showed footage of a man the network said was Badie after his arrest. In the footage, a somber looking Badie in an off-white Arab robe, or galabiyah, sits motionless on a sofa as a man in civilian clothes and carrying an assault rifle stands nearby.
Badie and his powerful deputy Khairat el-Shater, who is in custody, go on trial later this month for their alleged role in the killing of eight protesters outside the Brotherhood's Cairo headquarters in June. His arrest is a serious blow to the group at a time when authorities are cracking down on its leaders and mid-ranking officials, detaining scores of them across the country.
The officials spoke on condition of anonymity because they were not authorized to speak to the media.
Late Monday, the 25 slain police officers were given a funeral with full military honours. The men's coffins, draped in red, white and black Egyptian flags, were jointly carried by army soldiers and policemen, and Egypt's interim President Adly Mansour declared a nationwide state of mourning to mark their deaths.