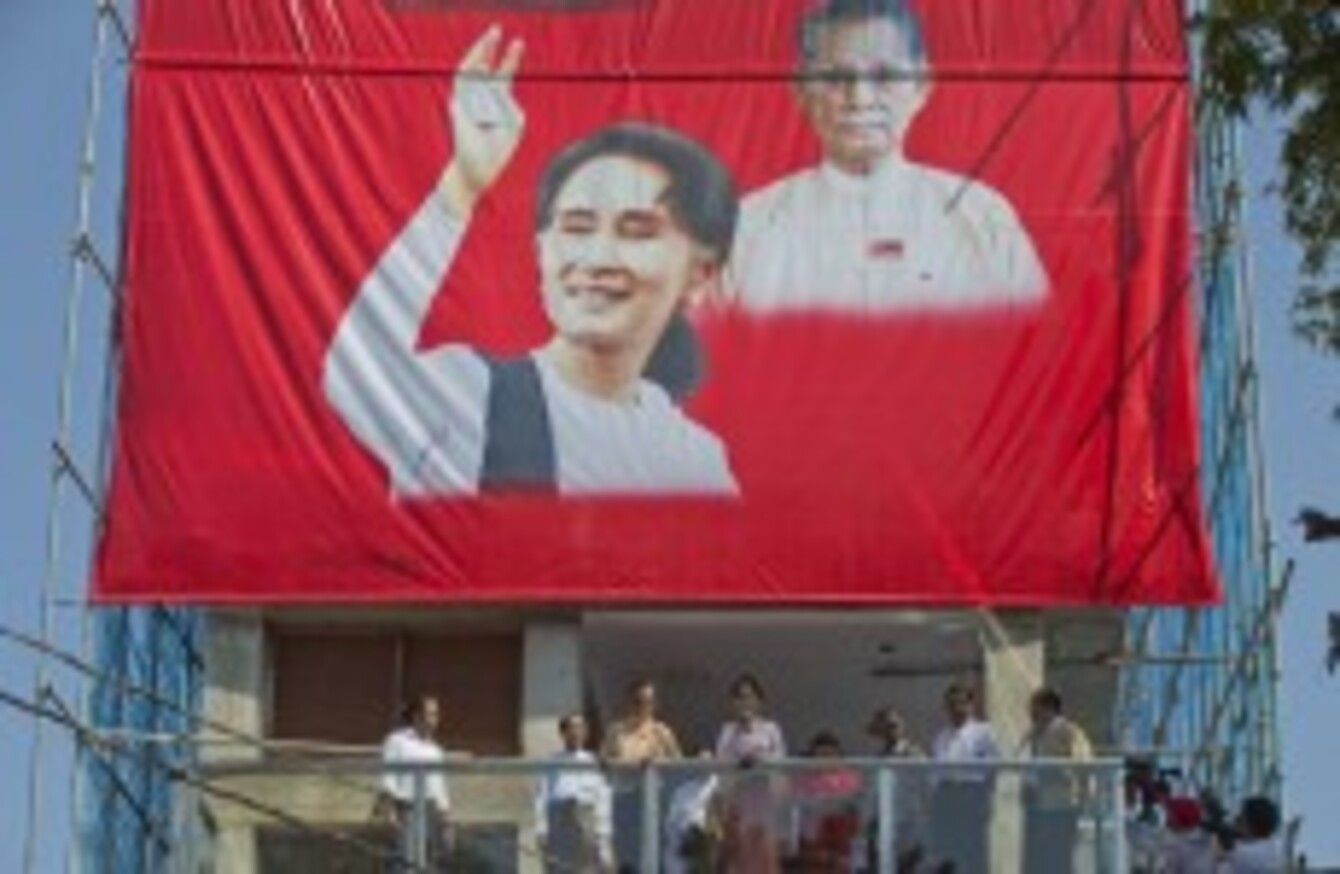 Image: Mark Baker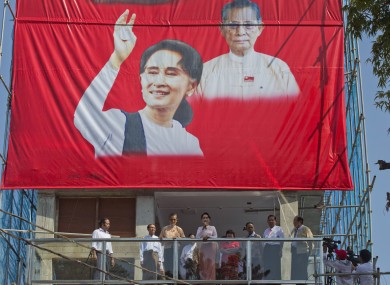 Image: Mark Baker
Updated at 8.25pm
THE PARTY OF Myanmar opposition leader Aung San Suu Kyi claimed victory earlier today in virtually every seat in four states where results of the country's historic parliamentary election were known, signalling a sweep that could give it the presidency and further loosen the military's stranglehold.
The announcement at the headquarters of the National League for Democracy set off a new round of jubilation among the party's red-shirted supporters, who already had been celebrating the result of Sunday's vote.
The NLD said it had won 44 of the 45 lower house seats and all 12 of the upper house seats from the party stronghold of Yangon, Myanmar's biggest city. It also won all 38 seats in Ayeyarwaddy state, all but one of the 40 in Bago, and 11 out of 19 lower house seats and all 10 upper house seats in Mon state.
The trend was expected to continue in Myanmar's remaining 10 states.
Even without official results, it was clear that the Union Solidarity Development Party was facing a rout. The party is made up former junta members who ruled the southeast Asian country for a half-century and as a quasi-civilian government since 2011.
Popularity
Suu Kyi, the Nobel Peace Prize laureate and pro-democracy icon, had urged supporters earlier in the day not to provoke losing rivals who mostly represent the former junta in the country also known as Burma.
If her party's figures are confirmed by official results, it would mean that Suu Kyi's party would not only dominate parliament, but could also secure the presidency despite handicaps built into the constitution.
"I want Mother Suu to win in this election," said street vendor Ma Khine, using a widely used affectionate term for the 70-year-old party leader.
She has the skill to lead the country. I respect her so much. I love her. She will change our country in a very good way.
However, a constitutional amendment bars anyone with a foreign spouse or child from being president or vice president, meaning Suu Kyi is not eligible for those posts. Her two sons are British, as was her late husband.
Suu Kyi has said, however, that she will act as the country's leader if the NLD wins the presidency, saying she will be "above the president".
In her first postelection comments, Suu Kyi told supporters at NLD headquarters: "I want to remind you all that even candidates who didn't win have to accept the winners, but it is important not to provoke the candidates who didn't win to make them feel bad."
'Patience and dignity'
In Washington, White House spokesman Josh Earnest praised the "meaningful, competitive election" as an "important step in Burma's democratic reform process".
But Earnest also noted "structural and systemic flaws" in Myanmar's system, pointing to the laws preventing Suu Kyi from becoming president.
"There are some imperfections — to put it mildly. There's also no denying the rather dramatic change we've seen inside of Burma," he said in a statement to reporters.
UN Secretary-General Ban Ki-moon congratulated Myanmar's voters for their "patience, dignity and enthusiasm", according to a statement from the office of his spokesman.
The junta, which seized power in a 1962 coup, annulled the results when Suu Kyi's party won a sweeping election victory in 1990. A new vote was held in 2010, but the opposition boycotted it, calling the election laws unfair.
Read: Trial begins of Burmese men accused of killing two British tourists