Artist's depiction of the Curiosity rover at work on Mars.
Image: NASA/JPL-Caltech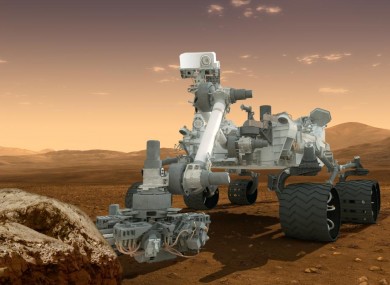 Artist's depiction of the Curiosity rover at work on Mars.
Image: NASA/JPL-Caltech
NASA IS PLANNING to land its Mars rover craft onto the red planet in August and has narrowed the projected landing zone.
Although the car-sized rover 'Curiosity' will now land closer to the area where it will carry out science operations while on Mars, the narrowed landing zone is closer to the foot of a mountain slope that could pose a hazard to the rover's safe landing.
Curiosity is scheduled to carry out a two-year project on Mars to test whether the mountain area by the landing zone was ever an environment conducive to microbial life.
The rover is equipped with a robot arm which can bring scientific instruments into direct contact with the planet's surface and a last to analyse the elemental composition of vaporised materials.
Pete Theisinger, Mars Science Laboratory project manager at NASA's Jet Propulsion Laboratory (JPL), says that the narrowed zone will cut the distance Curiosity has to travel to its ultimate destination on the planet by about a half, meaning it would arrive there months quicker.
The landing target ellipse has been scaled down to 7km by 20km from its original projection of 20km by 25km, and it is due to touch down on Mars on 6 August.
Dave Lavery of the Mars Science Laboratory says that preparation for the landing has been underway for years "and all sings are good".
"However, landing on Mars always carries risks, so success is not guaranteed," he adds. "Once on the ground we'll proceed carefully. We have plenty of time since Curiosity is not as life-limited as the approximate 90-day missions like NASA's Mars Exploration Rovers and the Phoenix lander."
MSL scientists also say that tests carried out since the mission launched in November 2011 suggest that debris coming from a drill the rover will use to collect rock samples could mix with those samples. However, drill material is not expected to prevent analysis of the carbon content of the samples,  which will be tested by onboard instruments to identify their mineral and chemical compositions.
As of today, the rover mission has travelled 465,763,475km – and has another 101,303,095km to go:
(NASA image)