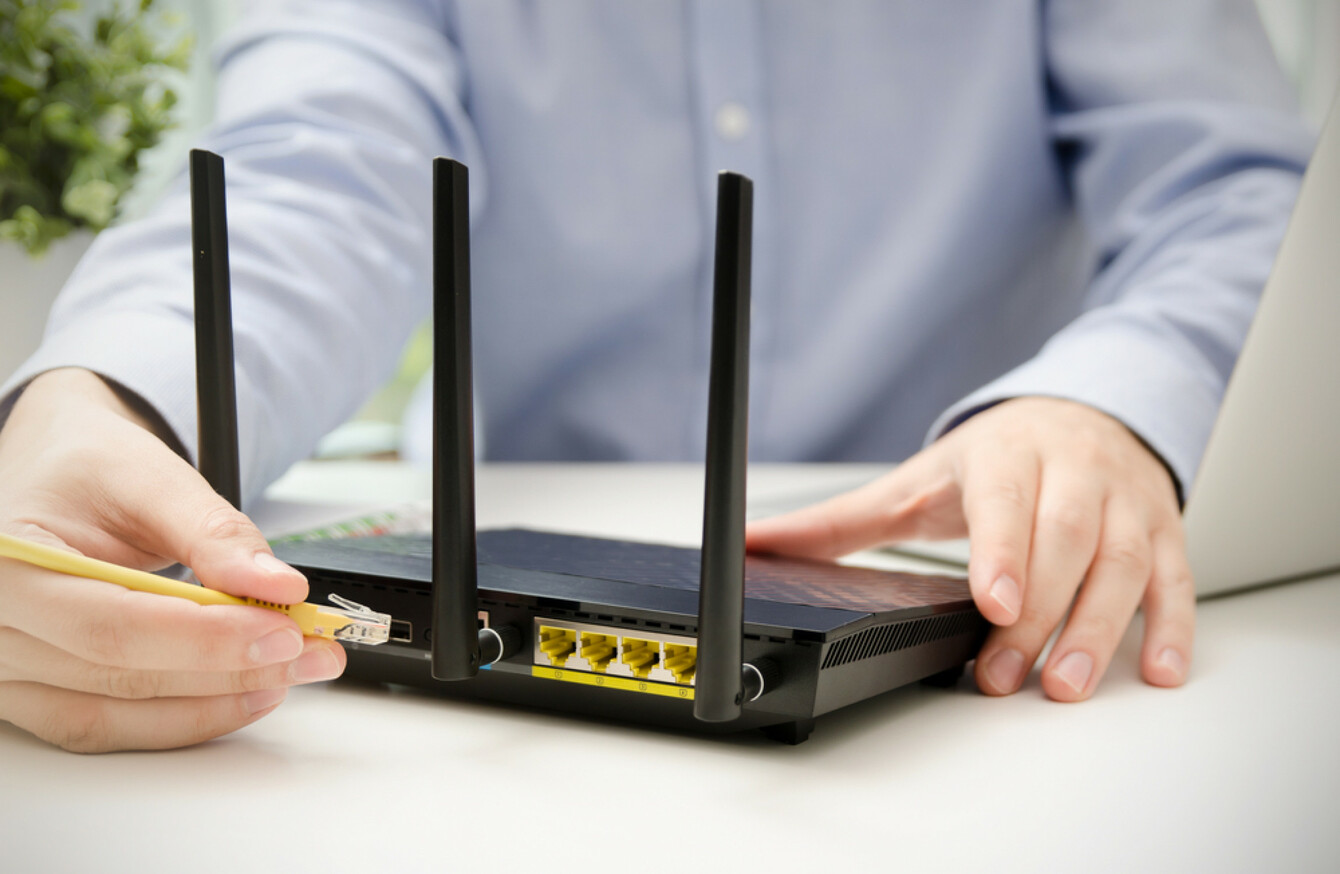 Image: Shutterstock/Piotr Adamowicz
Image: Shutterstock/Piotr Adamowicz
IT WILL BE 2023 by the time the government has connected all 540,000 homes to high-speed broadband in rural Ireland.
In response to a parliamentary question, Communications Minister Denis Naughten confirmed that the "network rollout will take 3-5 years following contract award" under the National Broadband Plan (NBP).
The contract is expected to be awarded this year, meaning it will take up until 2023 to connect over half a million homes and businesses covered by State intervention.
The NBP has been hit by repeated delays, having being first mooted back in 2012.
Tender 
The tender process for the NBP is now at an advanced stage, with just two bidders in the frame to provide broadband to the 540,000 homes in the plan.
Only Eir and Enet remain in the bidding process, after ESB and Vodafone's joint-venture, Siro, pulled out late last year.
Eir has already committed to rolling out broadband to 300,000 homes, leaving 537,587 rural homes and businesses  in need of State help.
The department confirmed that as of the third quarter in 2017, a total of 12,475 premises have been connected under the Eir contract. Recent reports by Eir state this figure has risen to over 14,000. The minister said this number is expected to continue to rise in coming quarterly reports.
While the Eir contract appears to be delivering, Fianna Fáil's Eamon Ó Cuiv has described as "appalling" the fact that it could be five years before the government manages to connect the majority of homes in rural Ireland to broadband.
Connections to high-speed internet
The confirmation by the minister that some homes will not be connected until 2023 comes a few months after Ó Cuiv first made the claim that 10% or 180,000 of the proposed connections won't be completed by the end of 2020, something he said he was told in a briefing.
TheJournal.ie FactCheck into that claim in September 2017 showed that some 201,00 premises, slightly more in fact than the figures provided to Ó Cuiv, will not have high-speed broadband by the start of the upcoming decade.
"It's almost impossible to believe that more than a decade after the National Broadband Plan was first launched, thousands of premises in rural Ireland will still not have a high-speed broadband connection," said Ó Cuív, adding:
"According to the information from Minister Naughten, almost one-third of all homes and businesses across 12 counties will have to wait up until 2023 to be connected."
He is not the only TD to be critical of the government's scheme. In an interview with TheJournal.ie, Galway-Roscommon TD Michael Fitzmaurice dubbed the rollout of broadband in rural Ireland as "a fiasco".
I am actually embarrassed by the broadband, and again, you have the independents looking after that. We are jumping from one thing to the other with broadband… I am sick listening to it.
We are going to pump money into a private operation that is going to dictate the price themselves, we are not going to be able to handle it instead of seeing the bigger picture of saying well we own the infrastructure and renting it out to them.
Minister Naughten has defended the rollout of broadband is nationwide, stating that as of today, some 67% of the 2.3 million premises in Ireland have access to high-speed broadband. This is set to increase to 77% (1.8 million premises) by the end of 2018 and to 90% (2.1 million premises) by the end of 2020, he explained.
'No one left behind'
He told TheJournal.ie that once the tender is awarded, work will begin immediately and no one will be left behind.
The world is looking at what we are doing here because just like we were the first country to bring electricity to every home, we will be the first to bring high-speed broadband to every single home and every single business in the country. Ireland will be the first country to do this.
He said he understands some people's anger at the progress made, stating:
As a rural TD I am acutely aware of the frustration and anger felt by people who are without high-speed broadband in rural Ireland. These families and businesses are my focus and every day I am working hard and committed to deliver broadband to their doors through the national broadband plan which is now in the final stages of the procurement process.
He said when he entered into office in May 2016, 1.2million (52%) premises in Ireland could access high-speed broadband. Today that figure has risen to almost 7 out of 10 premises with access to high-speed broadband, he said.
Within a year that will rise to nearly eight out of ten premises and by 2020 nine out of ten premises or 90% of premises the length and breadth of the country will have access to high-speed broadband.
Naughten said the National Broadband Plan is a 25 year contract.
"It's not just for today and tomorrow – it's for the next decade and the decade after that so we have to get this right… We did it with rural electrification and we will do it again with broadband. This is my promise to the people of rural Ireland," said the minister.
Taoiseach Leo Varadkar said the government will invest in broadband this year, stating:
Our target is to have 75% of homes in the country connected to high-speed broadband by the end of 2018. We are currently at about 60% now.
This month the Taoiseach will publish the ten-year capital plan, which will be adding up to €100 billion investment.
"What it's all about is ensuring our economy has the capacity to grow because we will be up against very obvious constraints in terms of the country's ability to grow economically… So it has to be about things like economic infrastructure, investing in public transport, education and higher education, housing and health reform particularly in areas like ICT which I think could be the real game changer," said Varadkar.