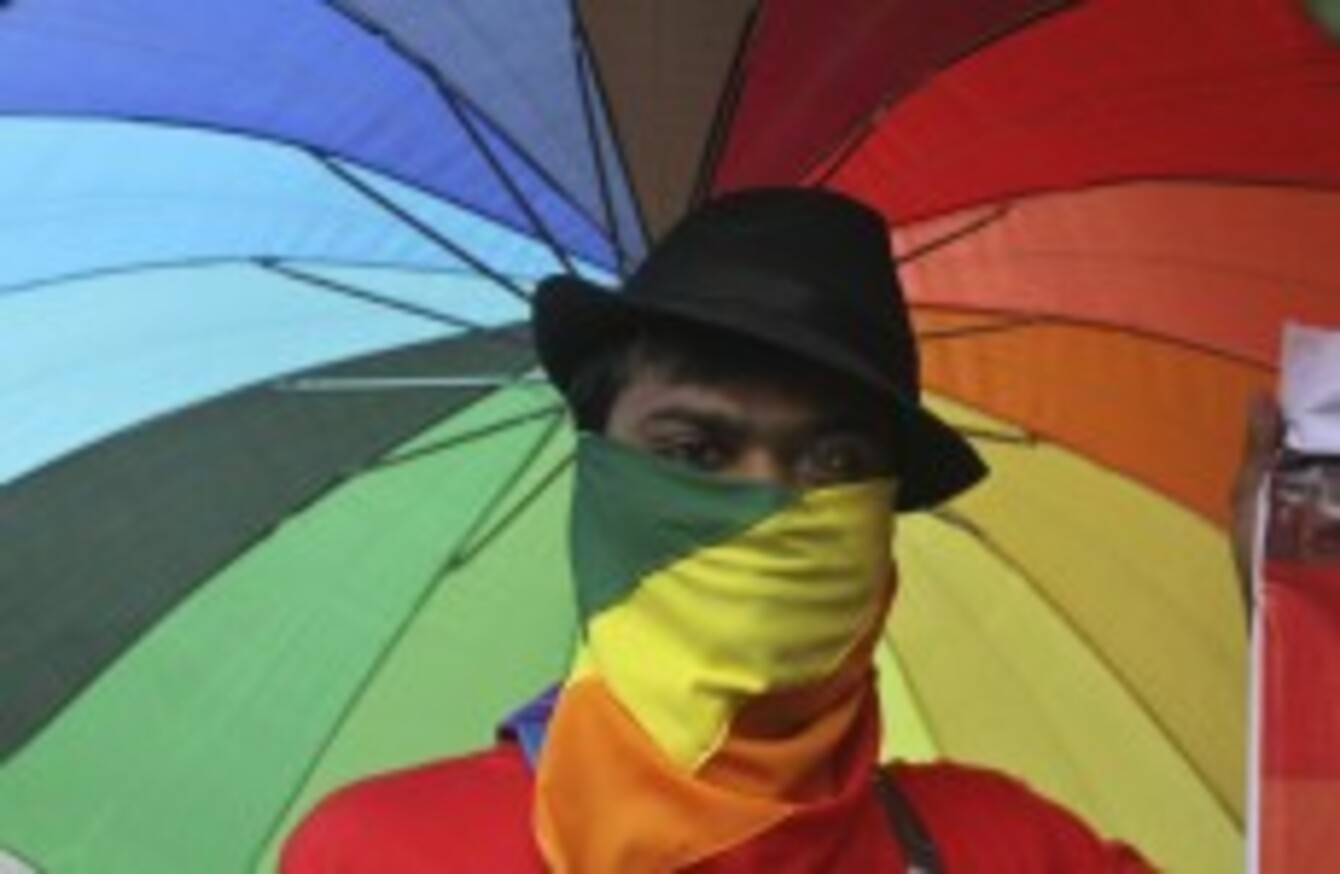 Image: Ajit Solanki/AP/Press Association Images
Image: Ajit Solanki/AP/Press Association Images
ENCOURAGING PEOPLE TO live their lives openly and confidently is the theme of today's national Coming Out Day.
A number of events are taking place across the country to mark the occasion with an aim to help gay men and women reach their full potential without fear.
Chair of the National Lesbian and Gay Federations, Olivia McEvoy, hopes to inspire "the necessary courage in lesbian, gay, bisexual and transgendered people to 'come out' to themselves, their families, friends and work colleagues".
"We look forward to welcoming them to our vibrant community," she added.
The organisers behind the LGBT Helpline have recognised that it can be a difficult time, however. It has decided to stay open for 24 hours (from midnight yesterday) to let people know there are supports available to them.
"This day really highlights to LGBT people that they're not alone in feeling challenged by the process of 'coming out'," said coordinator Paula Fagan.
She also stressed that it is not exclusively a young person's issue.
People of all ages come out in many different ways…A lot of the people that call our helpline are in their forties, fifties, sixties and older.
"People in older age-groups grew up at a time when homosexuality was still illegal in Ireland, so they may have felt compelled to hide their sexuality. For others, they may have only recently started to identify as LGBT; their sexual orientation may have changed over the years; or they may have felt unable to tell people they were LGBT when they were younger."
She also noted that the 'coming out' period can impact families and friends, causing stress and anxiety.
A study, due to be published next month, shows that there is a high level of mental health issues among LGBT people. Almost 80 per cent of transgender people surveyed indicate they have considered suicide, while Headstrong has found recently that 19 per cent of gay or lesbian young people and 24 per cent of bisexual young people had attempted suicide, compared to six per cent of young heterosexual respondents.
Vanessa Lacey, who has a transgender history herself, says, "Mental health issues amongst transgender people are a stark reality, underlining the need for support for transgender people of all ages.
"Awareness-raising of transgender identities and experiences is paramount to fostering acceptance and reducing stigma. That's why initiatives like 'National Coming Out Day' are so important."
"It is crucially important that LGBT people can be ourselves and live our lives openly and confidently," added Sean Denyer of NLGF and Acting Out.
"Yet even today, here in Ireland, far too many feel the need to hide their sexual orientation or gender identity due to ongoing prejudice.
"This provides a real challenge not just to those of us in the LGBT community, but also key stake holders in broader Irish society to create a social and legal climate in which homophobia is simply not tolerated or afforded any kind of legitimacy."
Piotr Gawlik, who is orginally from Poland and a member of the NLGF board, believes today's events are also about "standing in solidarity" with those in other parts of the world who are subjected to state-sanctioned persecution because of their LGBT status.
The LGBT Helpline can be reached at 1890 929 539.