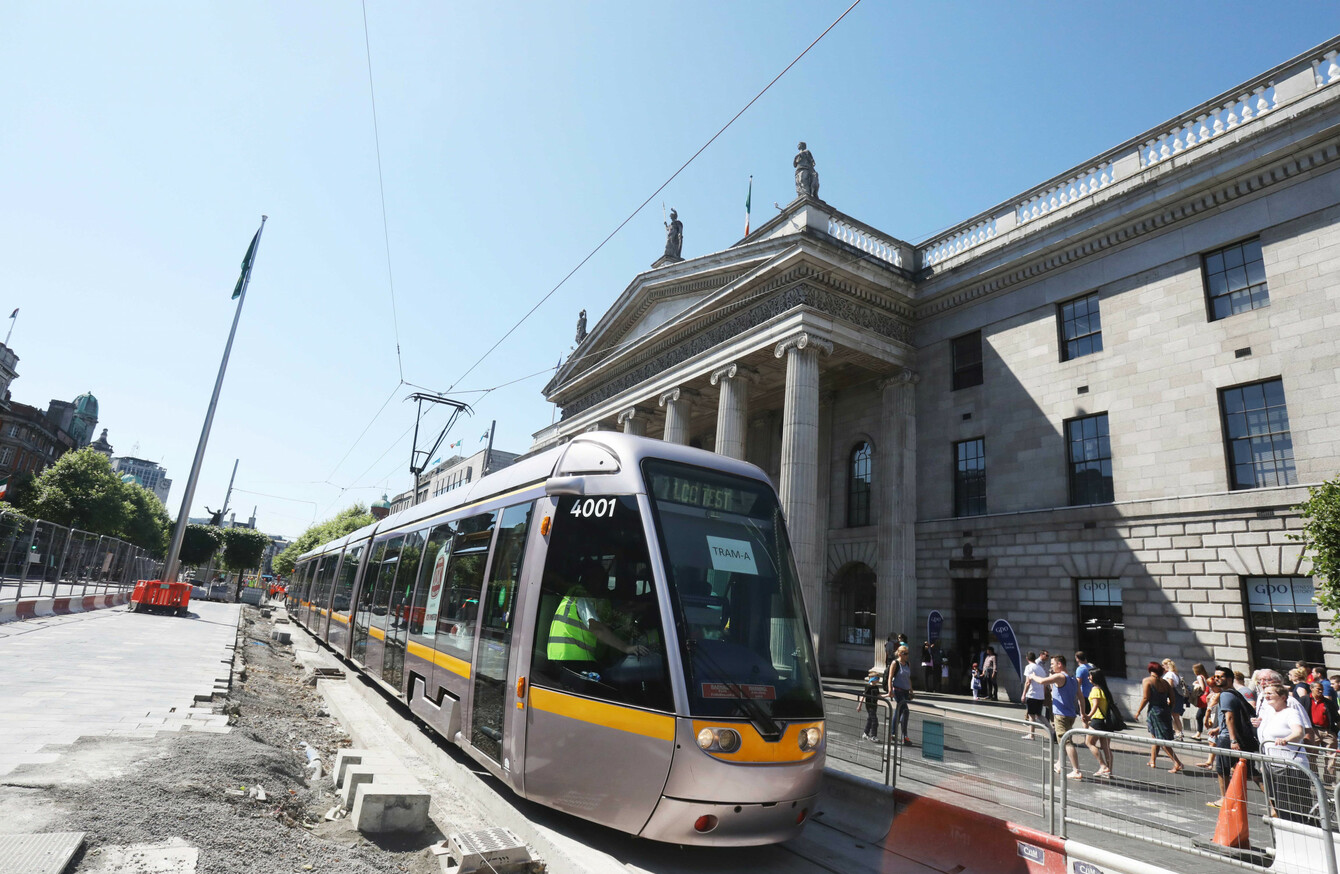 Image: Leah Farrell/RollingNews.ie
Image: Leah Farrell/RollingNews.ie
ONE OF THE few things in Ireland that generates as much heated debate as the weather is the state of our public transport system.
While Luas Cross City in Dublin is nearing completion and there are plans to improve bus services across the country, many people take a fairly dim view of Ireland's transport network overall.
There are a variety of problems: buses in cities like Dublin and Cork are slowed by congestion, many parts of the country lack rail links, and big infrastructure projects like Metro North seem to spend years in planning with little to show for it.
This has several knock-on problems, as poor transport links make businesses less likely to invest in areas while also promoting reliance on private cars and urban sprawl.
Many hoped that the new National Planning Framework would tackle some of these issues.
The draft document is essentially an outline of how the government thinks Ireland should be developed over the next two decades or so.
While the plan is still yet to be finalised, it has already come in for criticism from some quarters for a perceived lack of focus on tackling transport problems that lead to urban sprawl.
Perhaps most notably Mary Kelly, the chair of planning body An Bord Pleanála, said that she thinks that there is little in the plan that may help address urban sprawl in areas outside Dublin.
Sprawl
This was echoed by Green Party leader Eamon Ryan, who said there is a "lack of prioritisation of public transport" in the plan as it stands.
"There is talk about Dart improvements in Dublin, but nothing on the scale that we need because the city is in gridlock, and we're facing an economic crisis because of it," he told Fora.
"For the main rail network, the only thing mentioned is Cork to Dublin and Dublin to Belfast. The rest of the network is ignored, it's not mentioned in the document.
"If the first priority was public transport, you would have bus connect projects introduced, but that isn't what's happening. What's in planning is roads, everywhere, not public transport. More and more roads capacity just facilitates urban sprawl."
Ryan said that the plan should look at introducing light rail and rapid bus systems in regional cities like Cork and Galway as well as promoting living in urban centres to reduce sprawl.
"We should create housing in urban centres and build a really high-quality public transport system. There should be light rail in Galway, (and) I think Cork needs light rail. If we were serious about developing Cork as a city you have to put light rail into it."
Dave O'Connor, a lecturer in transport planning at DIT, said it was positive that the plan focuses a lot of its development proposals around the Republic's main cities and towns.
However, he pointed out that population growth has been slow in many cities, such as Cork, and questioned whether the plan would be able to get more people living in urban areas, providing the density for better public transport.
"If we want to save our towns we have to live in them we need people to live in them, it's as simple as that," he said. "The issue is how we do this. There are no real sort of 'stick' measures, so the 'carrot' measures will have to be there to make it attractive for people.
"There is very little in the plan about transport, we need more high-frequency buses, and it needs to promote cycling and walking. That's where you can make the biggest gains."
Misunderstanding
However, a spokesman for the Department of Housing and Planning said that commentary around the lack of transport initiatives in the plan is "disappointing".
"There appears to be a fundamental misunderstanding of the purpose of the National Planning Framework," he said in a statement to Fora.
"The draft National Planning Framework is just that, a document that is national in scope and a framework that sets parameters for future planning. It is not a detailed plan for all places that identifies specific projects, nor can it be.
"Announcing specific new transport projects in the absence of proper appraisal could place any future work or investment in those projects at risk."
The department also contended that the improvement in Ireland's motorways led to a rise in bus trips as journey times were improved.
In relation to urban sprawl, the spokesman pointed to the fact that the National Planning Framework includes a need for "strategic 'metropolitan' overarching plans for our five largest cities" and pushes for more development in urban areas.
"These outcomes include more compact development and better urban mobility," he said.
Chartered planner and UCD lecturer Eoin O'Neill agreed that it is positive that the plan does put an emphasis on urban development, which should help to tackle urban sprawl.
However, he pointed out that previous national plans, such as the National Spatial Strategy, have also set lofty aspirations that were not always reached.
"Dublin exceeded its population target under the old plan. Big-ticket (public transport) items like the Metro North and Dart Underground were meant to be completed by now, but they haven't started," O'Neill said.
He said that parts of the plan which are focused on urban development must be implemented for them to be effective.
"Delivery is dependant on the Department of Finance, where will the money be invested and how much will be available," he said.
"Aspirations are clear but the question is whether the investment will facilitate it."
Sign up to our newsletter to receive a regular digest of Fora's top articles delivered to your inbox.
Written by Paul O'Donoghue and posted on Fora.ie