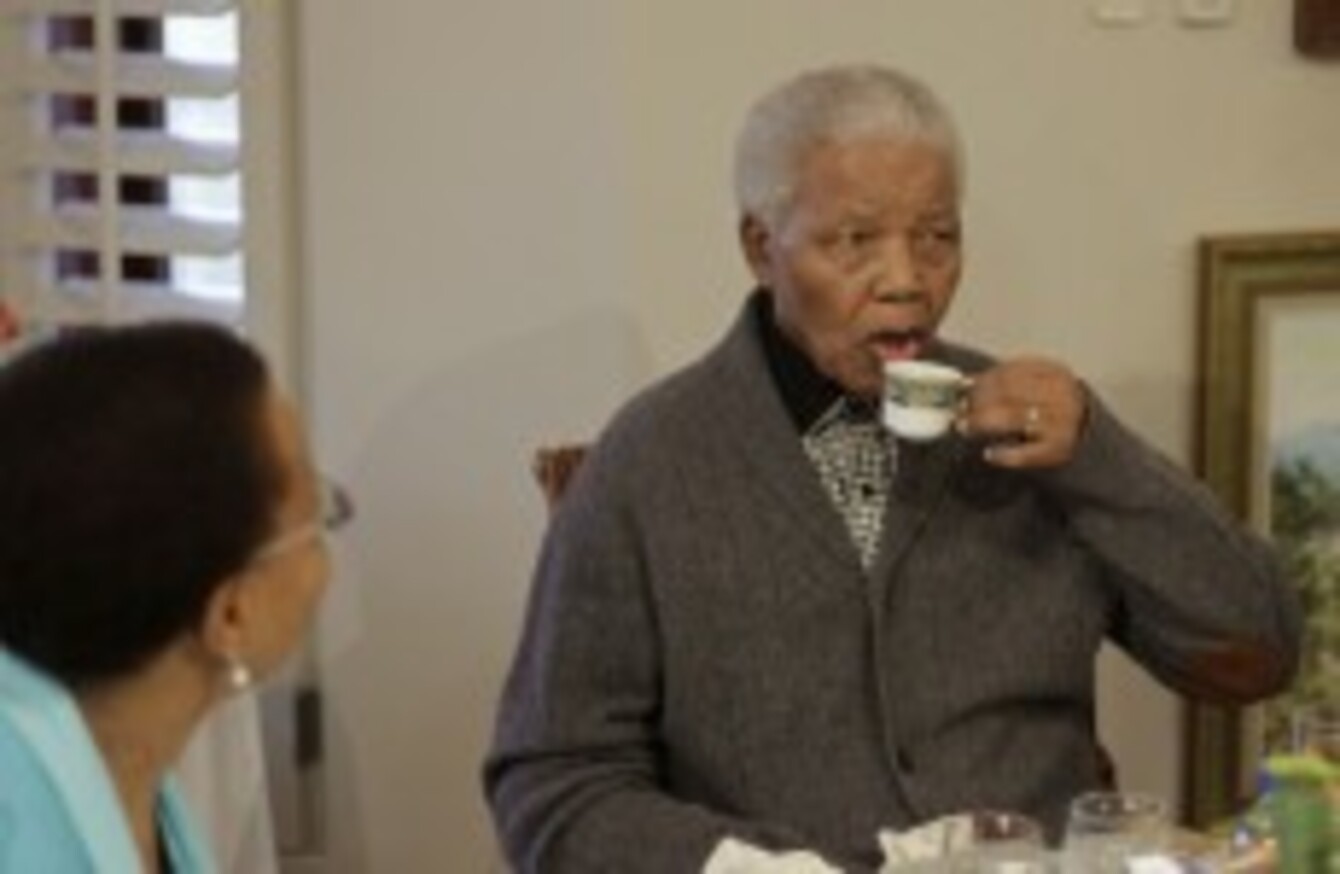 What 94-year-old wouldn't want a nice cup of tea on their birthday?
Image: Schalk van Zuydam/AP
What 94-year-old wouldn't want a nice cup of tea on their birthday?
Image: Schalk van Zuydam/AP
A NATION DIVIDED between black and white, rich and poor, came together today to honour Nelson Mandela, the deeply loved statesman who helped bring freedom to South Africa.
The good deeds done on Mandela's 94th birthday ranged from building houses to performing free eye cataract operations.
Education officials estimated nearly 12 million children kicked off celebrations at 8am with resounding "Happy Birthday" choruses in schools from well-funded private institutions to barely furnished rooms in villages.
Millions more South Africans joined in from offices, buses, train stations and Mandela Square, set amid the plush skyscrapers and exclusive boutiques of Johannesburg's Sandton City.
Mandela spent the day quietly with family and friends in southeastern Qunu village, according to Sello Hatang, a spokesman for the Nelson Mandela Foundation.
An AP Television cameraman caught the venerated leader with a champagne flute in his hand, flanked by his wife, Graca Machel, and former wife Winnie Madikizela-Mandela, before a ribboned two-tiered birthday cake.
Well-wishers placed flowers outside the Mandela homestead and local villagers sang, danced and shared birthday cake. Convicts from the district prison joined in the spirit, volunteering to spruce up the village school by painting and cutting grass.
Communities in South Africa dedicated 67 minutes of the day to volunteer work and projects for the needy — one minute to mark each of Mandela's 67 years in public service.
South Africa came to a virtual standstill early in the day as strangers greeted each other in the streets and even infants at one pre-school waved at passersby and sang: "We love you, Tata," or "great father," a supreme term of endearment.
A fading image
But the spirit of reconciliation and forgiveness that Mandela epitomizes has lost its lustre in the country as the fruits of political liberation have failed to bring most South Africans a better life. Control of Africa's biggest economy remains firmly in the hands of the minority whites.
The education system to uplift poor South Africans is a shambles. Violent crime is rampant. A small percentage of blacks have become millionaires, some through corruption and ties to Mandela's governing African National Congress.
The Rev Frank Chikane, a veteran of the governing African National Congress and former director general in the South African presidency, berated the country's leaders as falling far short of Mandela and his principles, compromising themselves with greed and corruption instead of serving the people.
In a speech marking the UN-designated International Mandela Day, Chikane said Mandela and his contemporaries were never "for sale … There were no tenders, no houses, no fancy cars."
He said a woman veteran of the struggle for democratic rule had called him crying, to say "It pains me to think that this is what my husband died for."
No wish for retribution
Mandela became South Africa's first black president in 1994 after spending 27 years in prison for his fight against racist apartheid rule, and was awarded a Nobel Peace Prize for his efforts. He immediately made it clear that he would not lead his people in seeking retribution for the centuries of injustice and pain.
Tributes to Mandela poured in from across the globe today, with US President Barack Obama saying Mandela "has changed the arc of history, transforming his country, the continent and the world."
Ahmed Kathrada, one of Mandela's oldest friends, said Madiba – as he is affectionately known by his Xhosa clan name – championed the dignity of all.
"You can be rich but if you don't have dignity you are a second-class citizen," Kathrada said in a public lecture marking the birthday celebrations.
Tokyo Sexwale, a longtime friend and head of Mandela's foundation, coined a new word: "Mandela-ism: the spirit of selflessness, sacrifice."
At one Johannesburg elementary school, children watched a film documenting Mandela's life and his years of service and sacrifice along with a photographic display of him meeting visiting celebrities including Beyonce, Michael Jackson and Cristiano Ronaldo.
"Nelson Mandela set an example to show us that reconciliation is possible," said 10-year-old Thakgalo Ditabe. She said she wanted Mandela to know how much he meant to her.
Ntando Ntuli, 12, said with pride: "He is my hero because he fought for us. He is an icon, the king of Africa."
In the eastern port city of Durban, Manchester United manager Sir Alex Ferguson sang 'Happy Birthday' over a cake iced with the image of the team's red and yellow badge.
Ferguson, who met Mandela on previous visits, said "his presence and personality exudes all around." United play the first game of their South African tour later Wednesday.
- Angus Shaw