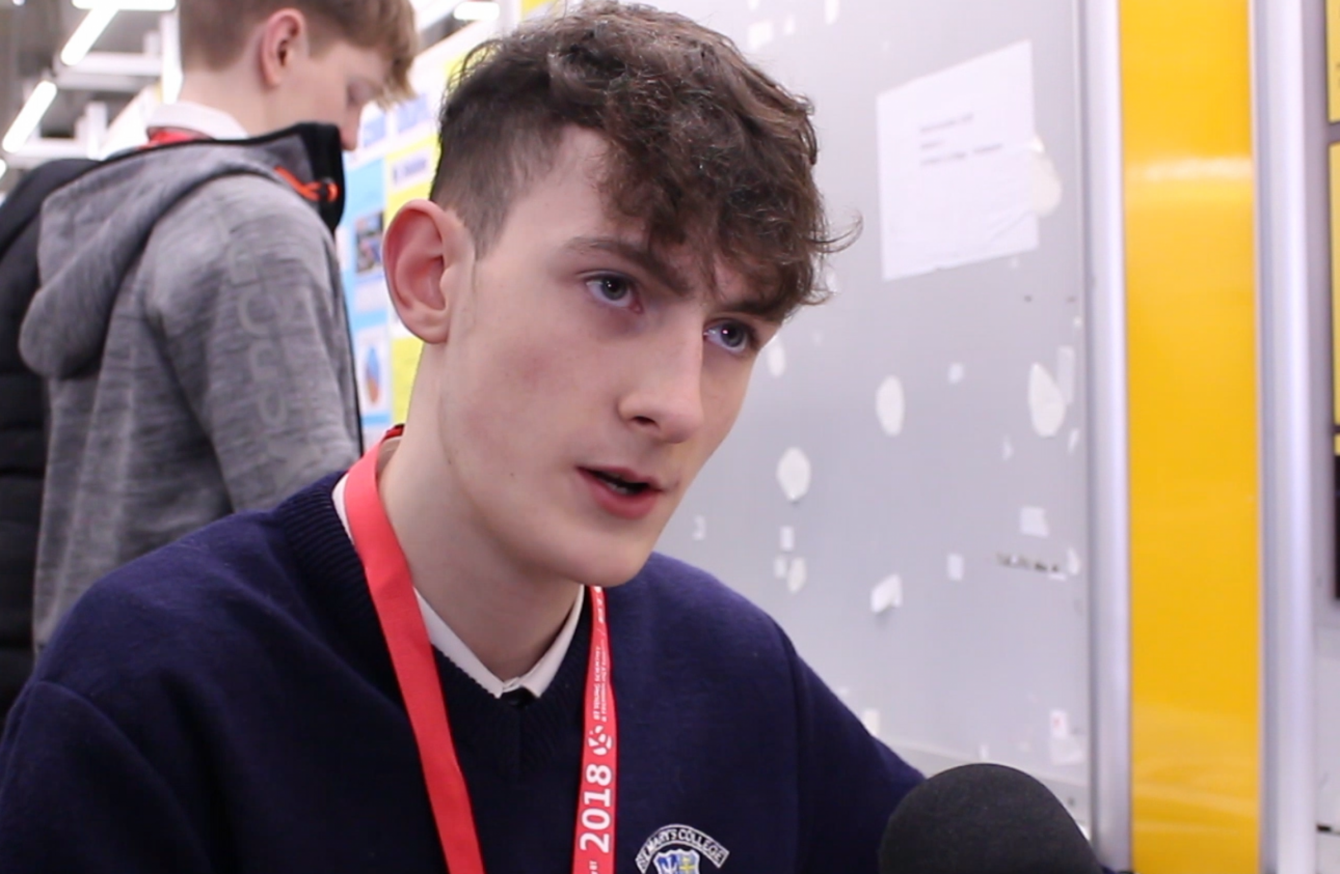 Source: TheJournal.ie/YouTube
NEURAL NETWORKS SOUND like science fiction at first.
They allow machines to 'think' like a human by using a pattern of inputs similar the synapses of a biological brain.
It can 'learn' by trying different methods to find the best way to achieve a desired result.
It cropped up in several projects at this year's BT Young Scientist and Technology Exhibition. One by a student from St Mary's College in Dublin used it as a method for correcting CSPE tests – and the marks were just a couple of percentage points off what the teacher gave.
This would be an easy task with multiple choice questions, but the code used had to decipher written sentences, such as the answer to 'What is a coalition government?', or tackle the students' various attempts at spelling Leo Varadkar.
Aidan Dowling set up a mock exam in school with ten questions. The computer was fed a collection of potential answers, such as key phrases, correct and variations on the spelling, and it was then provided with the students answers. It compared these to the information it had and awarded a mark accordingly.
Compared to what the human marker was able to achieve, it was 97.5% accurate.
Aidan's system still has a few stumbling blocks – Irish isn't supported, and numbers and long answers still pose problems – but the current setup is designed for a quick, simple test, providing teachers with an instant result.
Source: 3Blue1Brown/YouTube
Neural networks are a hot topic right now as they prove their ability more and more. -Some even call them "unreasonably effective".
Several projects featured the technology at the competition, including one by Sarah Sweeney, a student from Scoil Mhuire gan Smál in Cork with a passion for neural networks and AI.
Her project was The Imitation Game, based on exploring how to build a chatbot that could pass the Turing test.
This was devised by computer scientist Alan Turing in the 1950s to test how well a computer can mimic human langauge. Passing the test means a human is unable to tell  they are conversing with a machine.
"No one has actually managed to do it yet, but some has come very close," Sarah explained enthusiastically, "and I just want to see how close I can get."
How the computer learns language is described by Sarah as a similar to a newborn baby.
"When its born, it doesn't know anything about language. As it listens to people around it talking, it starts to utter meaningless syllables, and eventually it learns its first word, and another, and another. At first, its rubbish, but eventually it starts to make sense."
Two examples of how the machine's language improved over time.
A neural network is similar, but requires a huge amount of training data. Sarah's code, which is aimed at imitating Alan Turning himself, has 1,000 questions loaded into it. However, six million is normally what's needed to made a decent stab at it.
"Despite this, I was amazed by how good it is," Sarah said, "Some of the answers it gave were actually correct."
"I plan to take it further, and see if I can think of any better ways of training, and I'd love to get into other areas of AI, such as natural language processing."