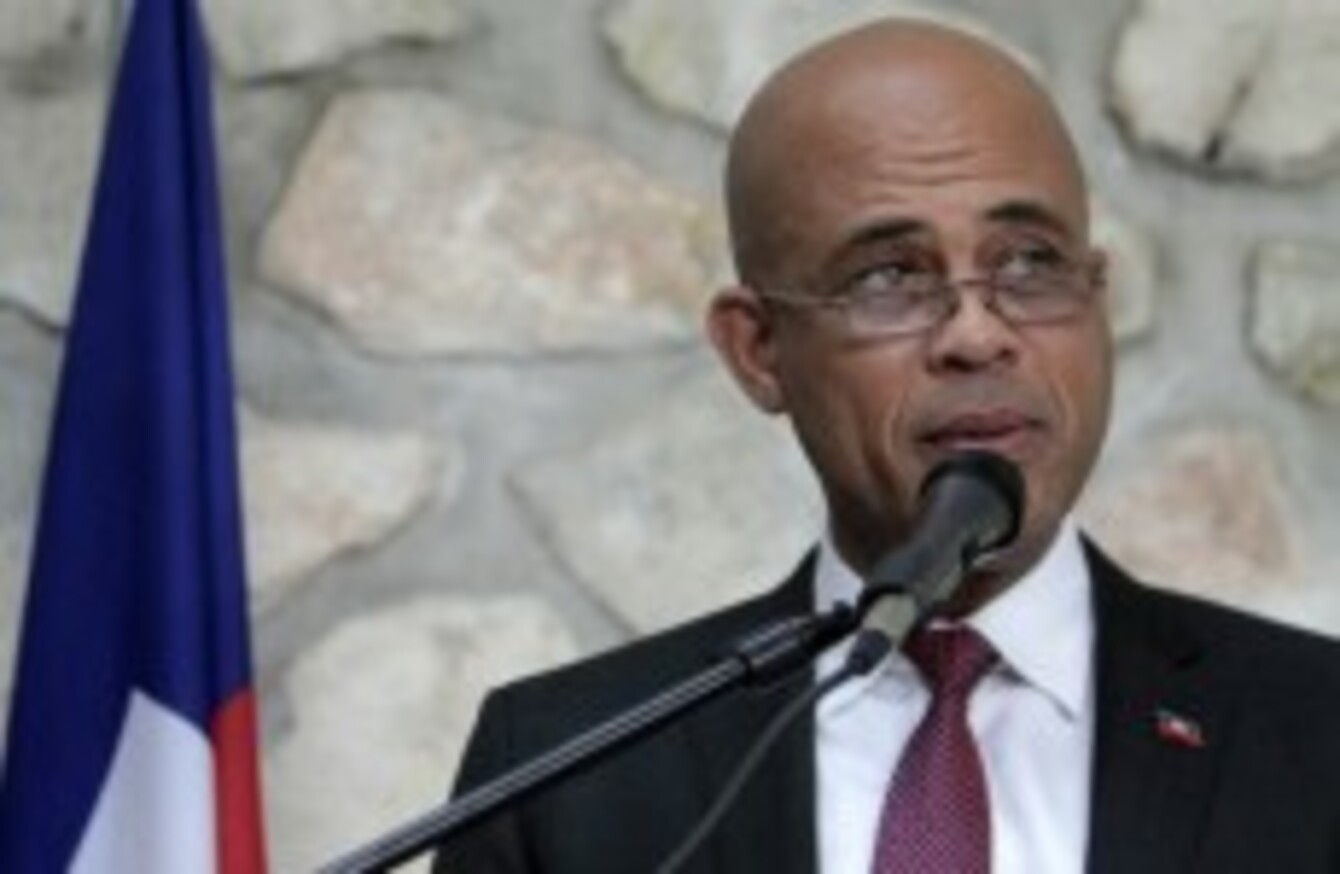 Haitian President Michel Martelly.
Image: Dieu Nalio Chery/AP/Press Association Images
Haitian President Michel Martelly.
Image: Dieu Nalio Chery/AP/Press Association Images
POP-STAR-TURNED-PRESIDENT Michel Martelly takes over Haiti on Saturday promising to rebuild its earthquake-devastated capital, develop the long-neglected countryside and build a modern army.
The 50-year-old performer known to Haitians as "Sweet Micky" was swept to power in March 20 presidential runoff by Haitians tired of past leaders who failed to provide even basic services, such as decent roads, water and electricity in the Western Hemisphere's poorest country.
"I voted for President Micky because he can do something, he can bring change," Jonathan Charles, a 22-year-old college student. "He'll help the youth believe in a future."
Martelly arrived Saturday amid a caravan of black SUVs and briefly waved to a crowd of more than 1,000 supporters who yelled in joy as he walked into Parliament. Shortly afterward, outgoing President Rene Preval and his wife arrived as a government marching band played.
Organizers rushed to add several chairs minutes before the arrival of former U.S. President Bill Clinton, the U.N.'s special envoy to Haiti, and Edmond Mulet, head of the U.N. mission that has maintained order in Haiti since 2004.
Also present was Desi Bouterse, the president of Suriname who is on trial for the 1982 executions of 15 political opponents.
Outside the gated Parliament, more than 1,000 Martelly supporters gathered.
"Today is a party for us, for the masses, because the country is destroyed," said Esaue Rene, a 28-year-old mechanic who has high hopes for Martelly. "I would like him to bring jobs so that people aren't sitting around in public plazas because they don't have anything else to do."
Martelly appealed to young voters like Rene because he is the antithesis of Preval, who is seen as aloof and uninspiring. Martelly is effusive and charming. He once joked that he'd dance naked atop the National Palace if he were elected president.
But the challenges Martelly faces in fulfilling his ambitious promises were clear Saturday. He was to be sworn in front of the country's collapsed National Palace and a shantytown filled with thousands of people displaced by last year's magnitude-7.0 earthquake.
During his campaign, he promised to build houses in the capital; bring economic development to the countryside; provide universal education for children; develop agriculture; and replace the discredited armed forces with a modern army capable of responding to natural disasters. The previous discredited army was disbanded by ousted former President Jean-Bertrand Aristide in 1995.
Political observers say speeding up the multibillion-dollar reconstruction effort is paramount. That means Martelly's administration must make progress building houses for the more than 600,000 people still living in settlements; stem a cholera epidemic that threatens to spread during the rainy and hurricane seasons; and strengthen the judiciary. And a parliament controlled by political opponents from Preval's party could make passing bills difficult.
He must he do all this quickly.
"His administration will have to show progress fairly quickly in order to provide confidence to the population," said Mark Schneider, senior vice president of the International Crisis Group in Washington, D.C.
Martelly will lead a country still divided over the presidential election itself. He was initially excluded from the runoff in favor of a candidate backed by Preval, only to be restored after the international community challenged the results.
- AP