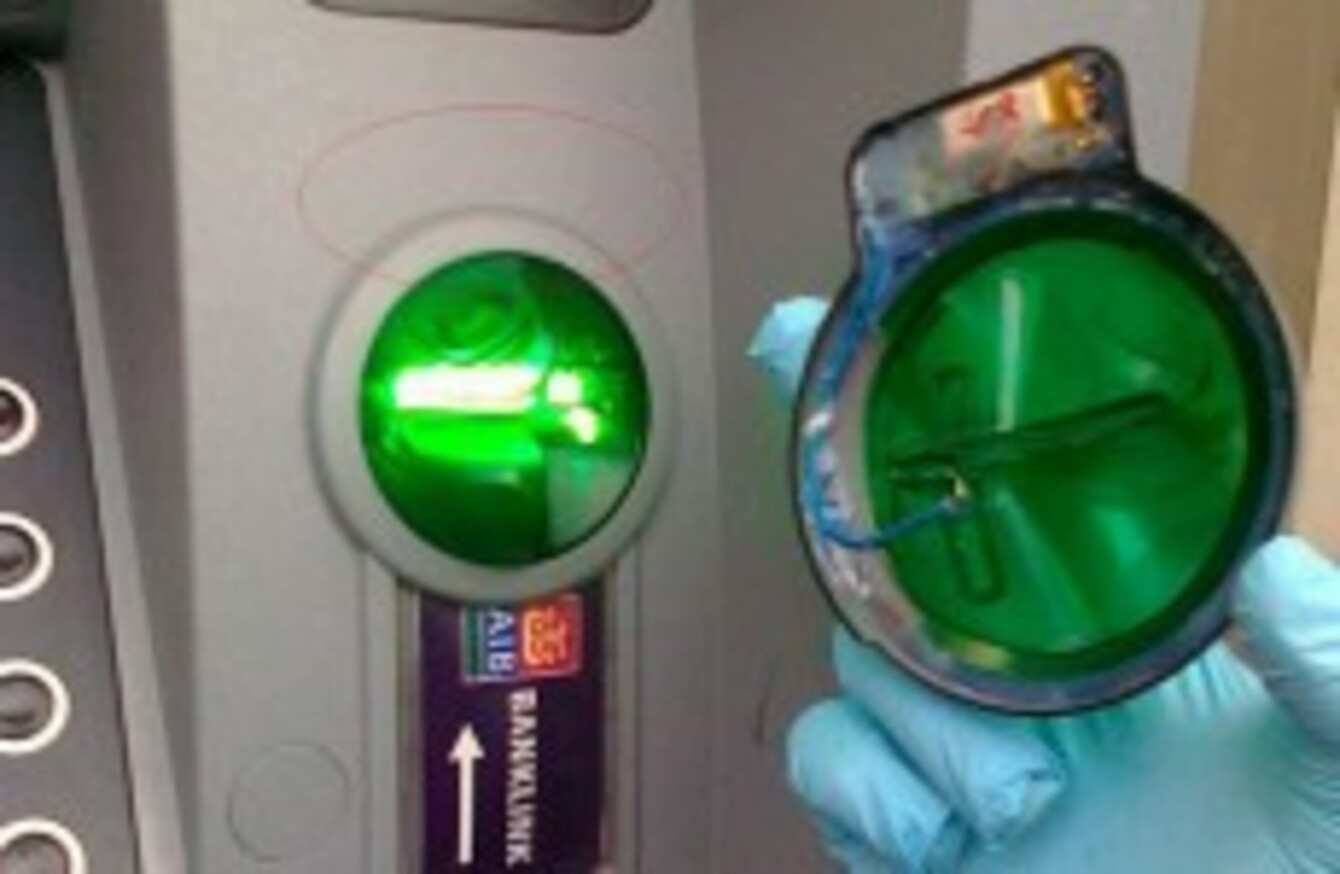 A new ATM Skimming scam where the front of the ATM is replaced with a very sophisticated skimming device.
A new ATM Skimming scam where the front of the ATM is replaced with a very sophisticated skimming device.
THREE OUT OF every five Irish people have been targeted by scammers and incidences of online scams are growing, according to new research published this morning by the National Consumer Agency (NCA).
The research carried out by Amárach found that more Irish people are being taken in by scams and that they are becoming increasingly local.
61% of Irish consumers said they or a family member had been targeted
Of those targeted, 28% are likely to participate
If you're aged between 16 and 24 you're most likely to respond to a scam
Most scams happen by email
More scams are local, with scammers claiming to be, say,  from Irish banks or the Revenue
The NCA has also published a roll call of the most popular scams in Ireland.  They are:
The foreign lottery scam – "heh, you've just won €1 million in the Spanish lottery"
Premium rate telephone prize scam – "call this number to collect your prize"
The work from home scam – "you can sell products from home, but you need to buy the stock in advance"
The computer virus scam – "we're from Microsoft and you need download this software (which gives access to financial and other data)".
Ann Fitzgerald, Chief Executive of the NCA commented:
We believe that scammers have become more sophisticated in trying to con consumers out of their money and identity. For example, scammers are trying to localise scams such as sending emails purporting to be from Government bodies, such as the Revenue Commissioners, from Irish banks or even sending the e-mails in Irish.

So, it is more important than ever for consumers to keep one step ahead of the scammers. It is very easy to be taken in with emails or letters that look legitimate and official but may actually be fake.
Today, April Fool's Day, the NCA is running an online campaign, Be Scam Savvy, and is encouraging all consumers to get involved by:
Ensuring that you fully understand any offers made to you – if in doubt, ask questions.
Don't be pressured into making a decision.
Don't respond to unsolicited emails, texts or phone calls asking for personal information.
Check your bank account statements regularly.
Look up phone numbers in an independent directory and beware of businesses that supply a mobile number but no address.
Don't be tempted to recoup your losses by responding to an even more attractive "offer".
Remember: if an offer sounds too good to be true, it probably is.