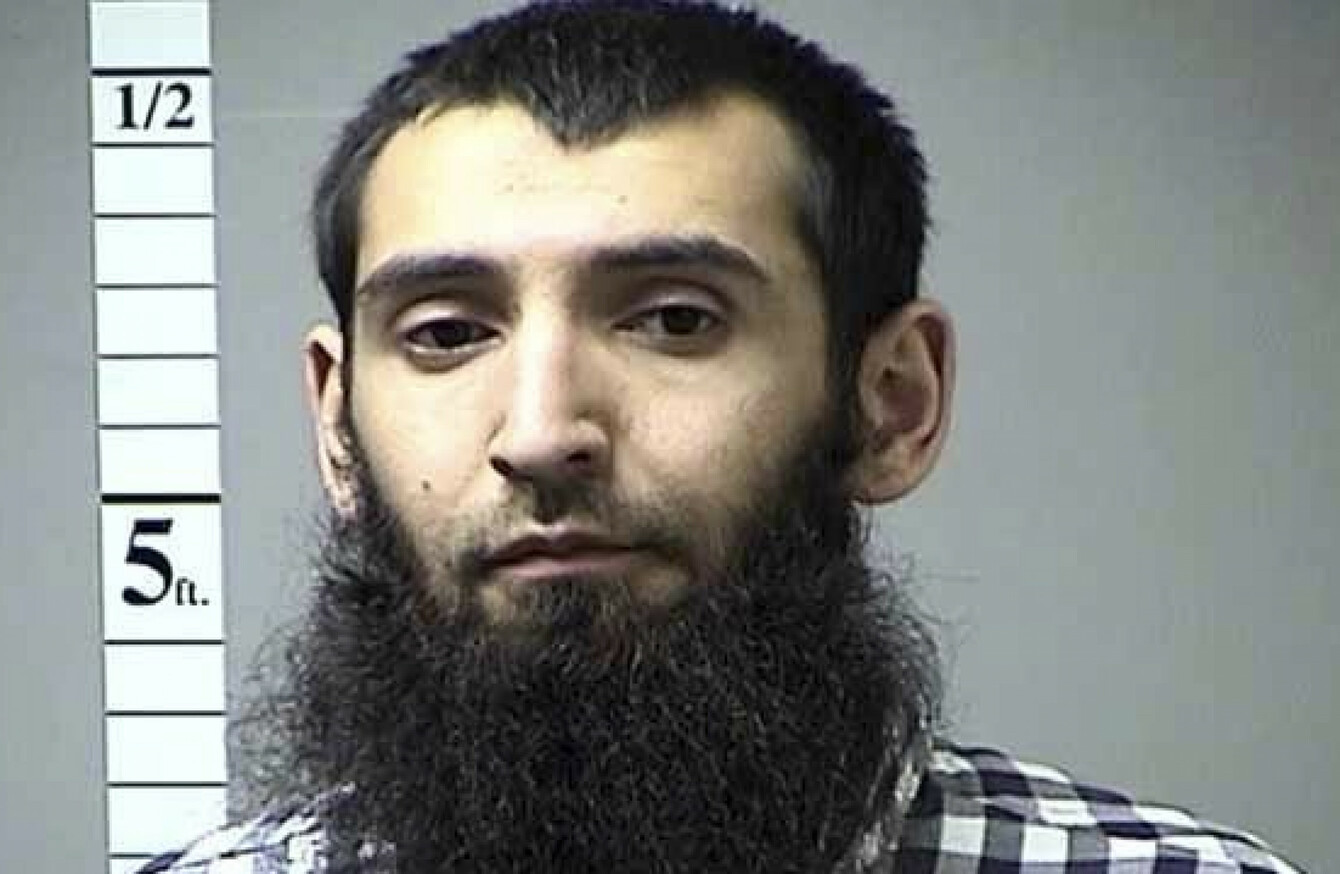 Sayfullo Saipov, the man shot and being held is suspected of carrying out the attack.
Image: AP/PA Images
Sayfullo Saipov, the man shot and being held is suspected of carrying out the attack.
Image: AP/PA Images
INVESTIGATORS WORKED THROUGH the night to determine what led a truck driver to plow down people on a riverfront bike path near the World Trade Center, brandishing air guns and yelling "God is great" in Arabic as his deadly route of terror ended with a crash.
Eight people were killed and 11 seriously injured in a Halloween afternoon attack that the mayor called "a particularly cowardly act of terror."
The driver — identified by officials as an immigrant from Uzbekistan — was in critical condition but expected to survive after a police officer shot him in the abdomen.
A roughly two-mile stretch of highway in downtown Manhattan was shut down for the investigation. Authorities also converged on a New Jersey home and a van in a car park at a New Jersey Home Depot store.
Authorities were scrutinising a note found inside the attacker's rented truck, according to two law enforcement officials who were not authorised to discuss the ongoing investigation and spoke on the condition of anonymity.
The New York Times is reporting that investigators discovered "handwritten notes in Arabic near the truck that indicated allegiance to the Islamic State".
Police and the FBI urged members of the public to give them any photos or video that could help.
The attack echoed a strategy that the so-called Islamic State group has been suggesting to its followers.
While police didn't specifically blame any group for the strike, President Donald Trump railed against the Islamic State and declared "enough!" and "NOT IN THE U.S.A.!"
The victims reflected a city that is a melting pot and amagnet for visitors. One of the dead was from Belgium, five were from Argentina and were celebrating the 30th anniversary of a school graduation, according to officials in those countries.
The injured included students and staffers on a school bus that the driver rammed.
"This was an act of terror, and a particularly cowardly act of terror aimed at innocent civilians, aimed at people going about their lives who had no idea what was about to hit them," said Mayor Bill de Blasio
New York Governor  Andrew Cuomo called the carnage a "lone wolf" attack and said there was no evidence to suggest it was part of a wider plot.
Officials who were not authorised to discuss the investigation and spoke on the condition of anonymity identified the slight, bearded attacker as Sayfullo Saipov, a 29-year-old who came to the US legally in 2010. He has a Florida driver's licence but may have been staying in New Jersey, they said.
Records show Saipov was a commercial truck driver who formed a pair of businesses in Ohio. He had also driven for Uber, the ride-hailing company said.
An Ohio marriage licence shows that a truck driver with one of Saipov's addresses and his name, spelled slightly differently, married a fellow Uzbek in 2013.
During his time in Fort Myers, Florida, several years ago, Saipov was "a very good person," an acquaintance, Kobiljon Matkarov, told The New York Times.
"He liked the U.S. He seemed very lucky, and all the time, he was happy and talking like everything is OK. He did not seem like a terrorist, but I did not know him from the inside," Matkarov said.
He said Saipov later moved to New Jersey and began driving for Uber. San Francisco-based Uber said he started over six months ago.
Source: CBS New York/YouTube
Police said the attacker rented the truck at about 2 pm at a New Jersey Home Depot and then went into New York City, entering the bike path about an hour later and speeding toward the World Trade Center, the site of the deadliest terror attack in US history.
#Open journalism No news is bad news Support The Journal

Your contributions will help us continue to deliver the stories that are important to you

Support us now
He barrelled along the bike path in the truck for the equivalent of about 14 blocks, or around 1,300 metres, before slamming into a small yellow school bus.
"A person hopped out of the car with two guns and started yelling and screaming," said a 12-year-old student who had just left a nearby school. "They were yelling 'Allahu Akbar.'"
The student, whose mother asked that his name be withheld, said he ran back into the school, where students cried and huddled in a corner.
Video shot by bystanders showed Saipov walking through traffic wielding what looked like two handguns, but which police later said were a paintball gun and a pellet gun.
A police officer shot Saipov when he wouldn't drop the weapons, police said.
Taoiseach Leo Varadkar is among the world leaders who have expressed condolences following the attack.
"This was a vicious and heartless attack on the people of New York, striking just a few blocks from the site of the 9/11 atrocity," the Taoiseach said.
"Those who have been killed and injured were innocent victims going about their day, completely unaware of what was about to happen. I would like to express our solidarity with New Yorkers, who have faced considerable adversity in the past. Our thoughts and prayers are with the families and friends of the victims."
- With reporting by Rónán Duffy
Comments have been closed for legal reasons