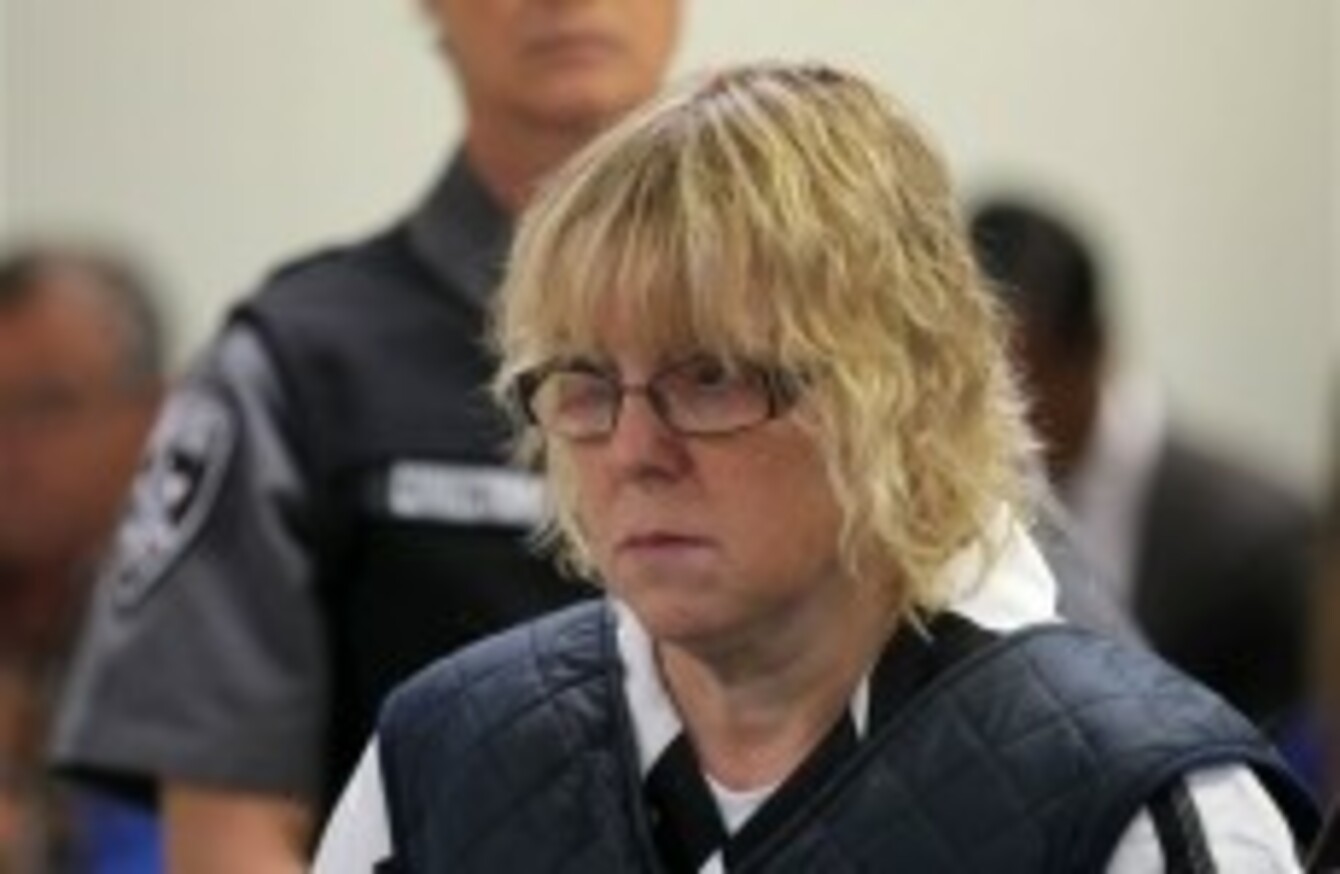 Joyce Mitchell appearing in court.
Image: AP
Joyce Mitchell appearing in court.
Image: AP
A PRISON WORKER who got "caught up in the fantasy" of a breakout planned by two killers told investigators she performed sex acts with one of the men and took naked photos of herself for the other.
Joyce Mitchell, 51, an instructor in the tailor shop at the Clinton Correctional Facility in upstate New York, tearfully pleaded guilty Tuesday to helping prisoners Richard Matt and David Sweat escape.
She faces a sentence of between two to seven years in prison under terms of a plea deal with prosecutors.
Her lawyer, Stephen Johnston, said Mitchell realises she made a "horrible mistake" by getting involved with Matt and Sweat, who staged an elaborate escape from the maximum-security prison on 6 June.
"She got in over her head into something that she never should have started. But she did, and she's paying the price now," Johnston said outside court.
"I think that to a certain extent, Matt got her to feeling good about herself, better than she had for a period of time, and she was swept off her feet a bit. … And then when she realised who she was dealing with, everything changed."
Matt was shot and killed by searchers on 26 June, about 30 miles west of the prison. Sweat was captured near the Canadian border two days later and sent to another prison.
Mitchell will be sentenced on 28 September and, in documents first obtained by NBC News, Mitchell told investigators she believed she helped the two inmates escape because she "was caught up in the fantasy" of their plot.
"I enjoyed the attention, the feeling both of them gave me and the thought of a different life," she said in a statement.
"Matt told me they were getting out and we were all going to be together."
In April, Mitchell said, she was alone with Matt in the tailor shop when he grabbed her and kissed her.
It startled me. He kissed me with an open mouth kiss. I didn't say anything because I was scared for my husband, who also works for the facility," Mitchell said.
In May, Matt asked her to perform oral sex and she so did out of fear, Mitchell said. On two or three other occasions, she said, Matt would come to her desk wearing a large coat in which he'd cut a hole so Mitchell could fondle him.
She said she took photos of her breasts and genitals and gave them to Matt to give to Sweat.
Mitchell told police the escape plan involved the inmates giving her pills to knock out her husband so she could pick them up in her vehicle.
Then she was supposed to take them to her home, where Matt planned to kill her husband, whom he referred to as "the glitch", Mitchell said in her statement. She also said the inmates planned to drive to an unspecified hideout in the woods 6 to 7 hours from the prison in Dannemora.
In another statement, she admitted she passed notes, some of which were "of a sexual nature" to Matt to give to Sweat. Sweat was reassigned from her tailor shop after rumours surfaced that he was romantically involved with Mitchell.
Prosecutors say Mitchell provided hacksaw blades, chisels, a punch tool and a screwdriver to Matt on 1 May. Authorities say she became close with the pair and agreed to be their getaway driver. But she backed out at the last moment, forcing the two to flee on foot after they emerged from a manhole near the prison.
Investigators also said Mitchell had discussed killing her husband, Lyle Mitchell, as part of the plot.
Lyle Mitchell was in court Tuesday and declined to speak with an Associated Press reporter.
Wylie said a grand jury could have considered other counts against Joyce Mitchell, including conspiracy to commit murder and sexual-related charges based on allegations involving the inmates.
But he said he accepted pleas on two clearly provable charges. The deal requires Mitchell to cooperate with a probe by authorities.
Authorities said she smuggled the tools into the prison by hiding them in frozen meat she placed in a refrigerator in the tailor shop.
They said another guard Gene Palmer then took the meat to Sweat and Matt, who were housed in a section where inmates are allowed to cook their meals.
Authorities do not believe Palmer knew of the escape plan. He was released on bail after being arrested on charges including promoting prison contraband.
Matt and Sweat cut through their adjoining cell walls over months, climbed down catwalks to tunnels and broke through a brick wall. They then cut into a steam pipe and cut a chain holding a manhole cover outside the prison to get away, authorities said.