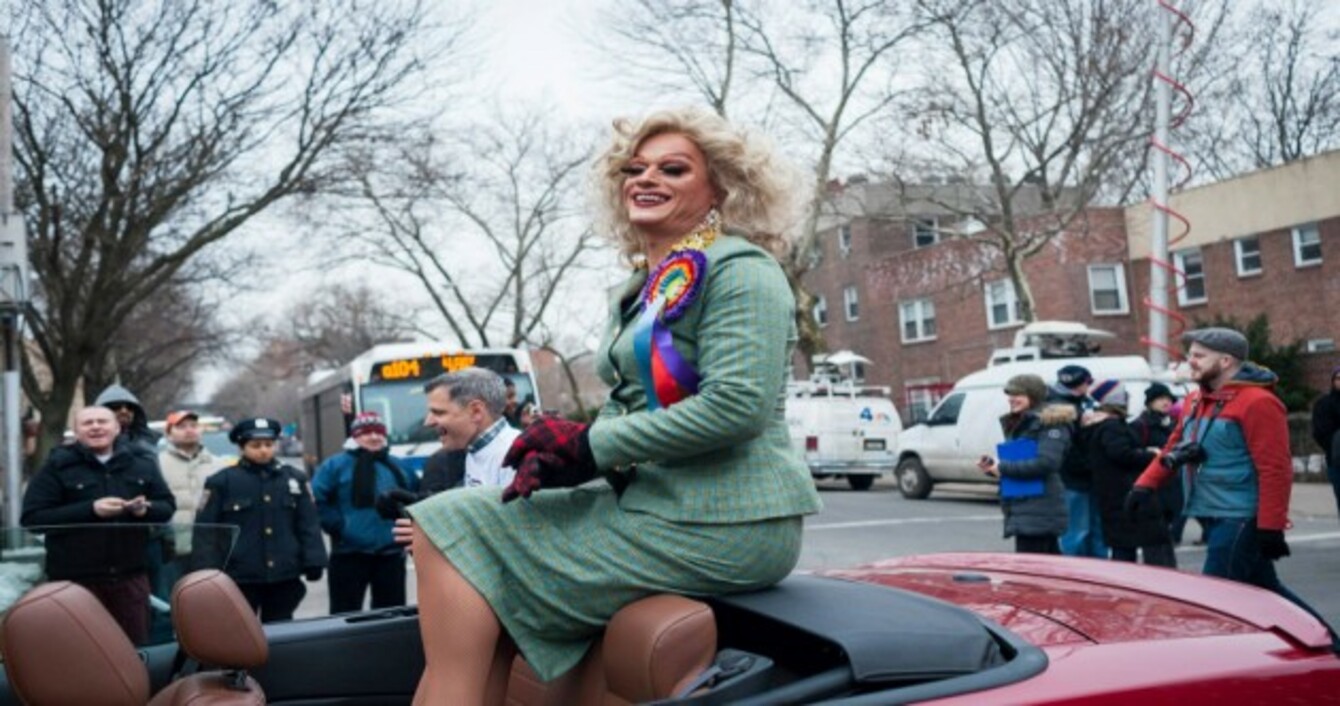 Rory O'Neill aka Panti Bliss at the 2014 St Pats for All parade in Queens, New York.
Rory O'Neill aka Panti Bliss at the 2014 St Pats for All parade in Queens, New York.
A COALITION OF Irish LGBT groups will later on today formally apply to take part in next year's New York St Patricks Day parade, amid disappointment that only one gay group has so far been given permission to march.
Last Wednesday, the parade's organising committee confirmed an earlier report by the Irish Voice newspaper, that for the first time, they would officially sanction the participation of an LGBT group.
However historic, the move has been met with growing skepticism and frustration in parts of the Irish gay community in America.
It later emerged that the sanctioned group would be composed of employees from NBC Universal, the event's television partner, but that other groups – including Irish ones – would have to wait until "future years."
Indeed, sources close to the issue told the Irish Voice that the inclusion of OUT@NBCUniversal was a reaction to threats from the company  that they would stop broadcasting the parade unless it included the LGBT community.
Now, the St Pats for All, Lavender and Green Alliance, and Irish Queers groups are taking a stand.
This afternoon at 2.30 pm Irish time they will appear on the steps of the iconic New York public library, before formally posting their applications for permission to march in next year's parade.
"This is an historic moment that belongs to the Irish community and not a corporate sponsor," said Brendan Fay, an activist and filmmaker originally from Drogheda, and founder of St Pats for All – an inclusive and diverse alternative to the 5th Avenue parade.
"The sense now in the Irish community is that this is just not an acceptable resolution," he added, speaking to TheJournal.ie by phone from Astoria in New York.
We're almost there, but we're not quite where we want to be.
There is a strong desire to see the Irish LGBT community represented on 5th Avenue on March 17th next year, and – with no disrespect to them – OUT@NBC does not represent that.
When I heard the news, I went from total delight, to major disappointment, and now determination that Irish gay groups will be there next year in the heart of our community, where we belong.
#Open journalism No news is bad news Support The Journal

Your contributions will help us continue to deliver the stories that are important to you

Support us now
This video shows New York mayor David Dinkins marching (unsanctioned) with the Irish Lesbian and Gay Organisation at the 1991 St Patrick's Day parade, and suffering verbal abuse at the hands of attendees.

Source: Lisa Guido/Vimeo
"This is about honouring our Irish and LGBT heritage, and the 20 years of protests and struggle to be recognised," Fay added, noting that he has personally been arrested on three separate occasions over his years of activism.
A spokesperson for Irish Queers told TheJournal.ie: "[The parade organisers] do not represent the Irish community."
They claim that Irishness is the most important thing for them.
But a corporate gay group has absolutely nothing to do with Irishness.
In an earlier statement, the group denounced the agreement with NBC as "a backroom deal" which would keep Irish LGBT groups "on the sidelines, not permitted to march, and once again erased from the parade's portrayal of the Irish-American community."