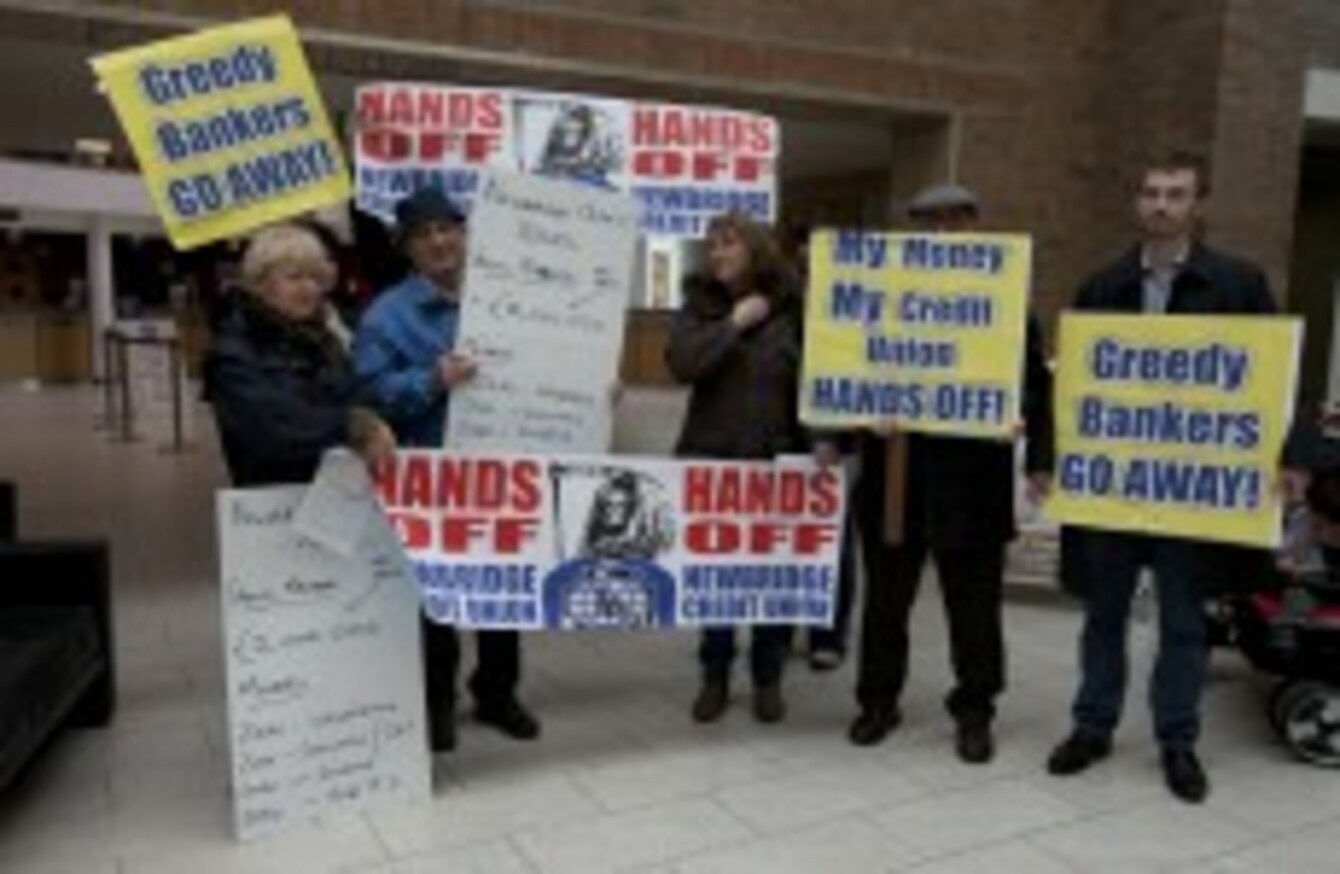 Protesters at Newbridge this afternoon
Image: Photocall Ireland
Protesters at Newbridge this afternoon
Image: Photocall Ireland
Updated 21:37
MEMBERS OF THE SIPTU trade union at Newbridge Credit Union met this evening to discuss the fall-out from the institution's transfer to Permanent TSB.
The body's loans and assets were transferred to the state-backed bank yesterday after an order was signed in the High Court. The Central Bank said the move was necessary due to financial difficulties in Newbridge.
The original plan had been to merge Newbridge with Naas Credit Union, but Naas baulked at that idea late into proceedings, forcing the Central Bank to look elsewhere.
SIPTU, which represents 30 of the 37 staff at Newbridge, says workers have been "treated disgracefully" by management in recent weeks.
"There was no communication from the special manager of Newbridge Credit Union or from the Central Bank with staff or their representatives prior to the transfer to the Permanent TSB last night," union organiser Adrian Kane said.
"We had sought meetings with the Newbridge manager and the management of Naas Credit Union but they were suddenly cancelled last week.
"Our members only heard of the decision to transfer to Permanent TSB through the local radio station on Saturday. This is not an acceptable way to treat staff."
Kane said that the retention of jobs should be a priority in the transfer, and welcomed PTSB director Niall O'Grady's statement that all employment contracts would be honoured.
It's planned staff representatives will meet with PTSB management at some stage on Wednesday.
Meanwhile, a group campaigning to save the institution staged a protest at the building this afternoon.
Willie Crowley of Save Newbridge Credit Union said they would be lodging an immediate appeal to High Court, and would take the case to Europe if necessary.
This article was originally posted at 2.30pm