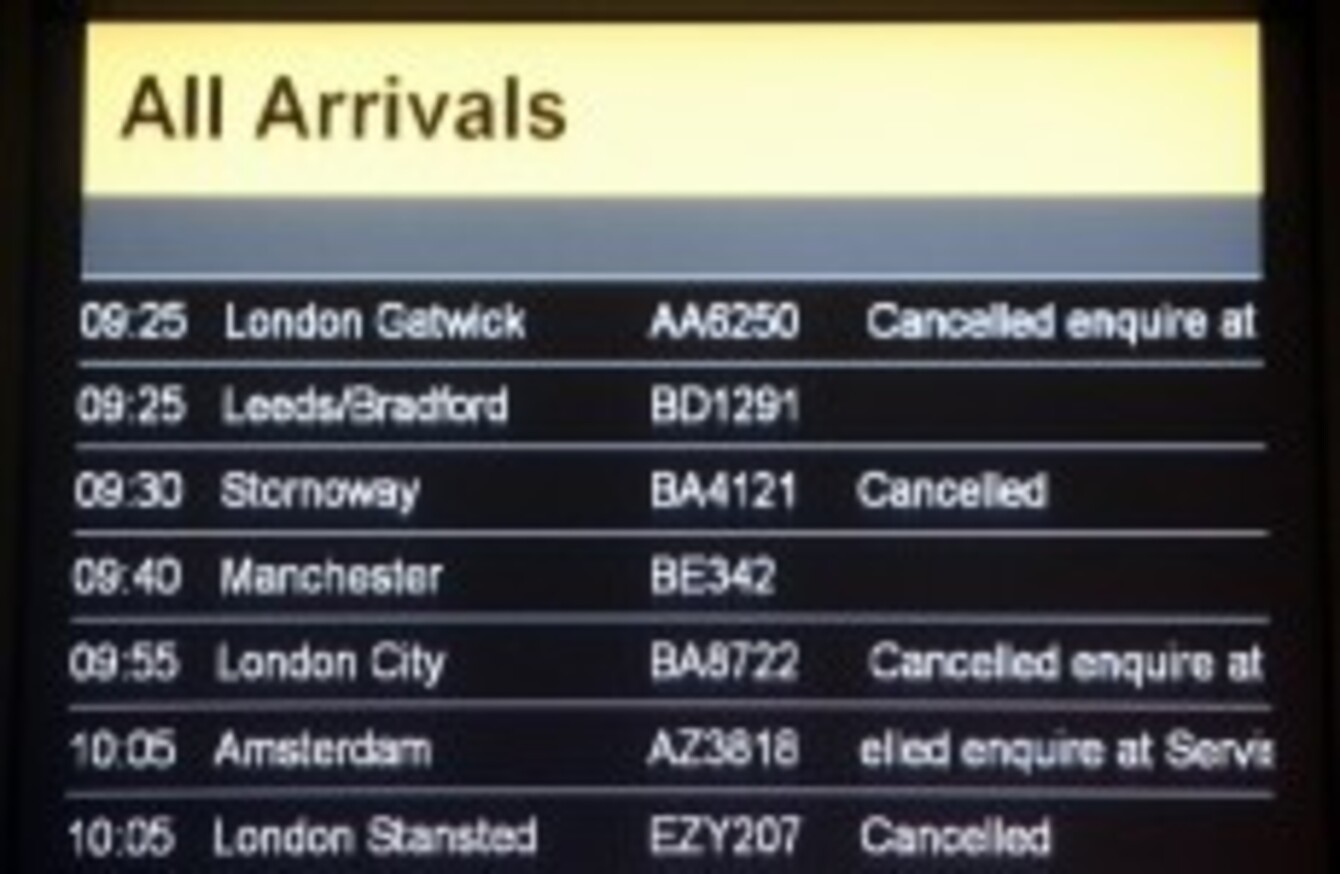 An arrivals board at Glasgow Airport shows a series of cancelled flights as Scottish airspace was closed yseterday.
Image: Danny Lawson/PA Wire
An arrivals board at Glasgow Airport shows a series of cancelled flights as Scottish airspace was closed yseterday.
Image: Danny Lawson/PA Wire
Updated, 09.22
IRELAND'S CIVILIAN AIRSPACE is expected to remain open for at least the next 24 hours as the latest volcanic ash cloud from Iceland begins to dissipate – but the cloud from the Grimsvotn volcano is today meaning closures in continental Europe, and could return here by the weekend.
The cloud from the volcano, Iceland's most active, has this morning meant that German authorities have closed the airspace over the north of the country, causing the closure of airports at Bremen and Hamburg.
The spread of the cloud is also likely to pose a threat to other airports like Lubeck and Magdeburg, both of which are on the cusp of the area currently thought to be playing host to the cloud.
Ryanair has cancelled flights to and from Bremen and Lubeck, though Aer Lingus schedules are not interrupted for the moment.
Models of how the ash will have dispersed over the continent also suggest that flights to Scandinavia could be threatened later in the morning – though travel between Ireland and the UK should not be affected as Scottish airspace is fully reopened this morning.
Last night the Irish Aviation Authority said Irish airspace would remain open for most of today, though it underlined that flights may still be hit by closures elsewhere in Europe.
Those closures could also have an indirect effect on other flights, particularly if they extend, as many flights across Europe would be forced to reroute around the closed space they might normally fly to.
Regardless of the status of individual routes, however, air passengers are advised to check the websites of their airlines and airports to see how their flight might be delayed by the rescheduling of flights cancelled from yesterday.
This part of Europe may not have seen the end of the disruptions either, with the UK's Met Office predicting that ash could return to there by Friday, with all but the most southern parts of England affected.
Even if that cloud was to dissipate or stop before it reached Ireland, many flights would be disrupted because of the closure over the UK – with a direct impact on the paths of flights between Ireland and central and northern Europe.
Travellers will take some comfort in indications that the cloud is unlikely to become any more concentrated, as eruptions from the Grimsvotn volcano begin to abate, Bloomberg reports.
Geologists in Iceland say the eruption's 'death certificate' could be issued by the weekend, as the height of the plume falls to 3km – far lower than the usual height at which commercial flights operate.
This morning the UK's Met Office said that the volcano had, in fact, stopped erupting entirely.