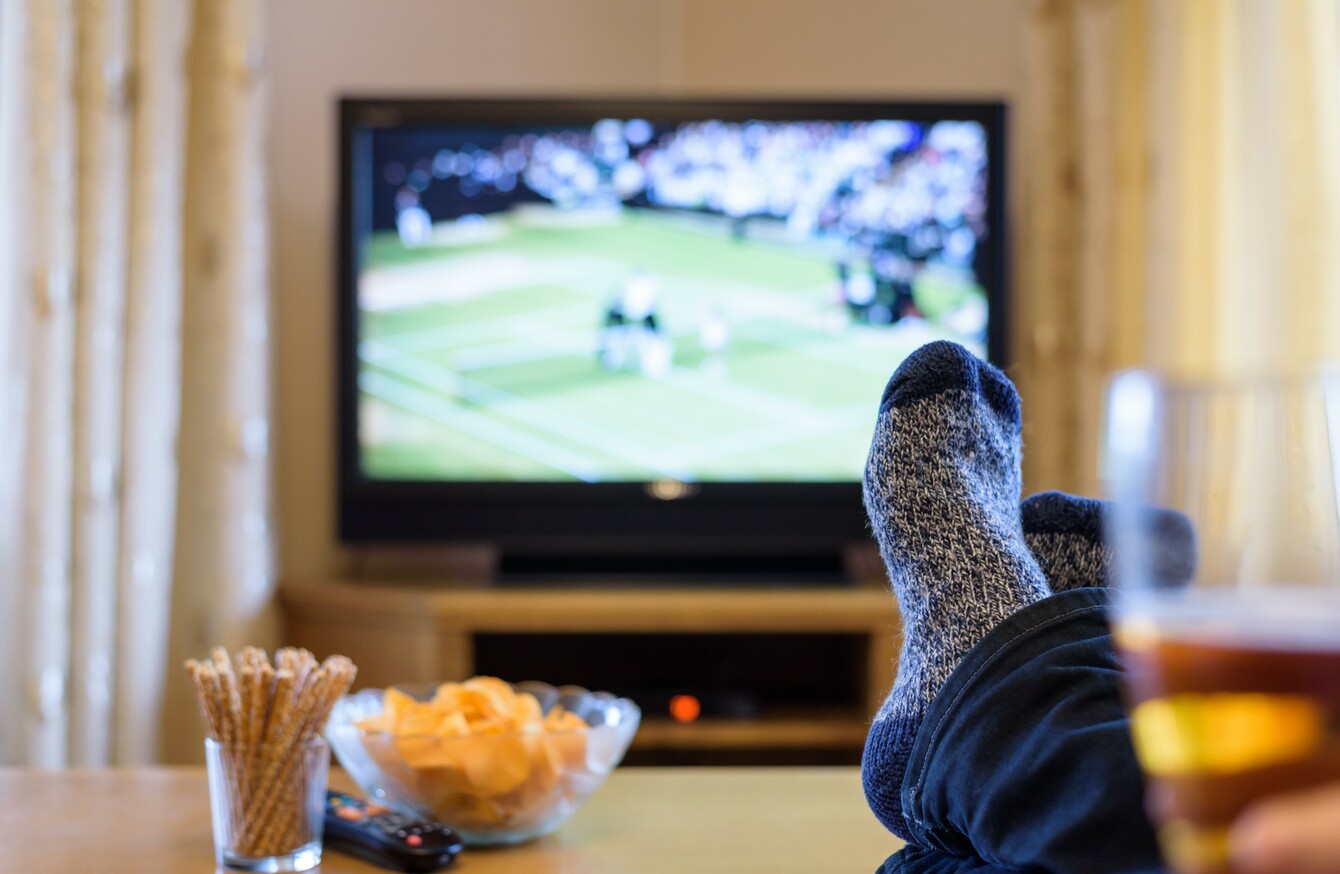 The way we USED to watch sport
Image: Shutterstock
The way we USED to watch sport
Image: Shutterstock
The way we live is changing fast. Every fortnight in our Future Focus series, brought to you by Volkswagen, we'll look at how one aspect of everyday life could change in the future. This week: watching sport. 
FOR SPORTS FANS, there's nothing quite like being in the middle of the crowd at a stadium. But if you can't make it to the big game in person, chances are you can get the full view from your television at home.
From GAA to snooker and everything in between, sport takes up a huge chunk of TV schedules, and the most-watched events globally include the football World Cup and the Olympics.
A lot has changed since the early days of sport broadcasts – they are now typically filled with expert commentary, informational graphics, different camera angles, slow-motion replays, and anything to make it more interesting for the fans at home.
But as more aspects of media and entertainment shift online and on-demand, what's the future of watching sport?
Online
Technology has had a big impact on our viewing habits in the last decade or so, with most of us embracing streaming apps and gadgets for movies and TV shows.
A key difference with sport is that fans still want to watch games and tournaments live as soon as they happen and be up to date on the latest results – rather than binge-watching a season as and when they want to.
Many people are now using smartphones to watch clips of matches on the go or follow the action on social media, while Amazon and Hulu have both added live sports to their video streaming platforms.
Deirdre Kennedy, multimedia lecturer in TU Dublin's Tallaght campus, says that live, 'linear' broadcasts are still important when it comes to sport, but most fans are also looking for additional information that will help enhance the full viewing experience.
"You want to watch sport live, but you also want to get interesting info on the screen, instead of being on your phone to look up extra information," she says.
So in the future we could see interactive online platforms for watching sports, which could add new elements that a standard TV broadcast can't. For example viewers could personalise what they see, choosing the camera feed they want to watch from, seeing what the athletes are seeing, or choosing sections of the games themselves to replay and analyse.
Interactive
Another way to make watching sport more interactive is with augmented reality or mixed reality, overlaying virtual information that could enhance the experience for viewers.
AR works by superimposing a computer-generated image onto the view of a real-world environment, providing a composite that we've seen in apps like Pokemon Go.
With this kind of technology, a viewer could select a player and find out who they are, pulling up more information or statistics as the game continues to play in the background. That could mean no more squinting at the TV and thinking, 'Who's that guy? I've never seen him before'.
"I love sport commentary and I would hate to see that die out, but I imagine that some of that traditional insight the commentators would have might be replaced by augmented reality," Kennedy says.
"You'll be able to get information about the players and what's happening, all sorts of different data and statistics and so on."
There's also a potential commercial element with overlaying augmented reality. Online retail giant Amazon has been experimenting with the ability to shop for official NFL gear from within live games when you're watching on its Prime Video service. It means that viewers can browse through products on their TV without missing any of the game.
And the physical ads that appear around an arena? These could also be tailored to each individual viewer at home using AI and AR. So for big international fixtures or tournaments, billboards could be directed at specific geographic areas or translated into different languages.
Immersive
But the possibilities don't end there. If you can't make it to an event and don't feel like just watching it on TV, why not try a virtual reality experience instead?
#Open journalism No news is bad news Support The Journal

Your contributions will help us continue to deliver the stories that are important to you

Support us now
The concept may not be common yet but it's certainly not sci-fi either. California basketball team the Golden State Warriors have already launched a 'VR season ticket', which allows fans to watch weekly games using a virtual reality headset at home, with views from one of the best seats at the court.
There are a number of companies working to expand this field, including 3D video firm Replay Technologies, VR and AR tech company Beyond Sports, and First Vision, which uses VR body cams to let users experience the point of view of the player.
For most of these systems, all you'll need is a VR headset and an app to feel like you're in the crowd or on the pitch, without having to leave the comfort of your home.
While this might sound appealing if you can't make it to your favourite game for whatever reason, sport is generally a social event and wearing a headset where you can't interact with other people may not be ideal. "VR is constrained at the moment by having to wear a headset, so it's not a collective experience," Kennedy says.
"You go to a match or watch a game in the pub because you want the collective social experience. But I think that once VR becomes possible without having to wear a headset, it'll be different."
For now the technology is limited – getting a perfect live broadcast in virtual reality can be tricky, and most homes still don't have VR equipment, either due to high costs or cumbersome headsets. But looking ahead, Kennedy says that a big shift in favour of VR might not be too far into the future.
"The technology has progressed so much in the last three to five years, I can't imagine what it'll be like in 2050. When one VR platform becomes standard, you'll see advances very quickly," she adds.
So will developments in the likes of augmented and virtual reality mean that fans at home will get the same experience as the crowds in the stadium, or maybe something even better?
Well, tickets for the All-Ireland Final and the centre court at Wimbledon are still probably going to be in high demand, but new technologies may provide a few more interesting options for those of us who are stuck watching on the couch.
The future is nearer than you think. Discover Volkswagen's range of current and next-gen electric vehicles at volkswagen.ie/electric.