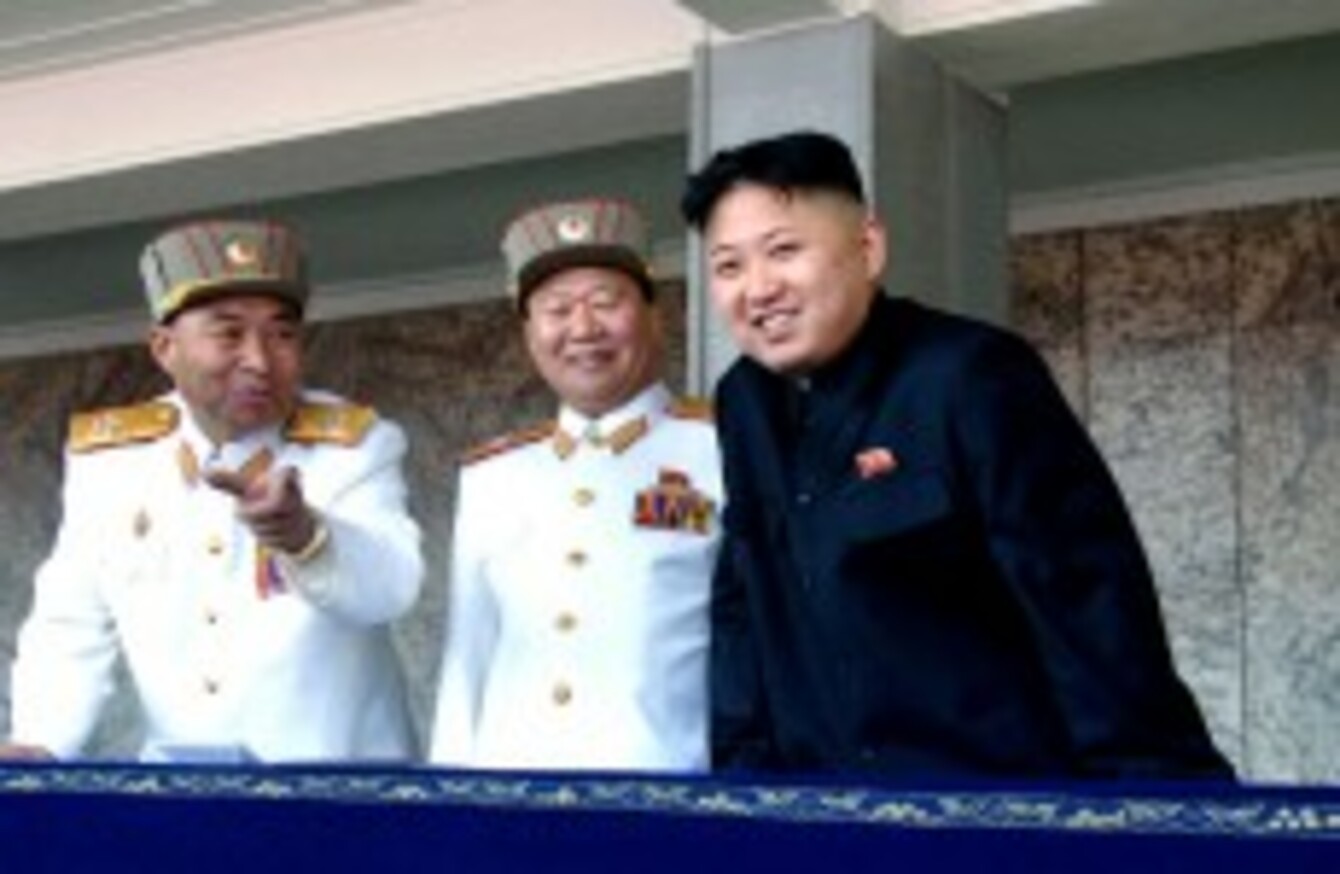 A photo from 15 April 2012 showing North Korean leader Kim Jong Un (right) with Ri Yong Ho on the left.
Image: AP Photo/Korean Central News Agency via Korea News Service
A photo from 15 April 2012 showing North Korean leader Kim Jong Un (right) with Ri Yong Ho on the left.
Image: AP Photo/Korean Central News Agency via Korea News Service
NORTH KOREA'S MILITARY chief has been given his marching orders, according to the country's state media.
Kim Jong Un's top military official — a key mentor to North Korea's young new leader who had served under his father — has been removed from all posts because of illness.
The surprise announcement  has shaken the core of the authoritarian country's power structure.
Ri Yong Ho had looked healthy in recent appearances, and his departure fed speculation among analysts that Kim purged him in an effort to put his own mark on the nation he inherited seven months ago when his father Kim Jong Il died.
At the same time, there was no sign of discord at Ri's last public appearance at a high-level event barely a week ago.
The decision to dismiss the 69-year-old from top military and political posts was made at a Workers' Party meeting yesterday, according to the official Korean Central News Agency.
It was not immediately clear who would take Ri's place, and the dispatch did not elaborate on his condition or future.
Daniel Pinkston, a North Korea analyst at the International Crisis Group, was skeptical of the illness claim, in part because of Ri's recent apparent health. He also said Ri won his major promotions at a September 2010 party conference but received none in April, which stirred speculation about the general's future.
"There's a very high probability that it wasn't health issues, but that he was purged," sending a strong signal to anyone seeking to challenge Kim Jong Un — even if Ri never directly defied the new leader, Pinkston said.
Ri was vice marshal and chief of the General Staff of the Korean People's Army, making him the nation's top military official behind Kim Jong Un, who rules as supreme commander.
In 2010, Ri also was promoted to key political posts in the Workers' Party, including vice chairman of the Central Military Commission of the Workers' Party and Presidium of the party's influential Political Bureau, making him a top political figure along with Kim, Kim's uncle Jang Song Thaek and other trusted members of the late Kim Jong Il's circle of advisers.
Ri had been at Kim Jong Un's side since the young man emerged publicly as Kim Jong Il's successor in 2010, often standing between father and son at major events. He was there throughout the mourning for Kim Jong Il, and was among the small group of men who accompanied the late leader's hearse through snowy Pyongyang during the funeral procession.
In the weeks and months after Kim Jong Un took power, he accompanied the new ruler on his first trips to visit military units in a pointed show of continuity and military support as Kim sought to shore up the backing of the nation's troops.
The dismissal of the top army official is a significant move in North Korea, which operated under a "military-first" policy under Kim Jong Il, who elevated the army's role when he became leader after the 1994 death of Kim Il Sung, his father and the nation's founder.
Ri also oversaw an influential Kim Jong Un support group comprising officers in their 50s and 60s whom commanders considered rising stars, according to Ken Gause, a North Korea specialist at CNA, a U.S.-based research organization.
Kim Jong Un has upheld the "songun" military-first policy, but in April he also promoted younger officials with economic backgrounds to key party positions in line with his push to build up the nation's economy.
In Seoul, Hong Hyun-ik, an analyst at the private South Korean think tank Sejong Institute, said Ri's departure was probably not related to illness but an effort by Kim to put a closer confidant in the top echelons of leadership. He said he expected more aging officials to be dismissed in coming weeks, calling the move part of a "generational change."
The robust Ri, who had served as chief of the General Staff since 2009 and was promoted to vice marshal in 2010, showed no sign of illness when he spoke in late April at a meeting of top officials marking the 80th anniversary of the army's founding. He was cited in state media as accompanying Kim Jong Un at public events as recently as last week.
North Korea has one of the world's largest armies, with more than a million military personnel in a nation with a population of 24 million.
The Korean Peninsula has remained locked in a state of war and divided by the world's most militarized border since a truce in 1953 ended three years of fighting.
Animosity has deepened since a North Korean rocket launch in April that the U.N. called a cover for a test of banned long-range missile technology. North Korea said the launch, which failed shortly after liftoff, was meant to put a satellite into orbit.
North Korea has repeatedly threatened harm to South Korea's president, the government and Seoul's conservative media in recent months, angry over perceived insults to its leadership and recent U.S.-South Korean military drills that Pyongyang says are a prelude to an invasion.