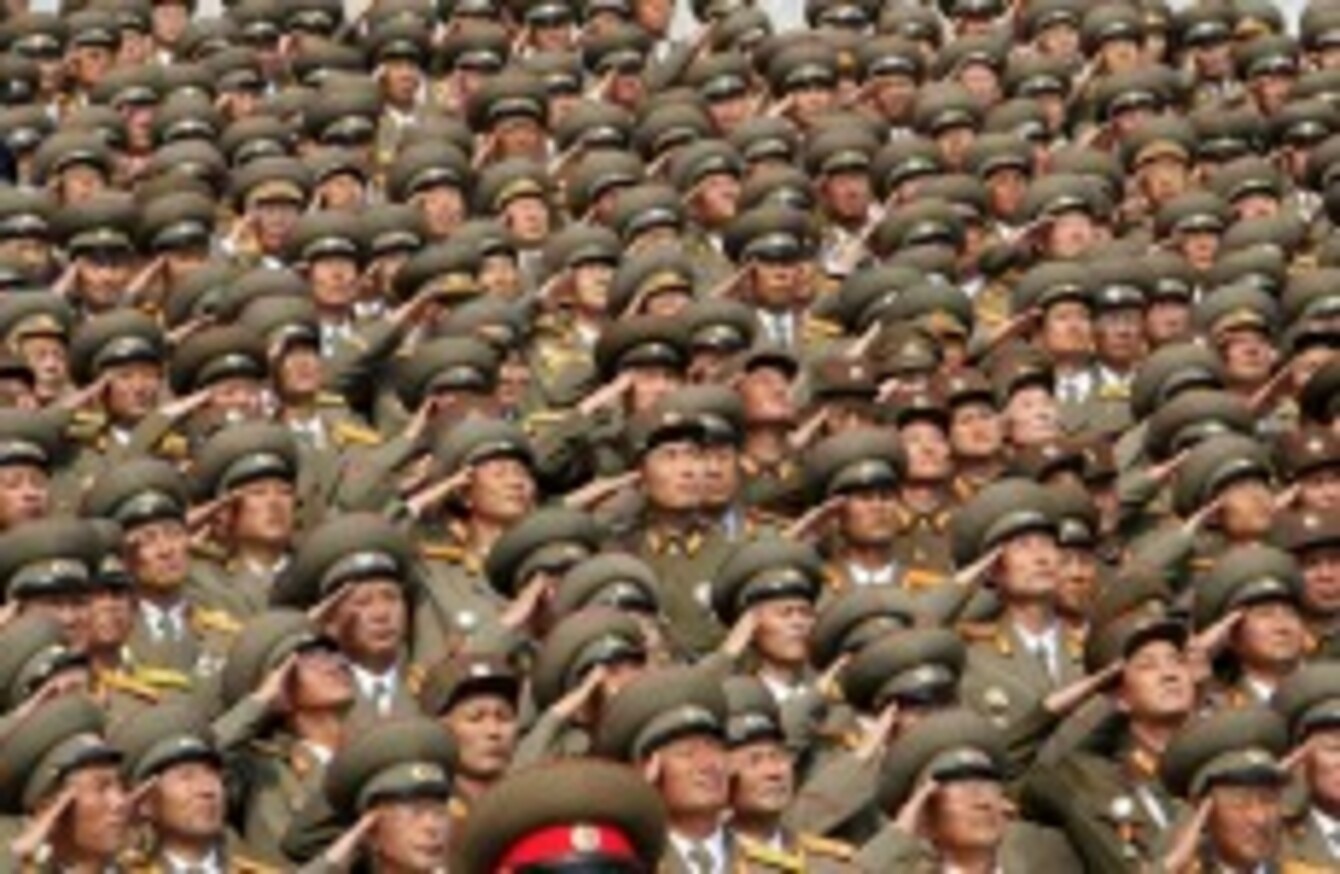 North Korean soldiers salute during a military parade in Pyongyang this week.
Image: AP Photo/Kim Kwang Hyon
North Korean soldiers salute during a military parade in Pyongyang this week.
Image: AP Photo/Kim Kwang Hyon
EVIDENCE THAT NORTH Korea has restarted a plutonium reactor is a fresh slap in the face for international efforts to encourage or coerce Pyongyang into abandoning its nuclear weapons programme, analysts say.
Satellite imagery showing white steam exiting a building next to the five-megawatt reactor at Yongbyon suggests North Korea has made good on its threat in April to reopen the facility, the US-Korea Institute at Johns Hopkins University said.
The development is a stark reminder of North Korea's nuclear ambitions at a time when Pyongyang is otherwise engaged in something of a charm offensive, striking a series of recent deals with South Korea on thorny cross-border issues.
The Yongbyon reactor, shut down in 2007 under an aid-for-disarmament accord, is capable of producing six kilogrammes (13 pounds) of plutonium a year — enough for one nuclear bomb.
(AP Photo/Jon Chol Jin)
"They really are putting themselves in a position to increase the amount of material they have for nuclear weapons," said Jeffrey Lewis, who analysed the images for the institute.
"This gives them a little bit of leverage in negotiations, and adds a sense of urgency on our part," Lewis told the BBC.
Undermined
Pyongyang is currently believed to have enough plutonium for about six bombs, after using part of its stock for at least two of its three atomic tests.
The restart of the plutonium reactor would be the latest in a series of steps undermining years of effort by the international community to stall and roll back North Korea's pursuit of an advanced nuclear deterrent.
(AP Photo/Wong Maye-E)
Last month, the Institute for Science and International Security (ISIS) said satellite images suggested the North may have doubled its uranium enrichment capacity at Yongbyon.
The US think-tank, which tracks the North's nuclear weapons programme, said the expansion would allow the facility to produce as much as 68 kilograms of weapons-grade uranium a year — enough for three nuclear bombs with a little left over.
Separate satellite images in May showed that construction of an experimental light-water reactor at Yongbyon was also nearing completion.
Last month, the International Atomic Energy Agency described these various moves — if confirmed — as "deeply regrettable" and "clear violations" of relevant UN Security Council resolutions.
(AP Photo/Wong May-E)
In recent weeks, North Korea has indicated its willingness to resume six-party talks on its nuclear programme, involving the United States, Russia, China, Japan and South Korea.
But both the United States and South Korea have wagered significant political capital on a policy that insists meaningful talks can only begin after North Korea demonstrates a tangible commitment to denuclearisation.
By taking the opposite route and restarting its reactor, Pyongyang is following a tried and trusted policy that sees belligerence rather than compromise as the best tactic for bringing the US and its allies to the dialogue table where it can extract concessions.
Non-engagement
"It's unclear whether the North has genuinely resumed operating the plutonium reactor or is just making it look like it has done so," said Yang Moo-Jin, a professor at the University of North Korean Studies in Pyongyang.
"But the strategy is the same either way — put pressure on Washington to start a dialogue," Yang said.
(AP Photo/KRT via AP Video)
Glyn Davies, the US pointman on North Korea who is currently touring the region to discuss the next diplomatic move vis-a-vis Pyongyang, indicated Tuesday that Washington would stand firm.
"We need to see some signs that they are sincere about what is the central issue of the six-party process which is the peaceful denuclearisation of the Korean peninsula," Davies said after talks with his South Korean counterpart in Seoul.
The problem for Washington and Seoul is that the further North Korea is perceived to be advancing its nuclear programme, the larger the question mark over the effectiveness of non-engagement.
"Restarting the Yongbyon reactor will raise international concerns and that raises the pressure on the US and its allies to do something about it," said Kim Yong-Hyun, a North Korea specialist at Seoul's Dongguk University, adding:
Needless to say, North Korea is very well aware of this.
Timeline
An ISIS analysis report noted there was still time to negotiate a shutdown of the reactor, given that it would take 2-3 years before it discharges irradiated fuel containing plutonium.
And Paul Carroll of the Ploughshares Fund, a global security foundation, doubted that Washington would allow itself to be rushed back to the dialogue table.
"The reactor isn't really a surprise and its restart was probably factored in by the US administration some time ago," Carroll said, adding:
With its focus on Syria, the US will be willing to let South Korea take the lead on this for a while, especially given the recent signs of progress in cross-border ties.
The two Koreas have just set a date for reopening a joint industrial zone shut down five months ago and are also set to resume family reunions for those separated by the 1950-53 Korean War.