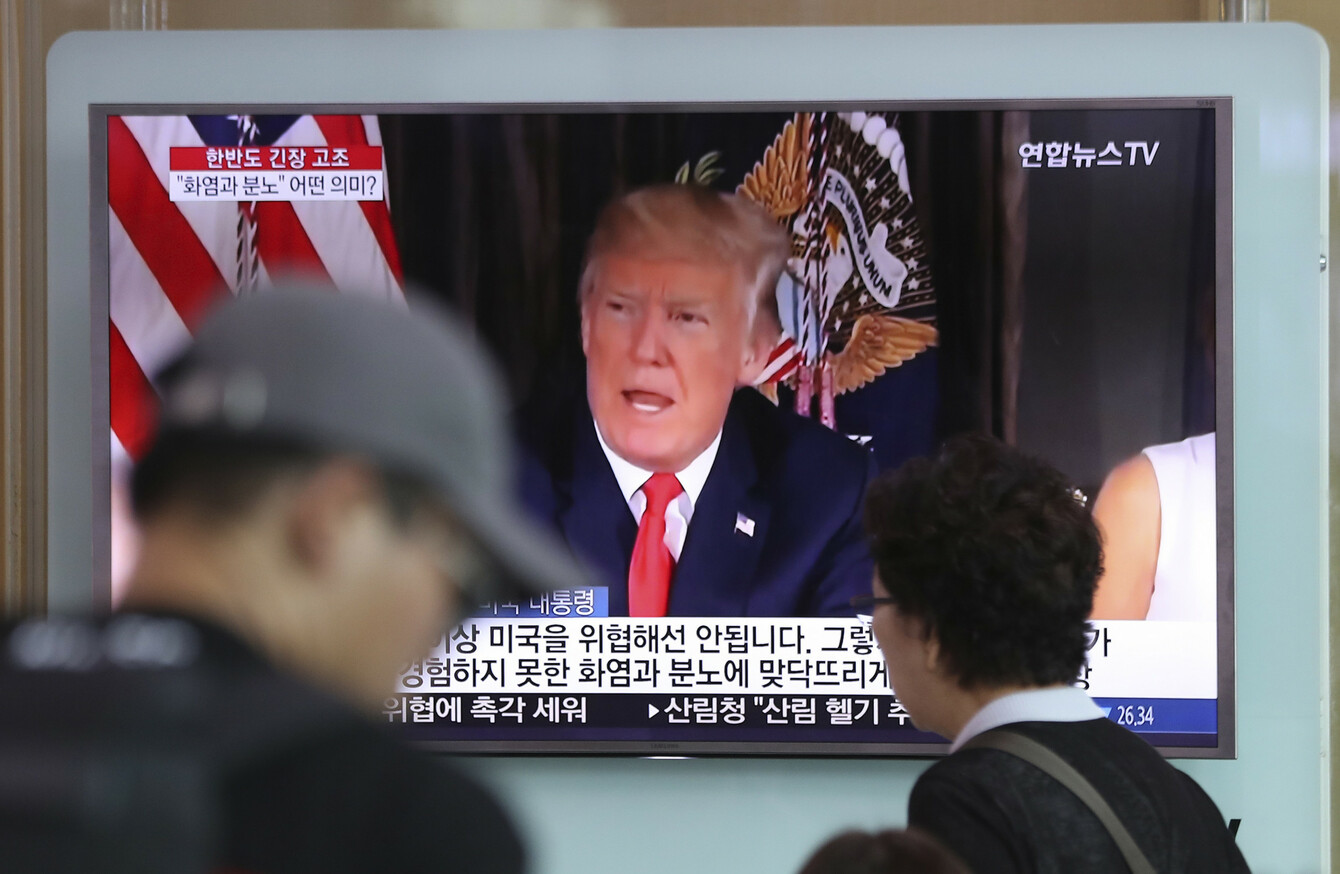 Donald Trump is seen on a TV in Seoul.
Image: Lee Jin-man/AP
Donald Trump is seen on a TV in Seoul.
Image: Lee Jin-man/AP
NORTH KOREA HAS announced a detailed plan to launch a volley of ballistic missiles toward the US Pacific territory of Guam and dismissed President Donald Trump's threats of "fire and fury" if it doesn't back down.
The announcement, made in the name of a general who heads North Korea's rocket command, warned the country is preparing a plan to fire four of its Hwasong-12 missiles over Japan and into waters around the tiny island, which hosts 7,000 US military personnel on two main bases and has a population of 160,000.
It said the plan could be finalised within a week or so and would then go to leader Kim Jong Un for approval. It would be up to Kim whether the move is actually carried out. It said the missiles would hit waters 30 to 40 kilometres away from the island.
It is unclear whether North Korea would risk firing missiles so close to US territory, which could provoke countermeasures and further escalation.
General Kim Rak Gyom, commander of the North's strategic rocket forces, made the insults via state media in response to Trump's "fire and fury" threats against North Korea.
Trump made the remarks during a meeting at his New Jersey golf resort.
Kim said Trump is "extremely getting on the nerves" of his soldiers by making comments that showed his "senility" again.
Kim says "sound dialogue is not possible with such a guy bereft of reason who is going senile."
US Secretary of State Rex Tillerson sought to calm the sense of crisis.
Speaking on his way home from Asia, he insisted the US isn't signaling a move toward military action.
"Americans should sleep well at night," Tillerson told reporters. "Nothing that I have seen and nothing that I know of would indicate that the situation has dramatically changed in the last 24 hours."
But then Defence Secretary Jim Mattis ratcheted the rhetoric back up, calling on Pyongyang to "cease any consideration of actions that would lead to the end of its regime and the destruction of its people." As seldom as it is for a president to speak of using nuclear missiles, the reference to the "destruction" of a foreign people is equally rare.
North Korea immediately called Trump's rhetoric a "load of nonsense" that was aggravating a grave situation.