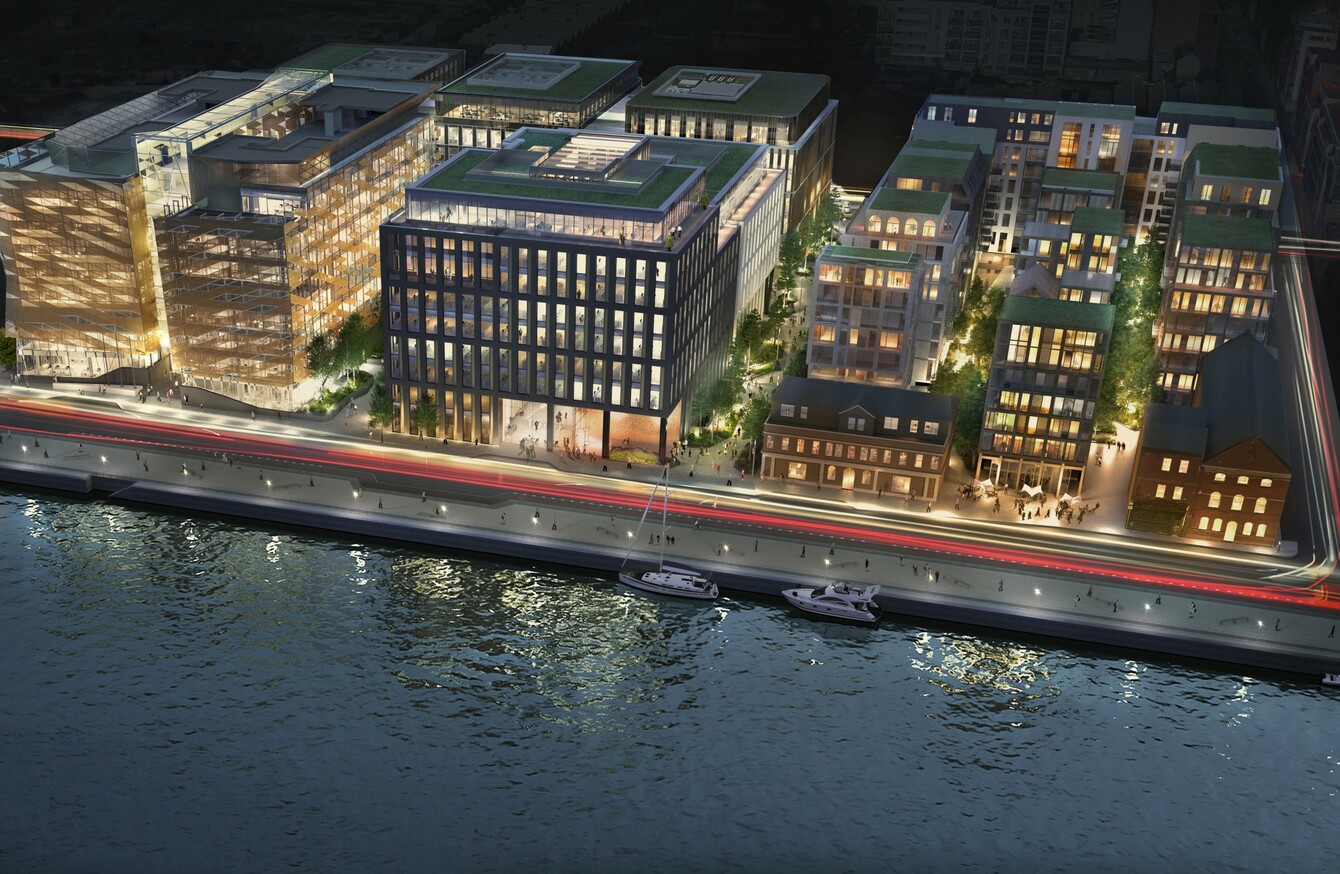 DUBLIN'S BUSINESS DISTRICT is about to get a significant boost as one of the country's biggest builders is to get to work on an extensive development.
Ballymore, the group headed up by prominent Irish developer Sean Mulryan, announced today that it will build a one million sq ft mixed-use development on North Wall Quay as part of its new docklands development, Dublin Landings.
The district is home to the Central Bank's new headquarters and is next to the International Financial Services Centre, Dublin's central business area.
It will likely help to somewhat alleviate the strain on Dublin's commercial office space, of which there is a shortage throughout the capital. The lack of high quality office space is particularly acute in business areas and the city centre.
Ballymore said that the project aims to "raise the bar on architecture and landscape design to the standard of other global financial centres."
Construction jobs
Five new office buildings are expected to be delivered by 2020 as part of the project, which will see 700,000 sq ft of grade A office and retail space constructed alongside 273 luxury residential apartments.
The company said it expects 2,000 construction jobs to be created throughout the life of the project.
The development rights for the site were secured by Singapore developer Oxley, which has partnered with Ballymore to manage and deliver the project over the next four years.
The two companies recently launched one of London's largest mixed-use projects, Royal Wharf. The venture is Oxley's first in Ireland.
Construction on two of the larger office blocks has already started, and the National Treasury Management Agency is expected to be the first tenant.
The state body is set to take about a third of the first office block, a 220,000 sq ft eight storey waterfront building.
Community
Ballymore chairman and chief executive Sean Mulryan said that the project will "bring to life our vision of creating a vibrant community within the area".
"The calibre of tenants expressing interest in Dublin Landings is a testament to the quality and scale of the development which will, we believe, not only define new standards for mixed-use development in Ireland, but also match international standards," he said.
Oxley chairman Ching Chiat Kwong said that the company has great confidence "in the Dublin market and particularly the central business district".
"This unique mixed-use site is unlike any other in Dublin," he added.
Ballymore said the name 'Dublin Landings' is derived from "the deep history rooted in the north docklands area", such as the landing of the Vikings.
Written by Paul O'Donoghue and posted on Fora.ie