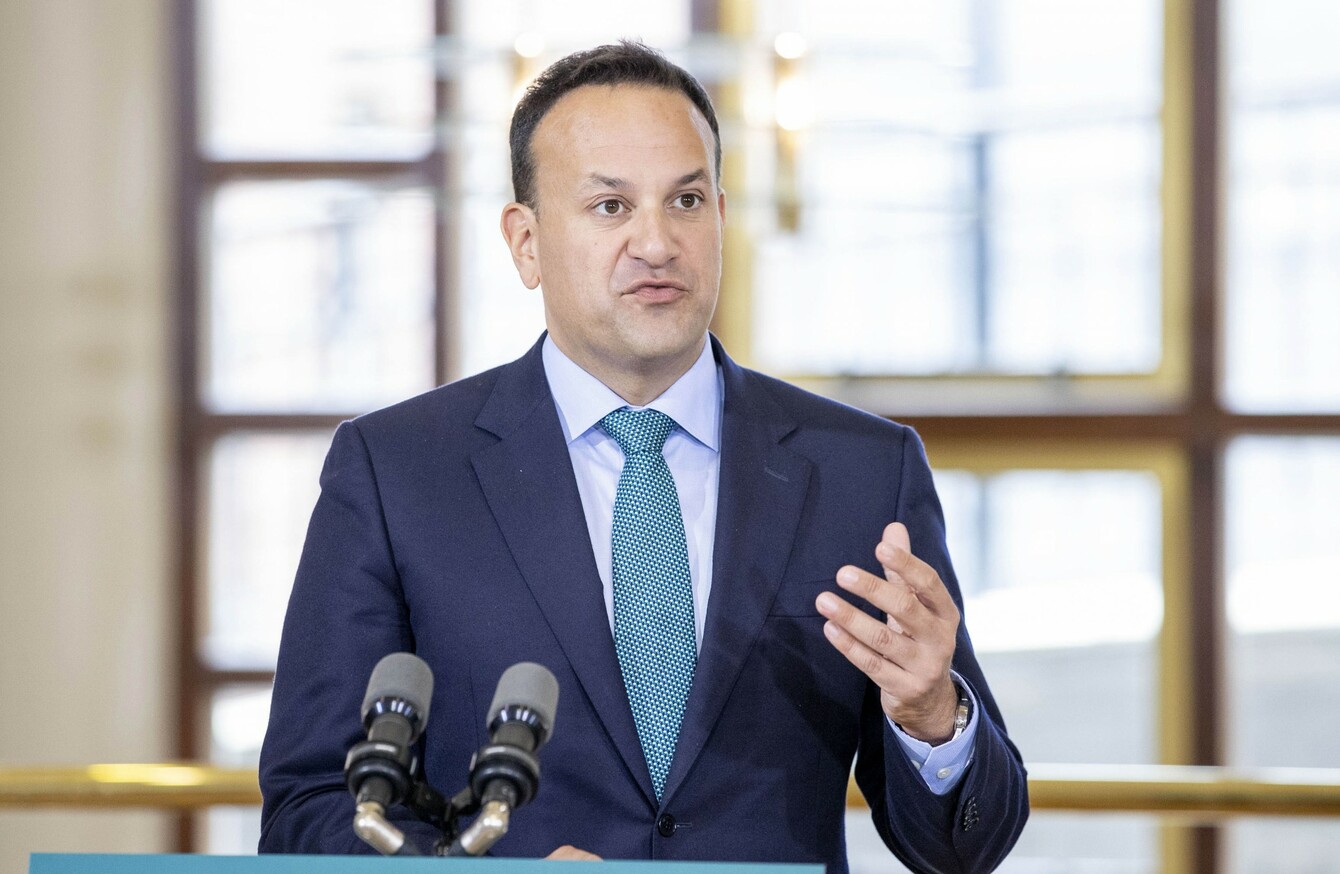 Image: Julien Behal Photography
Image: Julien Behal Photography
Updated Nov 25th 2020, 9:10 PM
TÁNAISTE LEO VARADKAR has told the Fine Gael parliamentary party that the Government is considering advising people not to travel to Northern Ireland from later this week. 
The Tánaiste cited the worsening situation in the North, stating the government is considering advising against traveling over the border.
Yesterday, Varadkar told the Dáil that north-south travel within Ireland is a "real risk that we cannot ignore".
"The incidence of the virus in Northern Ireland is a multiple of what it is in this State and so is the mortality rate.  
"Northern Ireland is a different jurisdiction and makes its own decisions under the Good Friday Agreement. We respect that.  However, we would be in denial not to recognise that a less intensive approach to the virus there, since the start, has its consequences," he said. 
The R-number – the rate of transmission of the disease – is on or about 1 in Northern Ireland compared to the Republic which is currently between 0.7 and 0.9. 
Northern Ireland is to enter a two-week 'circuit breaker' aimed at curbing the spread of the virus from Friday. 
Tonight's comments come as the National Public Health Emergency Team (NPHET) met to discuss the most recent Covid-19 data and make its recommendation to Government about easing Level 5 restrictions. 
It is widely expected that Level 5 restrictions – which have been in place since 22 October – will be lifted on 1 December and that the country will enter Level 3, with some modifications, next Wednesday. 
This easing of restrictions was confirmed by Varadkar this morning, who indicated that retailers, gyms and hairdressers would be among those who re-open first, adding it'll be "hair cuts and shopping before nights out".
Varadkar said it was hoped that restrictions on household visits could be eased for up to two weeks to allow people visit their friends and family around Christmas time. 
"It is the government's objective to have family dinner on Christmas Day as normal as possible, but it's too early to make that call yet," he said. 
"We want people to be able to meet their families and meet their friends over the Christmas period.
"We know people are going to do it anyway. So it's better that we can provide for it in a safe way.
"Because we've got the virus down to much lower levels than in Northern Ireland or in Britain, we think we'll be able to do that for a much longer period than the five or six days they're talking about. We hope to be able to do it for something close to two weeks," he said.
The Tánaiste told party members this evening that the government will need to be frank with people stating that easing restrictions from next week will increase the case numbers.
However, he said that while there were significant excess deaths in the first wave of the virus there were little or no excess deaths in the current second wave.
The Tánaiste didn't rule out a return to Level 5 at some point in the new year, citing examples in the likes of Italy and Germany which saw Covid-19 "suddenly taking off in the course of a week or two". He added that he hoped any period of Level 5 in the future would be shorter than the six-week period implemented last month. 
Cabinet has indicated that a phased approach to reopening will be implemented with Taoiseach Micheál Martin due to address the nation on Friday. The exact details of the plan are currently being discussed at Government, with Ministers and officials awaiting NPHET's advice before making any final decision. 
Headed by Chief Medical Officer Dr Tony Holohan, NPHET convened this morning to review the epidemiological situation and discuss key indicators of the spread of Covid-19 in Ireland having moved its meeting forward by one day. It is understood the meeting started at 11am and lasted more than eight hours. 
The team will assess the current trajectory of the disease and consider modelling data to gain an understanding of how the virus could spread in the coming weeks depending on what level of restrictions are implemented ahead of Christmas. 
It will then make its recommendation to Government via a letter to Health Minister Stephen Donnelly. 
The trajectory of the virus had been on a downward trend until last week when cases began to rise again, prompting concern from Public Health officials about an early reopening of society in early December. 
The Department of Health this evening confirmed 269 more cases of Covid-19 and six further deaths. 
Chair of NPHET's Irish Epidemiological Modelling Advisory Group Professor Philip Nolan last week told TheJournal.ie that "we have made huge progress" since 22 October. 
#Open journalism No news is bad news Support The Journal

Your contributions will help us continue to deliver the stories that are important to you

Support us now
"We've come down from a daily average case count of 1,200 cases a day to 400 cases a day. We're doing very well compared to European nations in general," he said, but warned that cases have remained stubbornly high in recent weeks.  
Speaking at a NPHET briefing on Monday evening, Dr Holohan warned against what he described as a culture of "blame" setting in regarding breaches of Covid-19 restrictions. 
Asked if today's decision will be one of the toughest his team has had to make, he replied: "It's never easy… it has implications for people… how they live their lives, the economy and people have been out of work for long periods of time."
"It isn't straightforward for anybody," said Holohan. "So I think it's for the people who are impacted directly by these, we have to be most concerned about – as opposed to us as officials." 
With reporting by Christina Finn and Seán Murray