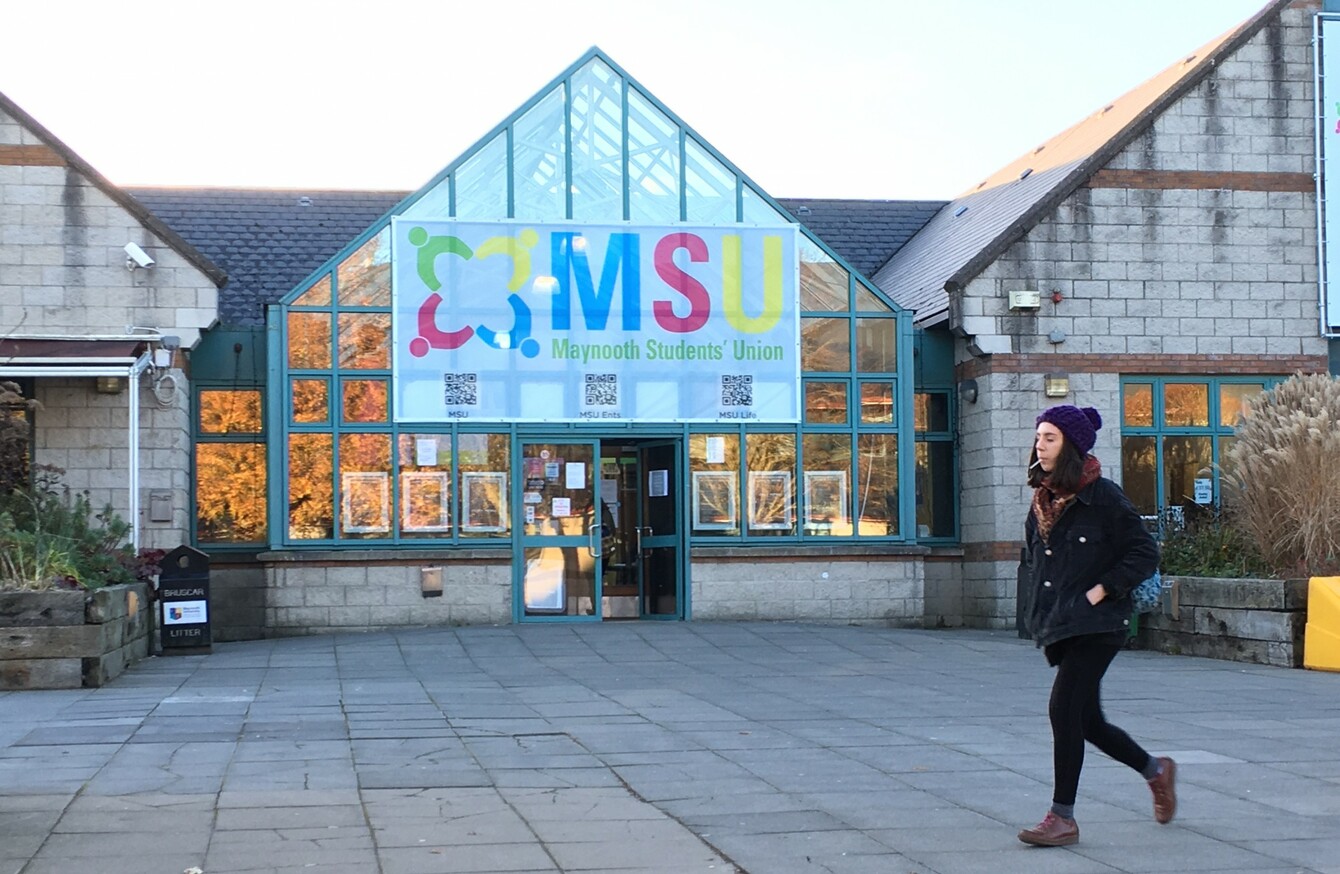 The entrance to the Maynooth Students Union building yesterday afternoon.
Image: TheJournal.ie
The entrance to the Maynooth Students Union building yesterday afternoon.
Image: TheJournal.ie
THERE'S A NOTICEABLE edge to the atmosphere at the estate of Moyglare Abbey, on the outskirts of Maynooth in Co Kildare.
It was here, scarcely yards from the main road that runs alongside the north campus of the town's university, that 18-year-old student Kym Owens was violently attacked minutes after getting off the bus from her home town of Castleblaney in Co Monaghan on her way to her college digs in the estate.
On a bitterly cold day, after a scrum of journalists drift off, members of the Garda Technical Bureau get to work, sifting through fallen autumnal leaves along the street. A garda stands sentry outside two detached houses, across the road from some tattered tape demarcating the crime scene.
Overhead, there appears to be a CCTV camera attached to the house nearest the attack – but the word locally is that it was disconnected long ago.
The estate's make-up, with several pedestrian entrances to the nearby university and other estates, may make it doubly problematic for gardaí to track the movements of the perpetrator – or perpetrators – of the attack.
Adjoining the vast northern campus, it's a popular source of accommodation for those attending NUI Maynooth, and students filter through from the college throughout the day. Each turns a wary eye towards the crime scene that has cast a shadow on their college life.
"I'm a little bit shocked to be honest," Brian Guckian, a History and Politics student, tells TheJournal.ie.
I've lived here about two years, and you'd hear of the odd bit of trouble, maybe a punch on a night out, after a few drinks. But nothing like this. I honestly never thought something like this would happen here. It's just strange.
Guckian lives around the corner in the estate, and like many students was returning to his own house on Sunday evening. "I drove into the estate and thought it was strange to see a group of people in the estate, locals and stuff. This was before the gardaí arrived.
"I assumed people were swapping books around or something like that. I came out of my house 10 or 20 minutes later and saw two garda cars and an ambulance, and I thought 'Jesus fucking Christ what's going on here?'"
Agitated
What precisely had gone on, of course, remains a mystery. Gardaí are keeping an open line of enquiry, and have appealed for anyone on the A2B bus from Monaghan to Maynooth – via Castleblayney, Slane, Ardee and Carrickmacross – to get in contact.
They're hoping their appeal will reach locals who may have seen Kym – a young woman 5′ 3″ in height with long brown hair - disembark the bus at about 8.15pm. Wearing a dark green coat, a red hoody, black jeans and white Converse runners, she was carrying what has been described as a distinctive green and yellow bag.
Gardaí have also asked locals if they remember seeing anyone looking agitated or with marks on them around the time of the attack, which has left the first-year student in intensive care scarcely two months after beginning college life.
Over on campus, buses operated by private companies prepare to bring students from the university on their daily commute across Leinster and the border counties.
"I find it disgusting," Sadhbh D'Eathe. Like Kym, she is a first-year at NUI Maynooth.
If that happened to me, I don't know if I'd come back to college, I wouldn't feel safe. I've no idea, someone would have to be seriously angry to do that much damage to someone's face.
"It's an awful thing to happen to a girl walking home by herself. Maynooth is generally a fairly friendly town."
Yet not all agree that leafy Maynooth, a picturesque village, is a safe haven for its large student population.
Hassle
Philip, a 29-year-old postgraduate student doesn't always consider the local area safe at night.
"I did my undergrad here, and myself and my friends were set on a few times by the actual residents themselves.
Luckily there was a group of us. Locals might be out drinking in the fields, or drinking in public and would come upon you. A couple of times were fairly hairy.
"Especially if it was a young girl, I wouldn't recommend walking around. I rarely see hassle off students.
"Whenever I've been out it's been Maynooth locals, they come up to stir up the students. I don't know what it is," he adds.
Maybe it's all these young people coming in making noise in their town – but I don't think they're too concerned with social issues somehow. I think they're just out for a bit of badness. It's terrible though.
"It wouldn't make me more afraid, but that's not a macho thing, it's purely because I don't be here around nighttime, because I commute each day."
Possibly due to the size of the student population – NUI Maynooth hosts over 10,000 students in a town of 15,000 – the mood on campus is not noticeably subdued.
"Our lecturer was talking about it today, but other than that no, surprisingly, not many people were talking about it today, although I'm not on the north campus," continues Philip.
Vulnerable
Many female students did profess to feeling much warier, especially while on their own.
#Open journalism No news is bad news Support The Journal

Your contributions will help us continue to deliver the stories that are important to you

Support us now
"It's scary, so out of the ordinary," says Helen O'Connell, a final-year student.
We're outside the Students Union building, alongside the Chill cafe, and the Clubhouse, where students queue up for carvery at the bar. She adds:
That it was so random, it wasn't a robbery or anything - the fact it was just an assault - makes it scarier.
"And it seems there's no motive behind it, would just make you feel a bit more vulnerable. I've never heard of anything like this before, there's usually quite a good atmosphere."
O'Connell says she commutes, and so doesn't spend much time off-campus, but others say the incident has already changed their pattern of behaviour.
"It's not like she was out late at night - it was half 8," says Rachel Quinn, part of a group of four girls on the southeastern corner of the North Campus.
"We got a taxi home last night, everybody was talking about it yesterday."
"We're definitely watching out for our safety more," adds her friend Molly Quinlan. "It's a bit scary,"
USI
Although TheJournal.ie's requests for a comment from the NUIM SU were not returned, the Union of Students of Ireland has urged students to be extra vigilant when walking alone at night.
Of particular concern to some students is the local train station, an occasional haunt for teenage drinking.
The commuter line to Dublin is a popular commuting route for those studying in the town, and travelling alone - like Kym Owens - has suddenly become a much more forbidding prospect for several students.
"It wouldn't make us more afraid around Maynooth," says Fiona Willis. "You'd be more worried if I was getting a late train home or something, walking down the train station on your own."
Superintendent Gerry Wall hosted a meeting at the Students' Union yesterday, seeking to assure students that the town is safe.
Yet Sinn Féin and Fianna Fáil representatives have both complained this week about a lack of garda resources for Maynooth, which lacks a full-time garda station.
Wall has requested more divisional resources, and promised more garda patrols around the town, but how long it takes for the student body to feel safe again on the streets of the historic town, after this apparently senseless, inexplicable attack, remains to be seen.