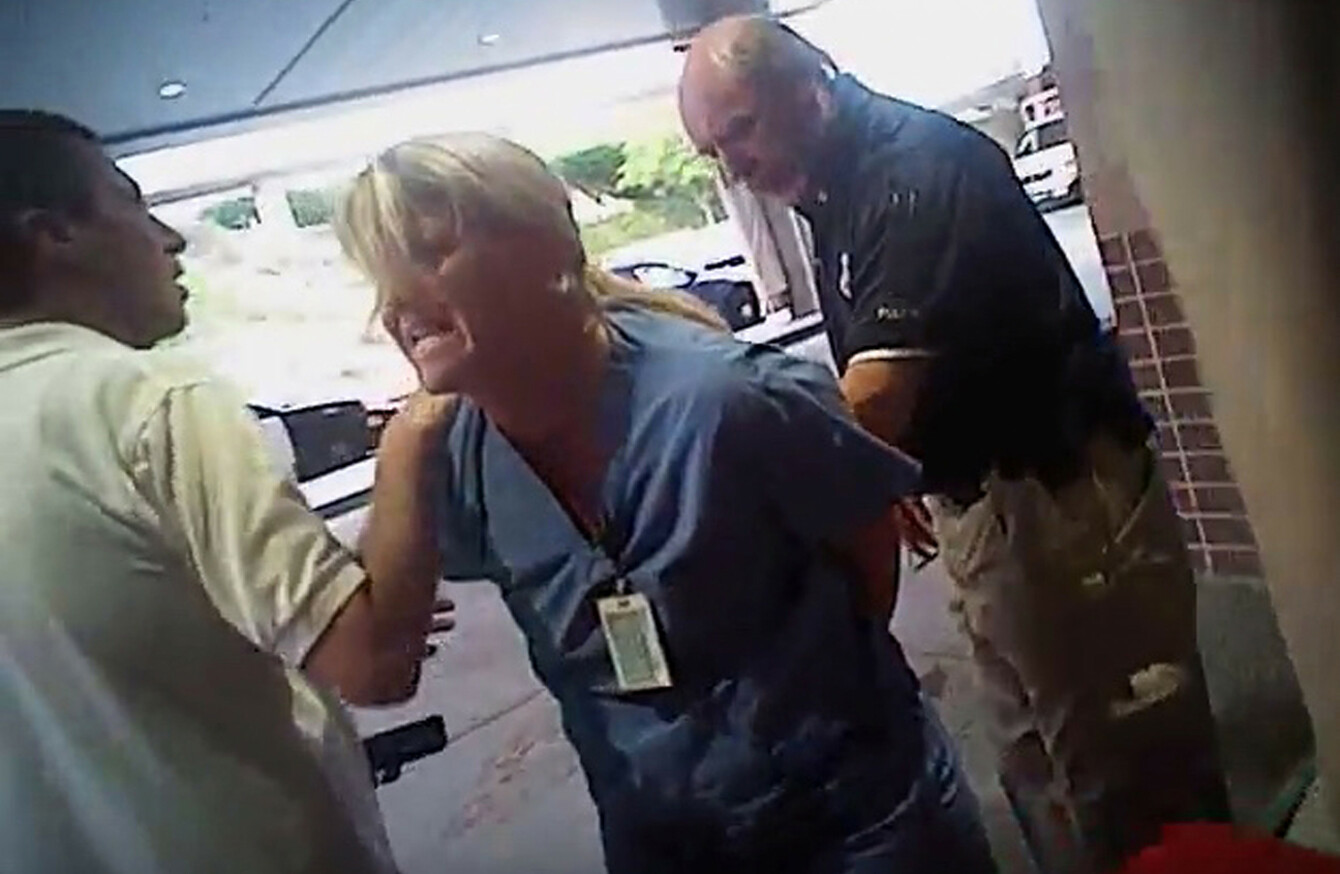 A grab from video taken from a police body camera and provided by attorney Karra Porter.
Image: AP/PA Images
A grab from video taken from a police body camera and provided by attorney Karra Porter.
Image: AP/PA Images
A UTAH NURSE who was arrested for refusing to let a police officer draw blood from an unconscious patient has settled with Salt Lake City and the university that runs the hospital for $500,000.
Nurse Alex Wubbels and her lawyer, Karra Porter, announced the move nearly two months after they released police body-camera video showing Detective Jeff Payne handcuffing Wubbels. The footage drew widespread attention online amid the national debate about police use of force.
The settlement covers all possible defendants in a lawsuit, including individual police officers, university police and hospital security guards. The payout will be divided among the city and the University of Utah.
Wubbels plans to use part of the money to fund legal help for others trying to get similar body-camera video. She said that in cases like hers, video is essential to being heard and believed.
"We all deserve to know the truth, and the truth comes when you see the actual raw footage, and that's what happened in my case," she said. "No matter how truthful I was in telling my story, it was nothing compared to what people saw and the visceral reaction people experienced when watching the footage of the experience I went through."
She said she also plans to give a portion of the $500,000 to a nurse's union and help lead a campaign to stop physical and verbal abuse of nurses on the job.
University of Utah hospital officials said in a statement they support Wubbels and have changed their procedures and training on how police and health care workers interact to ensure nothing similar happens again.
A spokesman for Salt Lake City didn't immediately return messages seeking comment.
Wubbel was following hospital policy when she told Payne he needed a warrant or the consent of the patient to draw blood after a July 26 car crash. The patient was not under arrest or suspected of wrongdoing.
Payne had neither. He eventually dragged Wubbels outside and handcuffed her as she screamed that she had done nothing wrong.
She was released without being charged but has said the incident left her feeling terrified and bullied. In a call for changes, Wubbel and her lawyer released the video they had obtained through a public records request.