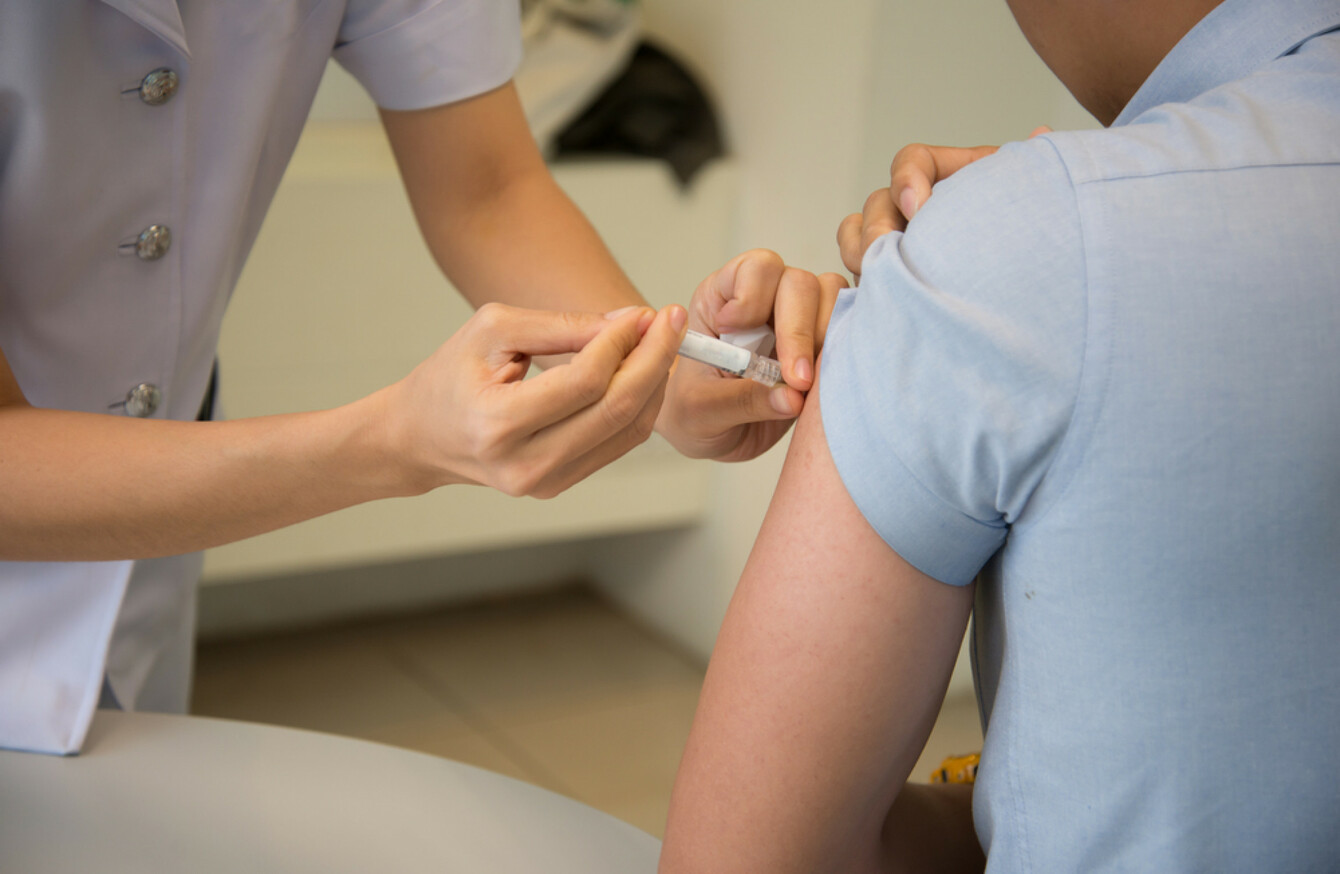 Image: Shutterstock/Emmy1622
Image: Shutterstock/Emmy1622
UPTAKE OF THE flu vaccination among hospital workers has increased in recent months following a campaign launched by the HSE, but the rate for nurses remains low at just over 32%.
Back in October, Minister for Health Simon Harris had expressed concern at slow uptake -  just 31% of all hospital workers were immunised in 2016. The number for nursing staff in 2016 was even lower at 26.4%.
According to documents released to journalist Ken Foxe, Chief Medical Officer Tony Holohan in September last year had told Harris that he was concerned about "the poor uptake of the vaccine in patient facing staff roles".
He warned that staff who are not vaccinated represent a risk to patients as they can spread flu and when they become ill they will be absent from the workforce, often at a time when they are most needed.
"The rates among nurses are of most concern given that they are so low in comparison to others and given that in numerical terms they constitute the majority of health professionals in the care settings in question. I have particular concern about the lack of leadership from nursing unions as well as others in this area," he said.
In 2016 the Irish Nurses and Midwives Organisation (INMO) had asked members not to volunteer for the Peer Vaccination Programme due to concerns that nursing staff would be diverted away from normal duties to administer the jabs.
Following the Minister's comments in October, however, the union said it had secured additional staffing resources to allow members to cooperate and it encouraged them to avail of the vaccination.
Incentives
Now the HSE has said uptake levels for staff are up since it launched its promotional campaign in October.
Dr John Duddihy, Director of Public Health South East told TheJournal.ie that the campaign included promotional materials like an information video and booklet for healthcare workers and education sessions held in hospitals and longterm care facilities.
More than 500 peer vaccinators were trained to facilitate increased numbers of those availing of the flu jab.
Cuddihy also said hospitals and community health organisations also offered incentives "such as entry to a raffle, free tea or coffee etc" to their healthcare workers to avail of the flu vaccine.
At the end of November, the uptake level for healthcare workers in hospitals was 37.9%. The rate for nurses remained low at 32.3%.
The uptake rate for workers in longterm care facilities was also up from 28.1% in the full previous flu season to 32.2% at the end of November. Again, the level for nurses was lower than the overall percentage healthcare workers at 30.8%.
Over 90% of residents in long stay facilities have received the vaccination.
The level among medical and dental staff is at 56%,while among health and social care professionals it is at 46%. The HSE anticipates the uptake rate will increase in the coming weeks and months.
"It is vital for healthcare workers to receive the flu vaccine because one can be infectious and transmit the flu for one day before showing symptoms. The flu vaccine is a lifesaver as it protects healthcare workers, their families and their vulnerable patients," Cuddihy told TheJournal.ie.
The number of reported cases of influenza-like illness in Ireland has continued to increase in recent weeks and the HSE has continued to encourage high-risk groups to get vaccinated.
Flu is expected to increase and to circulate for at least the next four to six weeks. Anyone who gets flu is advised to stay at home, rest, drink plenty of fluids and use over-the-counter remedies like paracetamol to ease symptoms.
Anyone in high-risk categories should contact their GP if they develop symptoms.