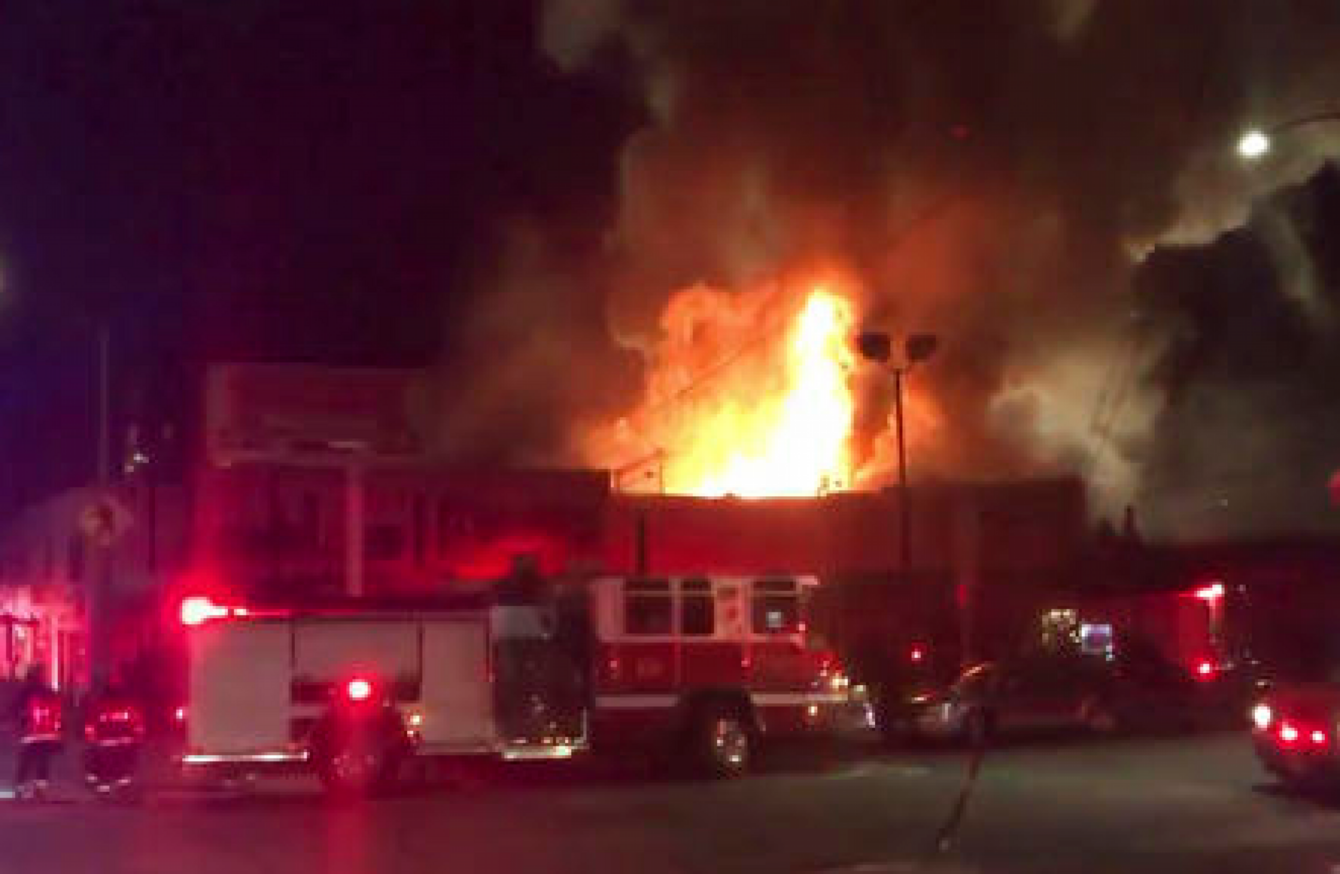 Image: Oaklandfirelive via AP
Image: Oaklandfirelive via AP
AT LEAST NINE people died and authorities said they feared the toll could rise as high as 40 in a fire that broke out during a rave at a converted warehouse in the San Francisco Bay Area.
Oakland fire chief Teresa Deloche-Reed said at least another 25 people were unaccounted for as of this morning and authorities were working to verify who was in the cluttered warehouse when the fire broke out around 11.30pm last night.
Alameda County Sheriff's Office spokesman Sgt Ray Kelly said authorities were prepared to deal with 30 to 40 deaths.
Between 50 and 100 people were believed to have been at the party when the fire started, Deloche-Reed said. It was not immediately clear what started the fire, but there did not appear to be sprinklers in the building, she said.
The interior of the warehouse "made it difficult for people to escape," Deloche-Reed said.
The warehouse was partitioned into artist studios and was packed with furniture, mannequins, statues, lamps, and other objects and did not have a clear entry or exit path, the fire chief said. The only way out of the second floor was a makeshift stairwell made of pallets.
"There is still a large portion of the building that still needs to be searched," she said. "There is large timber and debris that will need to be removed and it's going to have to be removed in a slow and methodical way."
The fire caused the building's roof to collapse and investigators were having trouble entering parts of the warehouse to search for any remaining bodies because the structure was deemed unsafe, Deloche-Reed said.
Can't see this video? Click here.
The building in a gritty part of Oakland was still smoldering today as firefighters used tools to chop a path through debris.
The fire tore through the building during an event featuring musician Golden Donna's 100% Silk West Coast tour.
Survivors said they struggled to find working fire extinguishers.
"It was too hot, too much smoke, I had to get out of there," Bob Mule, a photographer and artist who lives at the building and suffered minor burns, told the East Bay Times. "I literally felt my skin peeling and my lungs being suffocated by smoke. I couldn't get the fire extinguisher to work."