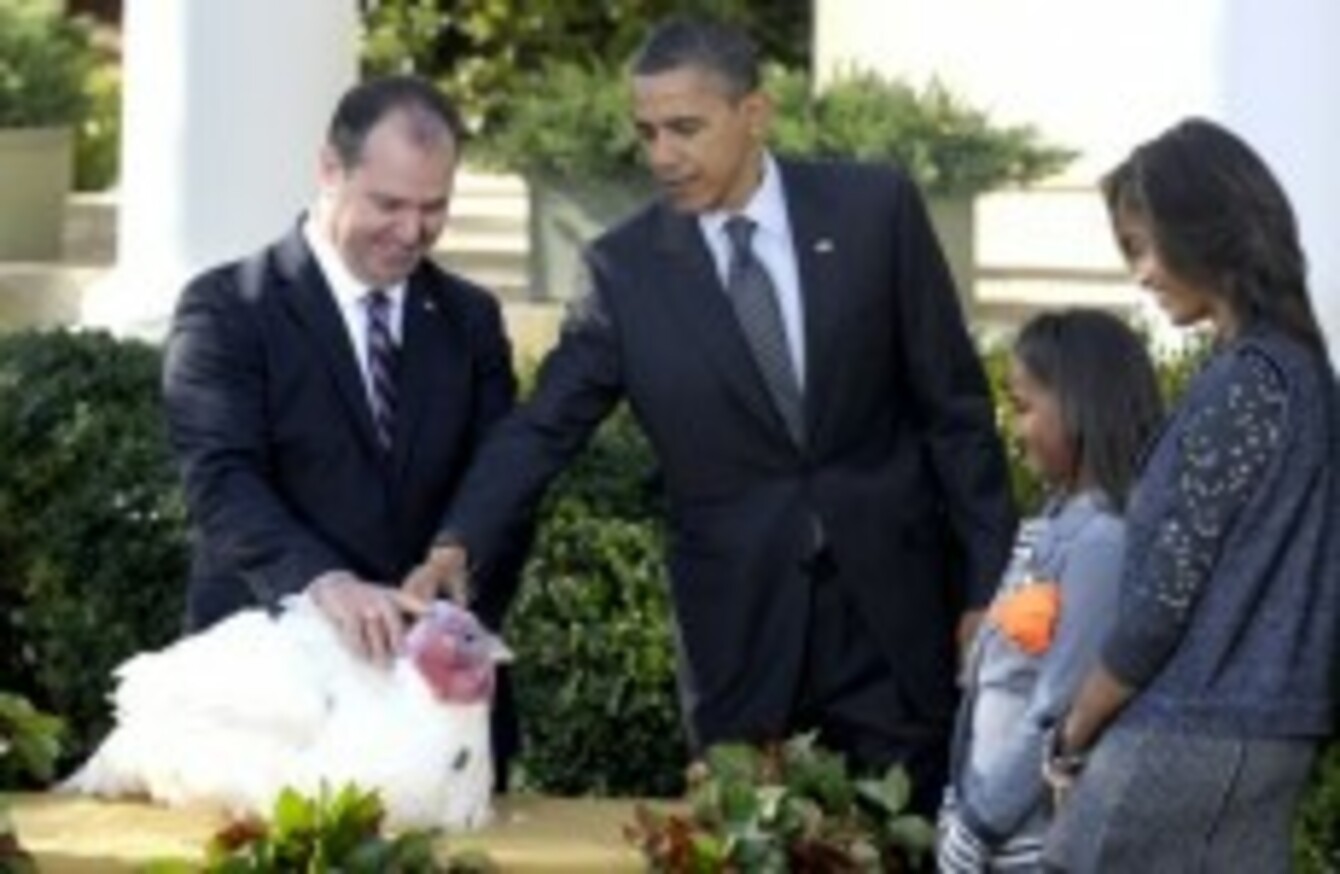 US President Barack Obama pardons Apple the turkey from Thanksgiving slaughter
US President Barack Obama pardons Apple the turkey from Thanksgiving slaughter
BARACK OBAMA HAS caused waves with his Thanksgiving Day speech – by appearing to give thanks to God. The 'Belief' blog on CNN called it "President Obama's faithy Thanksgiving proclamation", saying:
(It) has a distinctly religious ring to it, referring to the "gifts of  a gracious God" to the nation.
The speech from the White House also had repeated mentions of a relationship between God and America, which CNN claims harkens back more to the era of george W Bush. The Belief blog notes sniffily:
Last year, Obama's White House proclamation wasn't nearly so religious, its sole reference to God contained in a quote from George Washington.
Fox News said that "God Returns to Presidential Thanksgiving Proclamation" while the Suite101 website also noted that "God was generously included with two mentions" in President Obama's 2010 speech.
This is Obama's Thanksgiving proclamation from last year, and this was the one he read out to the nation today.
The New York magazine spotted that Obama also kept up another presidential tradition by pardoning two turkeys called Apple and Cider from being slaughtered for Thanksgiving dinner. Around 46 million other turkeys were not so lucky and were expected to be on American tables today.
ABC news was covering the much more important details of Thanksgiving Day at the White House: What's on the dinner menu. The station noted this year's feast is "almost the exact same menu" as that which was served up to Barack Obama and his family last year.
The White House Thanksgiving Menu, should you wish to recreate it, is as follows:
Turkey (although not one called either 'Apple' or 'Cider'); ham; cornbread stuffing; oyster stuffing; greens; sweet potatoes; mashed potatoes; green bean casserole; macaroni and chees; dinner rolls; apple pie; pumpkin pie; sweet potato pie; banana cream pie; cherry pie; huckleberry pie.