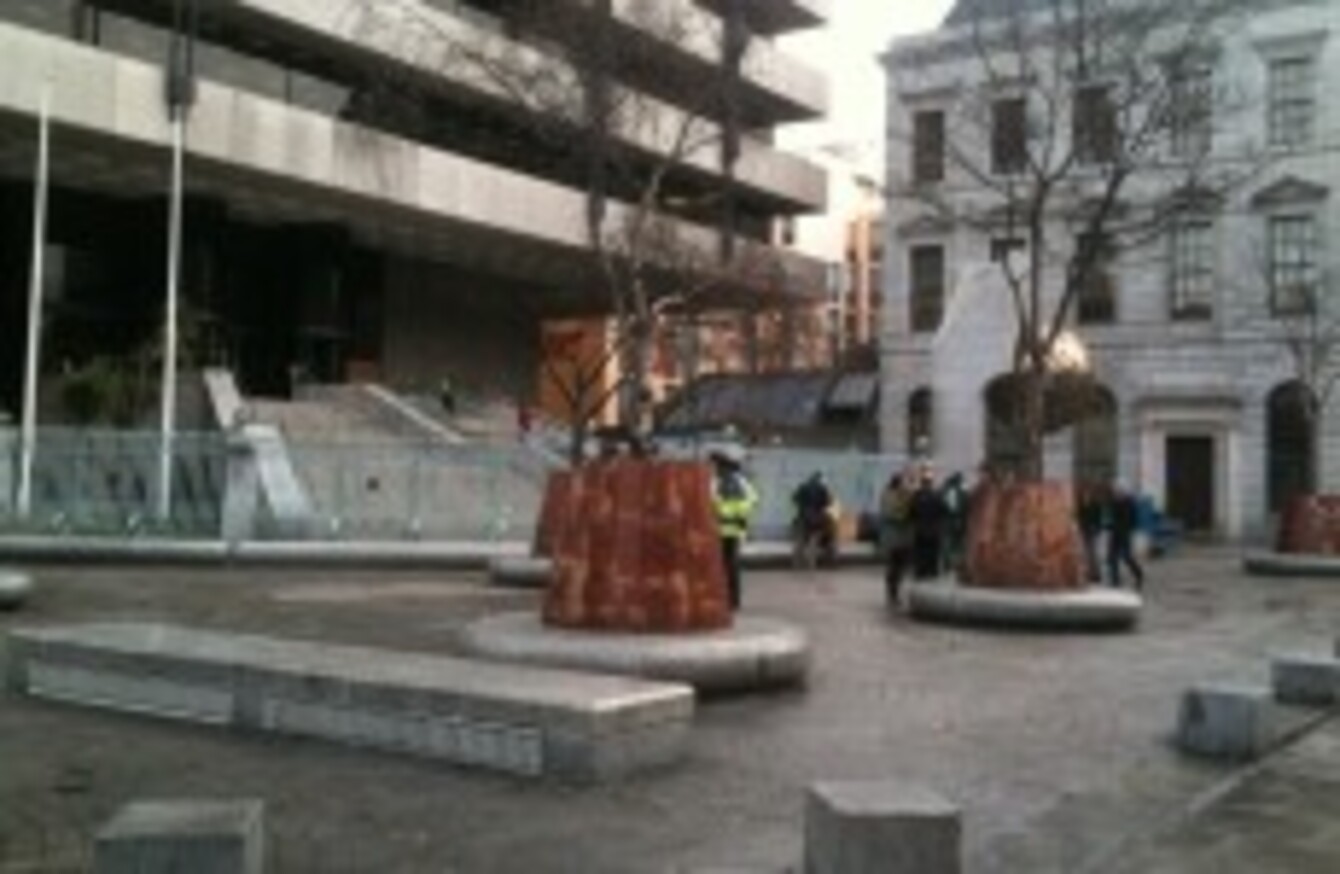 The Central Bank this morning, following the removal of the Occupy Dame St camp
Image: Susan Daly
The Central Bank this morning, following the removal of the Occupy Dame St camp
Image: Susan Daly
THE OCCUPY DAME ST camp outside the Central Bank in Dublin's city centre has been forcibly removed by gardaí and Dublin council staff.
According to RTÉ, 100 gardaí and members of Dublin City Council staff entered the camp at around 3.30am this morning and began dismantling the camp.
A garda spokesperson said that there had been no incidents and no arrests. He said they could not confirm the amount of gardaí who took part in the removal of the camp.
There was a small number of protesters on site at the time. The area was then cleaned and at around 7am the streets – which had been closed off – were reopened. The protesters were then allowed to return to the site. As shown by our pictures, below, a handful of people – and  a similar number of gardai – remained at the site this morning during rush hour.
Minister Leo Varadkar told the Irish Times yesterday that it was regrettable that the protesters had not agreed to a request for them to remove themselves from the site.
The site was erected in October as part of the international Occupy movement.
Earlier this week, members of the Occupy Dublin movement said that their protests would continue despite a request from gardai that the camp be dismantled in time for the St Patrick's Day parade.
A video put up on Youtube yesterday shows gardaí appearing to remove metal fencing from the camp during the day. (Via OccupyDameSt)

Occupy Dame St camp removed

Occupy Dame St camp removed

Occupy Dame St camp removed