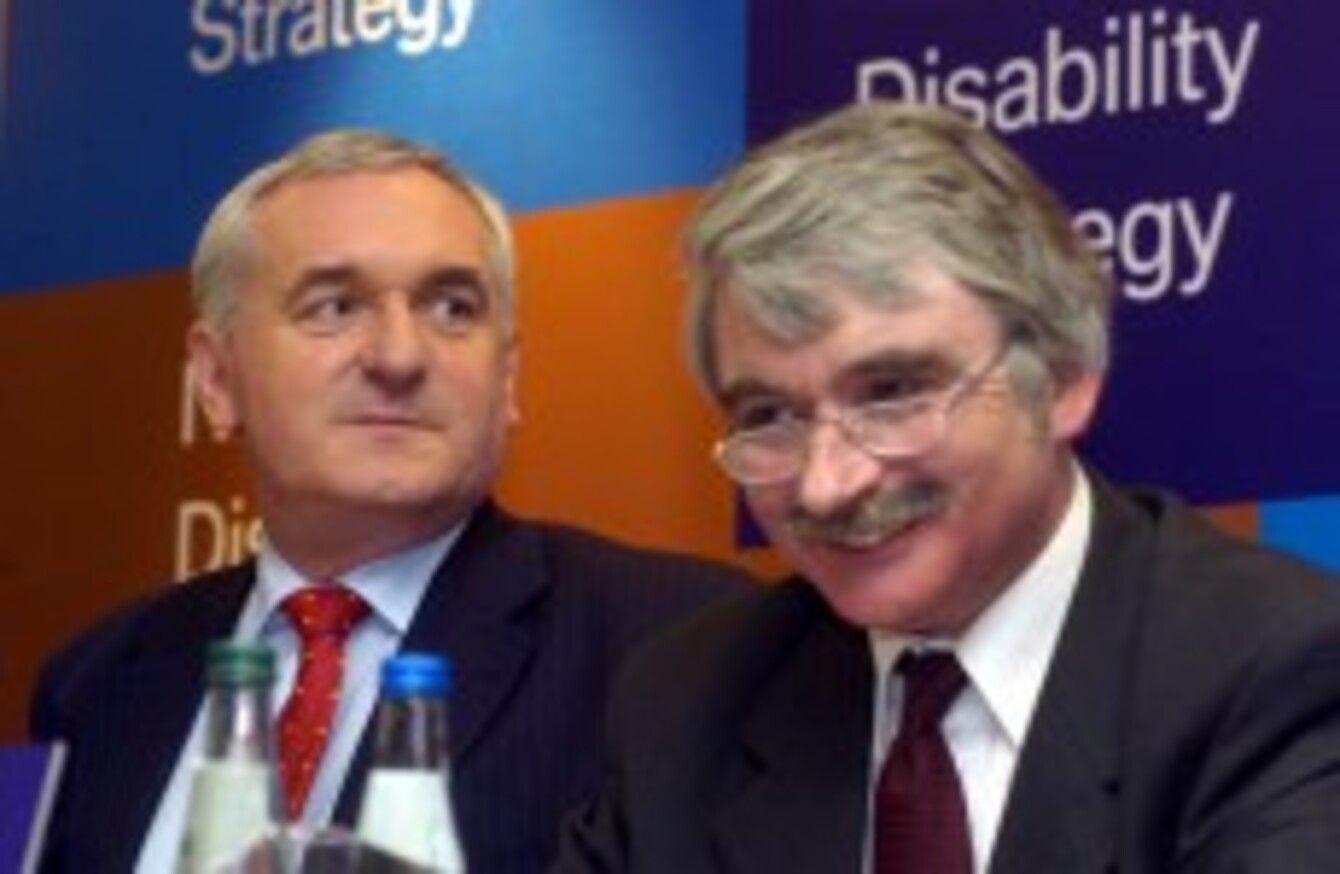 Willie O'Dea (L) with Bertie Ahern in 2004
Image: Graham Hughes/Photcall Ireland
Willie O'Dea (L) with Bertie Ahern in 2004
Image: Graham Hughes/Photcall Ireland
THE FORMER DEFENCE Minister Willie O'Dea has said that the "appalling spectacle" of former taoiseach Bertie Ahern giving evidence at the Mahon Tribunal coupled with the economic downturn contributed to Ahern's downfall.
O'Dea, who at the time robustly defended Ahern following evidence to the Tribunal in 2007, also admitted that he didn't believe most of the evidence Ahern gave about his personal finances by the time he had finished giving it, in an interview with Newstalk.
Speaking on the Moncrieff programme yesterday, the Limerick TD and current Fianna Fáil spokesperson on enterprise spoke candidly about his former cabinet colleague's demise.
"I think what brought it into focus was two things. First of all was the fact that he had to go into the witness box and spend several days answering questions under cross-examination from fairly experienced counsel," he said.
"And of course as well as that, at the time as well, it just coincided with the downturn in the economy."
'Didn't believe most of it'
O'Dea said that the economic downturn and the evidence Ahern gave to the Tribunal about how he had received some IR£165,000 in the 90s, which the Tribunal said it did not believe in its final report, contributed to Ahern's exit as taoiseach in 2008.
He added: "People had begun to get suspicious of Bertie even as an administrator of the economy, as a manager of the economy. So you'd a double whammy really.
"You had people losing faith because of the fact the economy was beginning to go down the tubes and you had this appalling spectacle in the box. It came to the point where his position, really I suppose, became untenable and you know he decided then himself to stand down."
In the interview, O'Dea said that by that point Ahern had become a "liability". He also revealed that while he thought that Ahern's explanation for his unusual finances "seemed plausible" before the Tribunal, halfway through his evidence to Mahon he began to have "serious doubts".
O'Dea added that he "certainly didn't believe it at all or most of it at the end of the evidence."
In its report earlier this month, the Mahon Tribunal found that Ahern had failed to truthfully account for payments worth IR£165,000 into bank accounts connected with him during the 1990s.
The findings were rejected by Ahern who resigned from Fianna Fáil this week before a motion could be put to the party's Ard Comhairle to expel him.
Read: St Luke's trustees agree to transfer building back to Fianna Fáil
Read: Portraits of tainted taoisigh 'should be removed from Leinster House' – senator