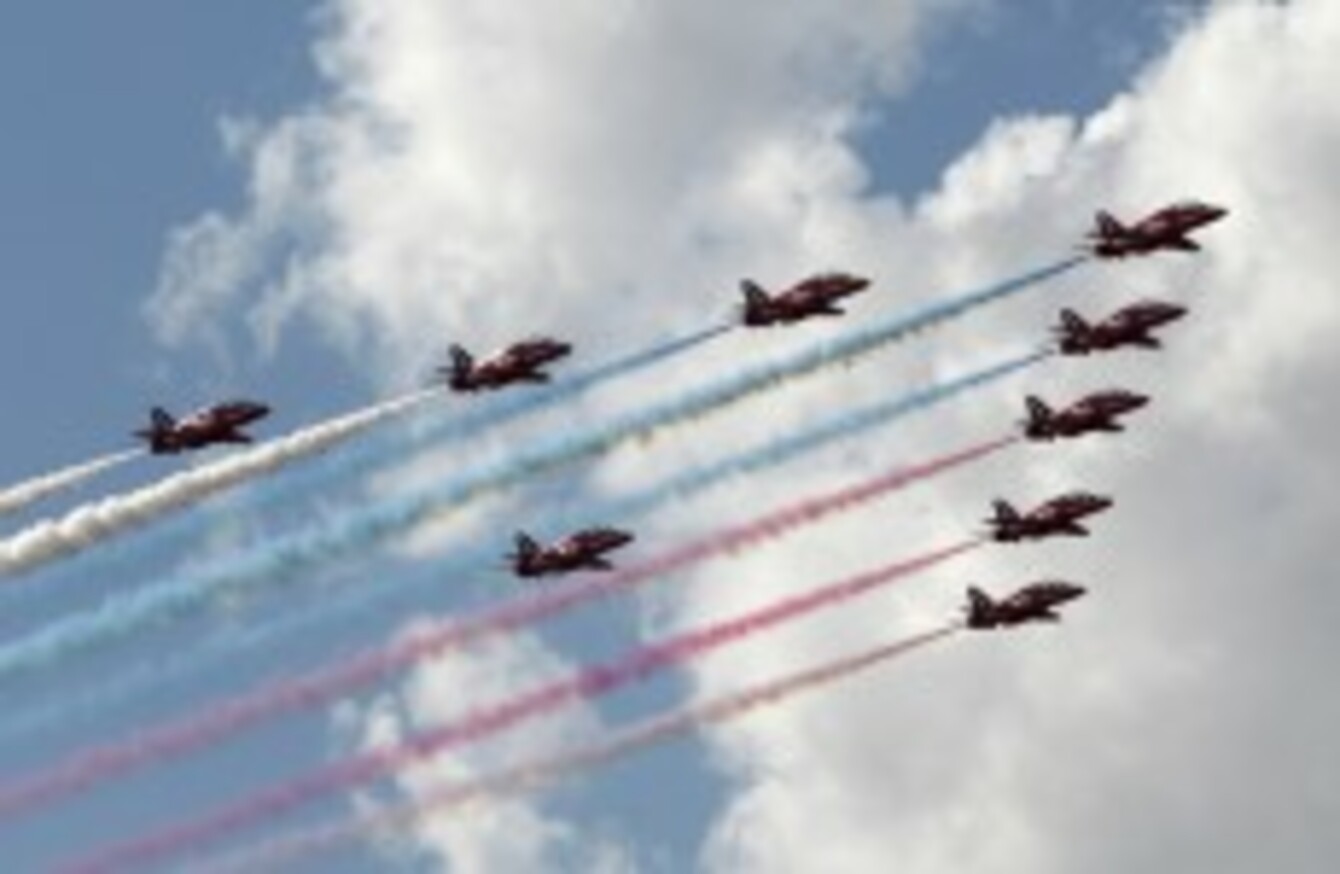 British aerobatics group Red Arrows.
Image: (AP Photo/Misha Japaridze)
British aerobatics group Red Arrows.
Image: (AP Photo/Misha Japaridze)
EVERY MORNING, TheJournal.ie brings you the nine things you need to know as you start your day.
1. #OHIO: Charges have yet to be filed against the three brothers who were arrested in connection with the kidnapping of Amanda Berry, 27, Michelle Knight, 32, and Gina DeJesus, 23,who were all held captive for almost a decade. A child, also discovered in the Cleveland home, is the daughter of Amanda Berry.
2. #OHIO POLICE: After the three women who vanished a decade ago were found captive on Monday at the run-down house in Cleveland police in Ohio are facing questions about their handling of missing-person cases. One neighbour says she saw a naked woman crawling on her hands and knees in the backyard of the Ohio house a few years ago, while another heard pounding on the home's doors. Both times, police showed up but never went inside. Police also paid a visit to the house in 2004, but no one answered the door.
3. #CROKE PARK 2: The Chairman of the Labour Relations Commission has a new five-day-deadline to see if progress can be reached on a negotiated settlement to cut public sector pay by €300 million this year. In a ballot three weeks ago, the majority of unions rejected proposals to cut pay for higher earners, freeze increments, cut premium payments and extend working hours.
4. #TEMPORARY RELEASE: One-fifth of inmates were on temporary release at one point last year as Irish prison authorities tried to keep overcrowding at bay, according to the Irish Independent. Another report by the Council of Europe has also showed that Ireland had the eighth highest rate of entry to prisons but also had the second highest release rate in 2011.
5. #GALWAY CRASH: A man is in a serious condition in hospital following a single vehicle collision on the Portumna Bridge which happened this morning in Co. Galway. Three other men who were also in the van are uninjured.
6. #INSURANCE: You could save up to €1,335 if you shop around for car insurance. That's according to a survey by the National Consumer Agency which also showed that insurers, when providing a quote, did not treat penalty points in a uniform manner.
7. #INTERNET FREE ZONE: Syria has been cut off from the internet. It's not sure why yet, but a similar blackout happened last November. According to activists, sudden communication cuts may happen before major military offensives.
8. #ALEX FERGUSON: It is being reported this morning that Manchester United manger, Alex Ferguson, is set to announce his retirement today ending his 27-year run. United will make an announcement at 2.30pm Irish time when the New York Stock Exchange opens.
9. #LEAKY BRAIN: An Arizona man who initially thought he had a chronic runny nose has been told that it is actually his brain that is leaking. The Telegraph reports that a doctor found that Joe Nagy has a hole in his brain and that his fluid was leaking out.
Over on DailyEdge.ie: Why is SJP in a rage with Jennifer 'Luminous' Lawrence and which former TV star is now working as a mechanic? Check it all out in The Dredge.