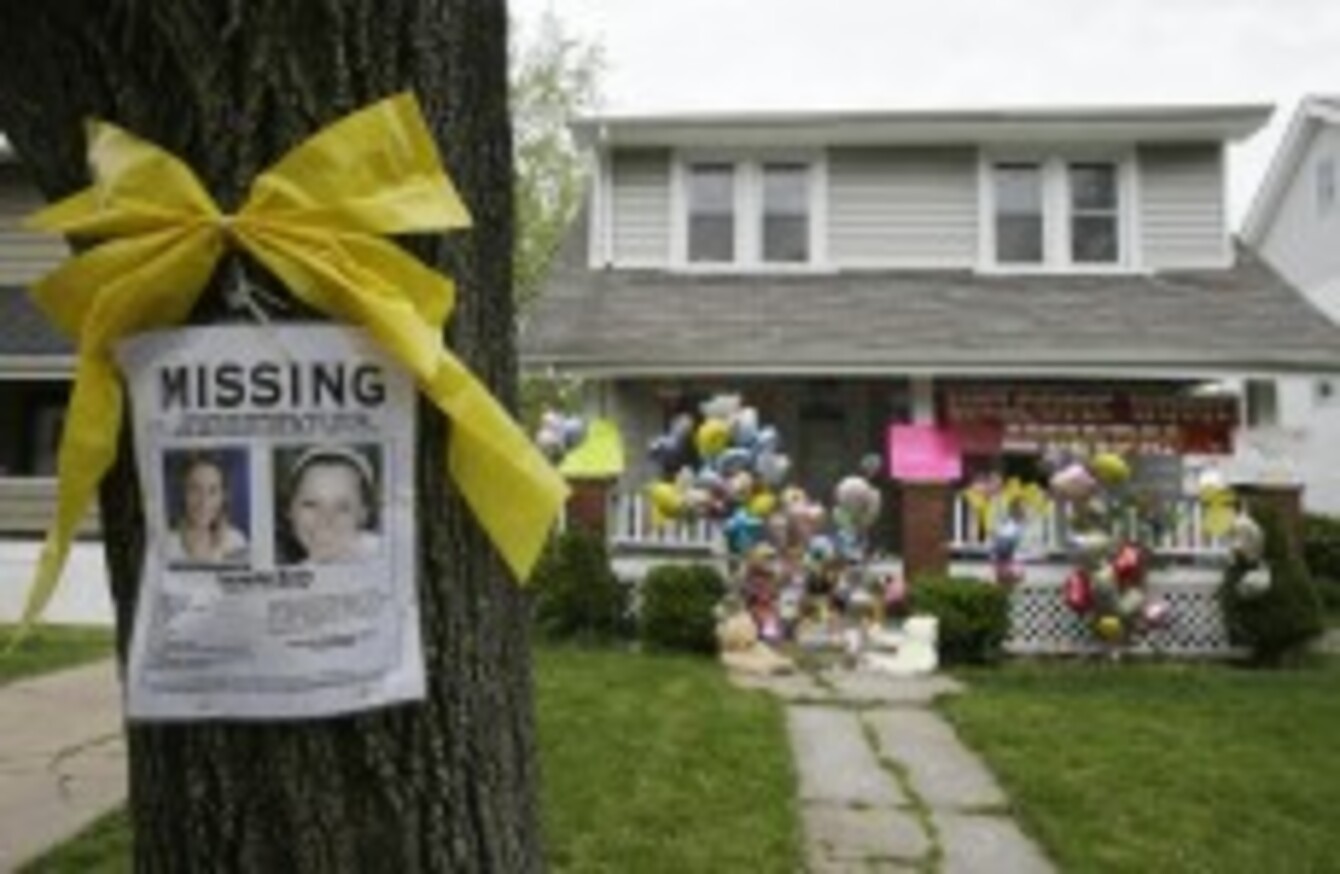 A missing poster outside the home of Amanda Berry today
Image: AP Photo/Tony Dejak
A missing poster outside the home of Amanda Berry today
Image: AP Photo/Tony Dejak
US POLICE CONTINUED to interrogate three brothers today as grim details began to emerge about how three young Ohio women were kidnapped and held captive for 10 years in an unremarkable city home.
Cleveland police chief Michael McGrath said he expected the trio, a group of men in their fifties, to be charged later in the day, after a crime that left many wondering how it could have gone undetected for so long.
"We have confirmation they were bound and there were chains and ropes in the hall," McGrath told NBC television's Today Show, near the home in a working class district of Cleveland from which the women were rescued on Monday.
He said that until interviews with the victims are complete it will not be possible to describe in detail how they were treated, and said he could not confirm reports that the captives had had multiple pregnancies.
McGrath said the captives had been allowed outside "very rarely."
Onil Castro, Ariel Castro and Pedro Castro (Photo: AP Photo/Cleveland Police Department)
"They were released out in the backyard once in a while I believe," he said. "Their physical wellbeing was very good considering the circumstances."
Currently, today, we are interviewing the suspects that were arrested here the night before last. They are talking.
Amanda Berry, 27, Gina DeJesus, 23, and Michelle Knight, 32, were freed from a home on Cleveland's Seymour Avenue on Monday, around ten years after they had each disappeared in separate incidents.
Berry has a six-year-old daughter, Jocelyn, born while she was in captivity.
The occupant of the home in which the missing women were found, a 52-year-old former school bus driver of Puerto Rican origin called Ariel Castro, has been detained along with his brothers Pedro, 54, and Onil, 50.
Family reunion
Berry arrived at her sister's home on Wednesday in an SUV with a police motorcycle escort to be welcomed by a verandah bedecked with balloons and messages of support and by a huge phalanx of news reporters
Her sister Beth Serrano emerged to make a brief statement.
Beth Serrano, Amanda Berry's sister, speaks to the media today after Berry arrived home. (AP Photo/Tony Dejak)
"I want to thank the public and media for their support and courage over the years. At this time our family would request privacy so my sister and niece and I can have time to recover," she told a thicket of microphones and lenses.
"We appreciate all you have done for us throughout the past ten years. Please respect our privacy until we are ready to make our statements. And thank you," she added, before breaking down in tears.
The crowd broke into applause when Serrano walked out and one woman gasped "Oh, that poor girl" as she was surrounded by cameras.
"It was overwhelming," said 30-year-old Kim Szypulski as she rocked a stroller holding her 18-month-old son, adding that she lives in the neighborhood and often drives past the family's "missing" poster.
Neighbours and friends wait for Amanda Berry's arrival at her sister's home today (AP Photo/Tony Dejak)
Neighbors have expressed shock that the young women — long feared dead — could have been held for so many years in an unassuming home belonging to a man who never raised any suspicions in the working class neighborhood.
The three were rescued after Berry managed to alert a neighbor, who broke down the door to free her and her daughter.
"I'm glad to be back"
Police responding to her desperate 911 emergency call found two more women in the detached home, a white-sided two-story detached property with American and Puerto Rican flags on the porch.
Berry's grandmother Fern Gentry spoke to the once-missing teen by phone from Tennessee in a call broadcast by a local ABC News affiliate.
#Open journalism No news is bad news Support The Journal

Your contributions will help us continue to deliver the stories that are important to you

Support us now
"I'm glad to have you back," Gentry said.
"I'm glad to be back," Berry said, in the first publicly released recording of her voice since the panicked 911 call after her escape.
"I thought you were gone," the grandmother said.
"Nope, I'm here."
Undated photographs of Amanda Berry (left) and Gina DeJesus (AP Photo/FBI)
Berry was last seen on April 21, 2003, when she left work at a fast food restaurant just a few blocks from her home.
DeJesus was 14 when she vanished while walking home from school on April 2, 2004. Knight, who was 20 at the time of her disappearance, was last seen at a cousin's house on August 23, 2002.
Some reports have questioned how the police could have missed signs of the kidnapping for so long, but McGrath insisted that he was absolutely confident that his officers had not missed a chance for an earlier rescue.
Cleveland Police chief Michael McGrath answers questions about the case (AP Photo/Jason Miller)