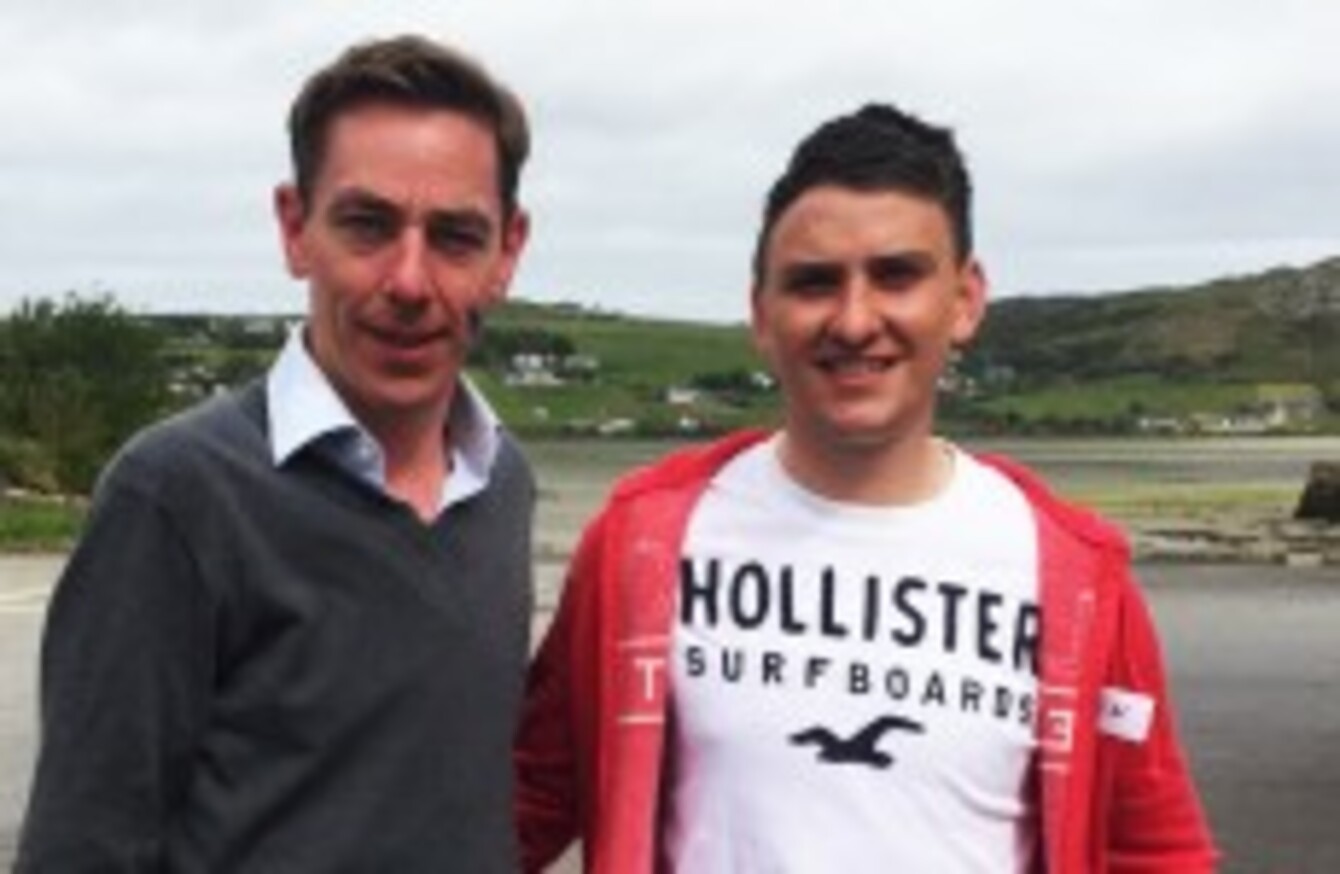 Ryan Tubridy and Oisin Merritt
Image: RTÉ 2FM
Ryan Tubridy and Oisin Merritt
Image: RTÉ 2FM
DUBBED 'THE MIRACLE man', 19-year-old Finn Harps player Oisin Merritt says the psychological battle he faces is far worse than the physical battle after being injured in a deadly fall from a balcony in Spain last year.
The Stranorlar man sustained life-threatening injuries when he fell 20ft from a balcony while on holiday in Santa Ponsa, Majorca last June.
He was in a coma and his family were told that he wouldn't survive, but he beat the odds and recovered. He currently is in rehabilitation and is awaiting 'a new skull'.
Speaking to Ryan Tubridy on 2FM this morning, Merritt said he was away with nine friends on a "lads holiday" to celebrate his birthday.
On the last night, his friends said they were going out to get a kebab. He said he didn't want one and stayed behind.
Falling 20ft to the ground 
The next thing his friends heard was a "thunderous bang" as Merritt's body hit the ground. He had fallen 20 feet to the ground.
Merritt says he has lost a lot of his memory and there were no witnesses. He told Tubridy that the sight his friends saw when they came out of the shop was "horrific".
"It was pretty gruesome from what I hear," he said.
Merritt said he was lucky, however, as a member of the Irish Red Cross, David Sullivan, just happened to be walking along the strip when the accident happened.
"I owe my life to him," said Merritt, who explained that he is still in contact with him and hopes to meet him again. 
Sullivan immediately started working on Merritt after his accident and cleared people from the scene.
Worked for 2o minutes 
"He immediately went to work on me for about 20 minutes," said Merritt. He said after some time he began to show signs of life, and Merritt asked Sullivan if he was going to die.
"I am not going to let you die," Sullivan told Merritt, who was then placed in an ambulance and taken to hospital.
Merritt was in a coma for some time. His family flew over to Spain but they were not given good news, and on one occasion were told to say their goodbyes.
#Open journalism No news is bad news Support The Journal

Your contributions will help us continue to deliver the stories that are important to you

Support us now
His brain had swelled so much doctors had to remove half of Merritt's skull to relieve the pressure as his brain expanded, something he said often kills coma patients.
However, defying the doctors Merritt awoke from the coma and even more astonishingly he seemed to be aware of what was going on.
"Someone is in there, deep inside, keep talking to them, they can hear you."
The first thing he asked his sister was:
"How's Brazil getting on in the World Cup."
Merritt told Tubridy that he is on the mend, but that the physical struggle is not as bad as the psychological struggle he faces everyday.
Never to play sports again 
He was told that he will never play contact sports again.
"That was my life."
"People who don't play don't comprehend how difficult that is to hear. 
Merritt said he has to try and be positive, but said that can be difficult when he can't do things like every day people, like go to crowded areas, not play sports and not go down the street without someone, just in case someone knocks off him and causes damage.
"It's frightening… I'm trying my best to get myself back to reality. I've won the battle, but I haven't won the war yet.