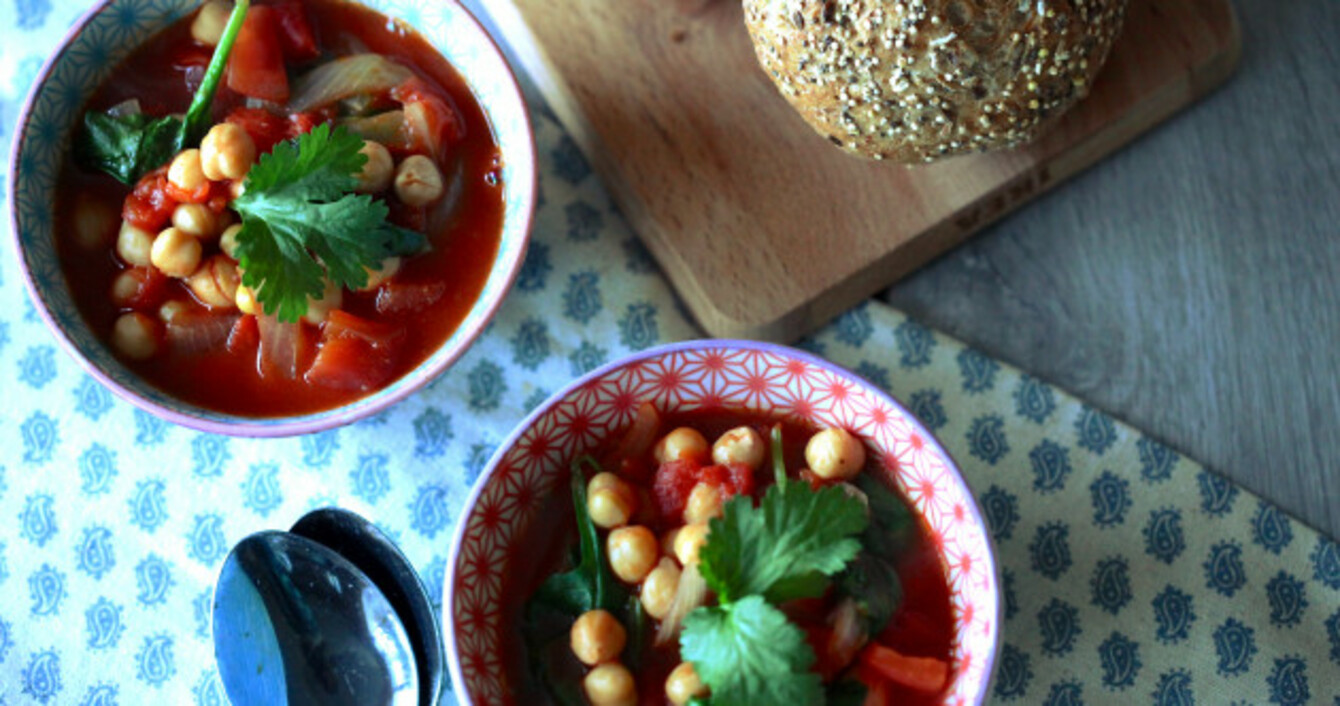 Image: Niamh O'Shaughnessy
Image: Niamh O'Shaughnessy
I ALWAYS HAVE a shelf full of tinned food to fall back on if I need a quick meal. From tins of tuna to fruits and pulses, tins are an essential part of my monthly shop. They are so handy to have on hand when you need a "raid the cupboard" meal in a hurry.
Most tinned foods are packaged very soon after they're harvested, meaning optimum levels of nutritional benefits are retained. Tinned salmon for example is an excellent source of omega-3 fatty acids, which are important for heart health, as well as being an excellent source of protein. Chickpeas provide a low fat source of protein, and count towards one of your recommended daily portions of fruit and veg.
The below recipes can be whipped up in a flash using store cupboard ingredients, and they're so wholesome that nobody will ever guess that the star of the show comes from a tin!
Simple-But-Tasty Chickpea, Spinach and Tomato Soup
Serves 4 as a lunch
The humble can of chickpeas is the main ingredients in this deliciously warming broth. Paired with just a few other household staples, this soup is very easy on the pocket and full of nutrients. Want to change things up? For an extra protein kick, feel free to adapt the recipe and add in some leftover meat if you have it.
Ingredients
1 small onion, chopped
1 clove garlic, crushed
1 tsp cumin
1 tsp paprika
1 tin chickpeas
1 tin chopped tomatoes
45g spinach leaves
250ml hot chicken stock
Method
Fry the chopped onion and garlic in some olive oil until soft, for about 4 -5 minutes
Stir in the cumin and paprika, followed by the drained chickpeas, tinned tomatoes and stock
Boil for 10 minutes until the liquid starts to reduce
Turn off the heat, and add in the spinach
Season to taste
Serve with some crusty bread
Spicy Salmon Fishcakes
Makes 6 fishcakes
Served with some salad, these fishcakes make a delicious lunch. Or for an equally impressive brunch, top the fishcakes with a poached egg.
Ingredients
400g cooked potatoes
1 tin of salmon
3 tbsp sweet chiLli sauce
3 spring onions, finely chopped
1 egg
70g breadcrumbs
Salt and pepper
Method
In a large bowl, mash the potatoes until there are no lumps
Add in the sweet chili sauce, salmon, spring onions, salt and pepper and stir until combined
Shape into 6 fishcakes and set aside in the fridge for 10 minutes until firm
Beat the egg in a bowl and dip each fishcake into the egg mixture, and then coat in breadcrumbs
Heat some oil in a pan and fry gently for 5 minutes on each side
Serve with some extra sweet chilli sauce and a side salad