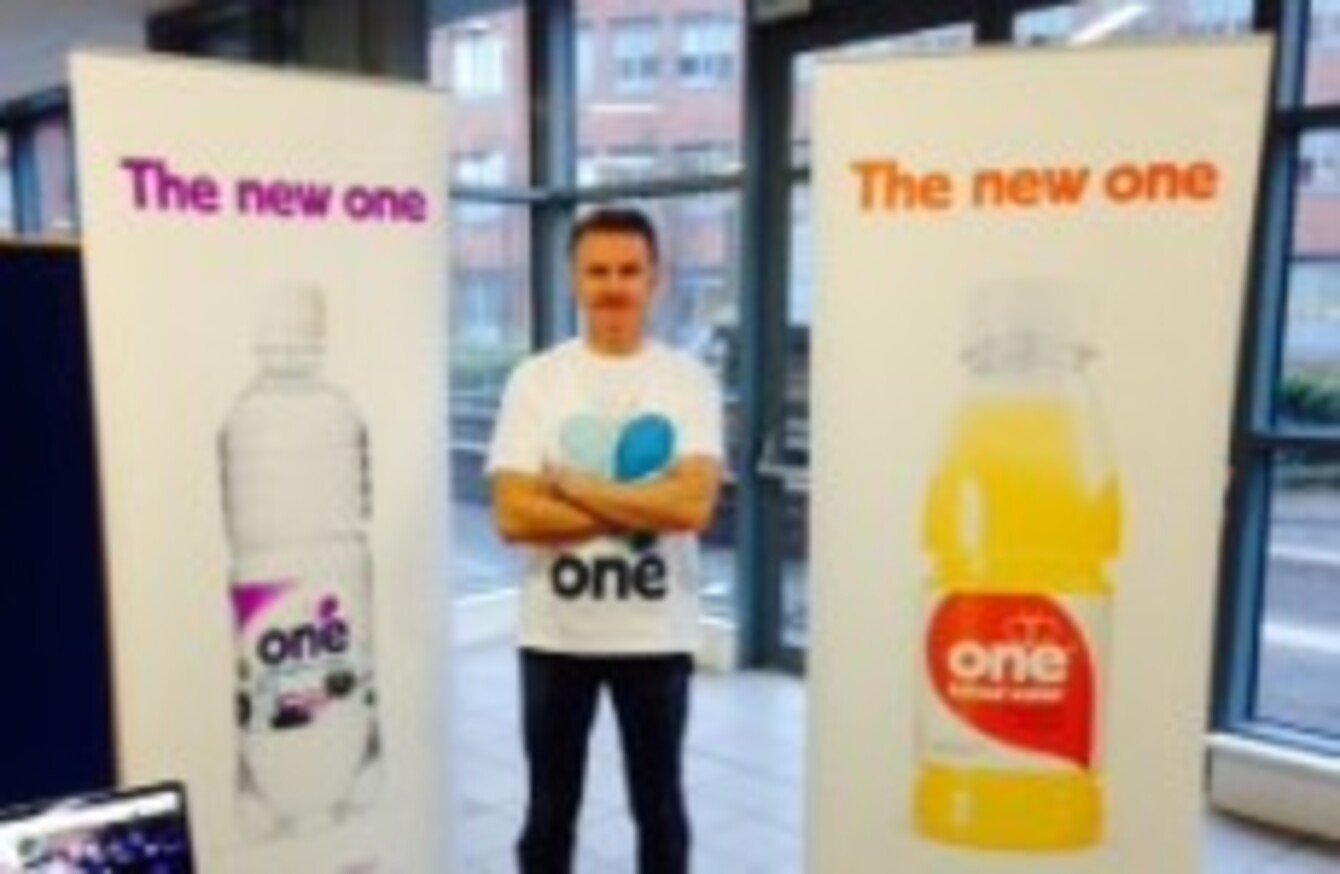 Image: Tom O'Toole
Image: Tom O'Toole
GIVING TO CHARITY makes people feel good – but not all of us give to charity.
Sometimes, that's purely because of convenience: you have to go out of your way to find a charity, find a way to donate, and select how much.
A company called One Difference believes it may have the solution to that, by selling products that consumers buy often (thereby not disrupting their routine) and giving 100% of its profits to charity (more on where the money goes to later).
One way to Ireland
Source: One Difference/YouTube
In the UK, One Difference sells a range of products, including One Water.
Now Irishman Tom O'Toole has brought the brand here, selling One Water across the country, and he hopes people in Ireland will benefit in the future from the profits.
The UK arm has raised over £10m in 10 years, which has benefited 2.5million people.
The money in the UK goes to the One Foundation, which works with charity partners. In Ireland, the partner is Plan Ireland.
It was a chance occurrence that brought the former facilities manager to this totally new career, but his interest in altruistic business goes back 30 years.
"I remember reading an article that if every company in the world donated 1% of their profits to charity, there would be no such thing as poverty, and it always stuck in my mind," he recalled.
A few years ago, he bought a bottle of water in an airport. On the plane, he began reading the label and noticed the company – One Difference – donated 100% of its profits to clean water projects.
It was one of those lightbulb moments. Then the best thing ever happened to me about two days later – I was made redundant.
Realising this was the opportunity to do something new, he got in touch with One Difference about bringing the concept to Ireland. 18 months after he took his first steps, the product is finally off the ground.
One have visited Ireland several times to help O'Toole, but couldn't foot the up-front costs. Luckily, some help did come from someone else:
My biggest start up costs would have been those associated with bottling, warehousing, distribution and back office support. However when our bottling partner, M&J Gleeson and their parent company the C&C Group, learned about what we do they actually took us under their wing as part of their own CSR programme and helped us to get up and running without any major up front start-up costs. Without the support of the C&C Group I would have struggled to get this far.
One major cost right now is transport, with O'Toole hoping that he might get a sponsor from a car manufacturer or petrol station for the 30 – 40k he travels a year for work.
One Water
Currently, there are two types of One products available in Ireland: One Water, which comes in still or sparkling, or juiced water.
"The business model is we source locally and sell locally," explained O'Toole.
The still and sparkling water is sourced and bottled in Tipperary. The fruit flavoured juiced water is sourced in Wales, but O'Toole says his aim is to get it made in Ireland once he can find the right supplier.
"I think lots of other companies could give 1% or 2% away"
The plan is to launch a new product every six to nine months – in the UK you can also buy One cookies, eggs, and even toilet tissue.
"In Ireland, we are all aware of charitable causes," said O'Toole. "Unfortunately nearly a billion people in the world are without access to water and nearly two billion without access to sanitation or clean toilets."
There are 10 staff with One Difference in the UK, but one in Ireland, though O'Toole does get some help from a former colleague.
"We have our business expenses like anybody else - they're kept to a minimum," he said. "We don't tend to spend much money on leaflets, posters, that sort of thing. If we can do it by giving 1oo% of our profits away I think lots of other companies [could] give 1% or 2% away."
He says they're not trying to take over the water market,  but trying to grow brand recognition.
"All we're asking people to do is if you're going to buy bottle water today, instead of buying a brand you normally buy, buy our brand."
"I was a little nervous"
After 20 years in facilities management, O'Toole is relishing the new challenge.
It's actually fantastic because it's something new every day now. I'm out on the road in a different place, I'm out knocking on doors. I was a bit nervous going into coffee shops and restaurants with my little sample pack and folder. But I think once people tasted the product and learned about the ethical side of what we're doing, it was easier to talk about. When we get to talk to the decision maker, we have almost 100% success.
The goal in the first year is to raise enough to bring clean water to 10,000 people in Africa for Plan Ireland.
If they bring out a food product in the future, money from profits will go to Irish soup kitchens.
One in six children go to bed without a breakfast in Ireland. It's about bringing clean water to the likes of Africa where it's needed most, but I want to use the model to help Irish people as well.
O'Toole says he hopes to grow the business year-on year, but unlike other companies wants to build the profits for a different reason: "then we decide what to do with those profits to give it back to those who need it most".
"A lot of people would give out about big business, but this is using big business to help others. I can't see anything better really from a business point of view."
Companies interested in the One Difference brand can contact Tom on tom@theonebrand.com.